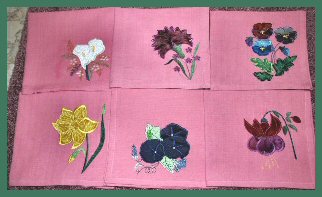 Based on photographs I have taken of flowers in my own garden or in bouquets, this set has 18 designs. It was a delightful set to work on and my stitchers feel it is my best set yet. Many thanks to Margo Phillips and Roberta Tumblin for their colorful renditions of these flowers... they have certainly brought them to life and you can too! Enjoy! Be sure to take a look at the lovely quilt squares at the bottom of the page.
Creatively yours, Wendy

Applique Florals (4x4): $19.95

Now, Bonus "Birds & Bugs" sent free with set order (see below)


Should you wish to purchase just a few designs from this set, just write to me at the address below and request the design by the name from the size chart below. Individual designs are $5.00 each.