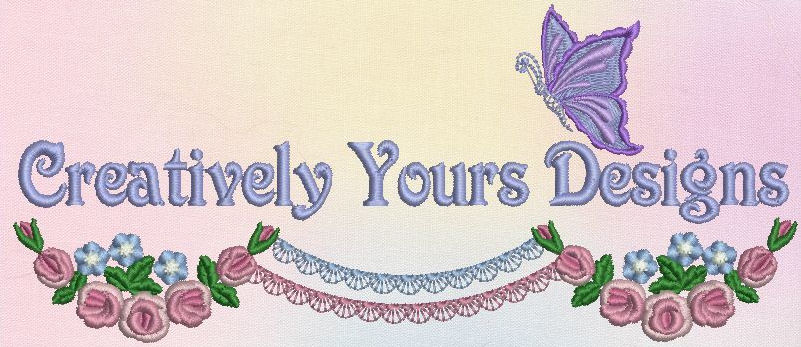 ---
Home
Stock Designs
FAQS
Digitizing Ordering Info.
Contact Me
Custom Work
---
Applique Farm Animals (8x8)
See MORE sizes on our Stock Design page.
The 8 inch set for Minky type fabrics is a request from Barbara Hallum of British Columbia, Canada. I used her
stitchouts to make the cloth book pictured below-you did a wonderful job, Barbara..many thanks!
Here is Grandpa Randy, my DH, who keeps this website up and running. He is sharing a fabric book with our grandson,
and if you look closely, you can Nelson's hands are blurred as he rubs the chicken and the horse. He loves the designs.... we know you will too!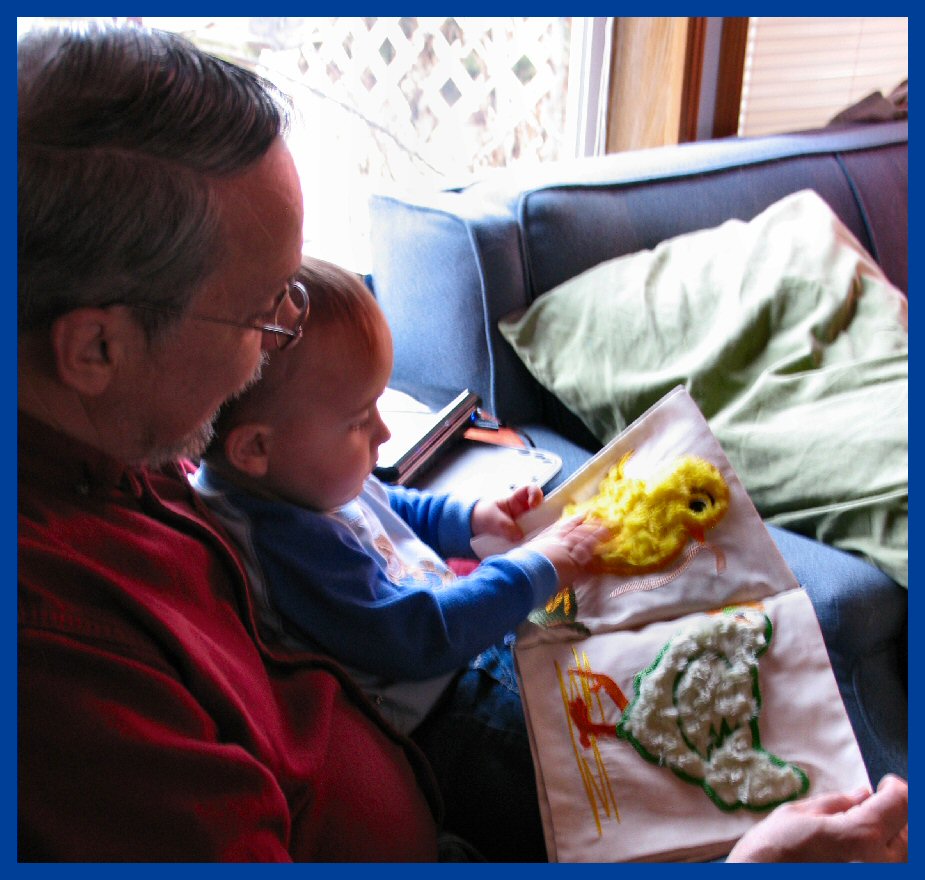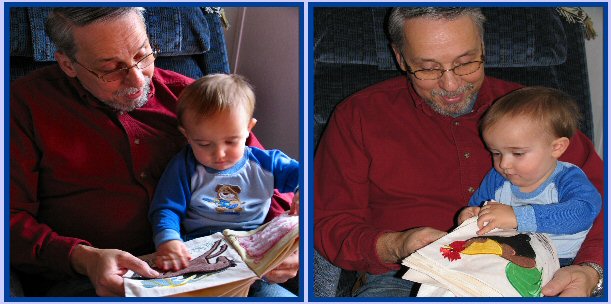 The 8 inch set is designed for pile fabrics such as Minky as well as regular quilting fabrics. There is a specially digitized outline that will tack down the fibers of the Minky so they will not poke through the satin cover stitch. Several of those final satin outlines have a lovely texture to them as you can see in the butterfly, fish and hen for example. There is a stitch and color chart below also so that you are able to ensure that these designs will fit your hoop. Enjoy!Creatively yours, Wendy

Applique Farm Animals (8x8) Price: $21.95
Should you wish to purchase just a few designs from this set, just write to me at the address below and request
the design by the name from the size chart below. Individual designs are $5.00 each.
Size Chart for 8" Hoop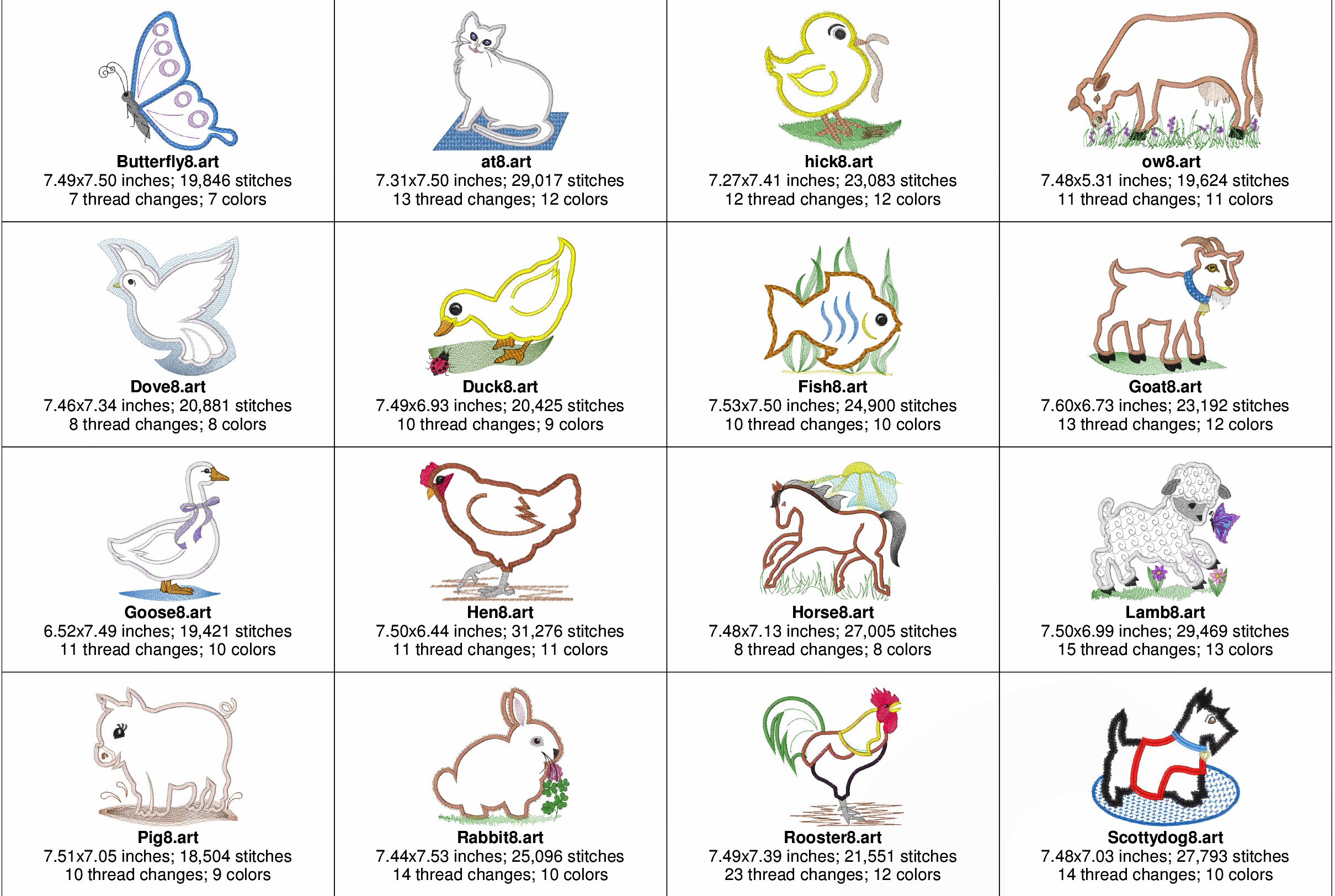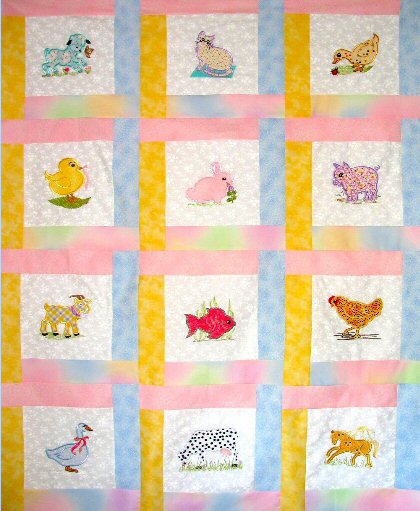 Bobbie Tumblin of Adamsville, Ohio made this adorable quilt to give to a child in her local hospital. She used my 5x7 inch size which you can view here. She did such a creative job with her fabric choices.
-Thank you, Bobbie!
You can reach me at: