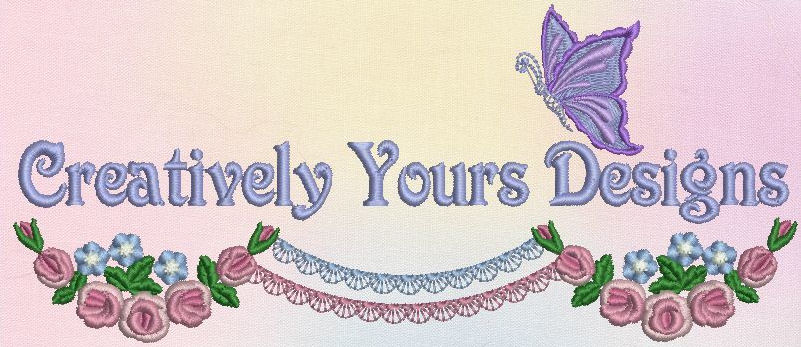 ---
Home
Custom Work
Stock Designs
Digitizing Ordering Info.
Contact Me
---
Frequently Asked Questions

-What type of artwork can be digitized?
Photos, drawings, children's artwork for a start. I do not digitize from works of art that are copyright protected, such as Disney, etc.
-What about a Business or club Logo?
As long as you send me permission, in writing, from the business or club, I am able to digitize a specific Logo. For example, I was requested to digitize the Seal of Ohio for a wall hanging to be given as a retirement gift to one of the state officials. It took some doing, but the person requesting my work sent me written permission, and I was able to do the design. What a priviledge to do our State Seal!
- If I already have a sewn out logo from a previous order through someone else and I and need you to digitize it for me to sew out, is that possible?
Yes, if they are no longer in business, and you wish for me to redigitize your logo, I will. It might entail some extra expense as it takes more time to make it look exactly like what you had before.
-How do you charge for your work?
I prefer to charge by the complexity of the design, not by the number of stitches. I use Paypal to send you an invoice, or you can send a check right away and I will send the design as soon as your check clears.
-Will you give me an estimate?
Yes, if you will send me the art work (as a JPEG, BMP, or Vector image file attached in e-mail or in snail mail), a brief description of what you will need, and your name and phone number, I will send you a free estimate.
- How soon will I receive my design?
You let me know when you need it, and I will try to accomodate you. Turn around is within a day or two, again depending on how complex the design is and when I receive payment from you. I will also add that very artistic designs like animals do take a bit longer to do well!
-Do you stitch out the design on your machine?
I ask that you test stitch your design out on your machine before you put it on any garments, as everyone hoops differently and tensions are different. One of the perks that I offer is that I will stay with you on each design until it runs well for YOU! After all, my business name is Creatively Yours... :)
-May I ask for multiple sizes or variations such as 'with words' and 'without'?
Yes, of course. There is no charge for the first revision or size change. After that, I charge $5.00 per change or variation.
I HAVE TRIED TO ANSWER MANY OF THE QUESTIONS THAT HAVE ARISEN OVER THE PAST FEW YEARS. IF YOU HAVE OTHER QUESTIONS THAT I HAVE NOT ANSWERED, PLEASE EMAIL ME AND I WILL POST THEM IN THIS SECTION. I AM ALSO OPEN TO YOU ASKING FOR HELP, AND I WILL DO MY BEST TO ANSWER YOUR QUESTIONS. IF I DO NOT KNOW THE ANSWER, I WILL TRY TO FIND IT FOR YOU. IF THERE ARE CERTAIN DESIGN SETS YOU WOULD LIKE TO SEE OFFERED, LET ME KNOW.
You can reach me at: