CCARA Club News
By-Laws Update
There has been a revision to the club's by-laws to indicate a once a month regular meeting, but not specifically the first Tuesday. You can find a copy of the constitution and by-laws available as a pdf file on the "Meetings" page on this website. Presently, we are having our monthly meeting on the first Wednesday of each month when possible.
Ft8 & JS8CALL Article
Thanks to Heinz KB8VIP for writing and submitting a short article describing two neat operating modes for making use of poor propagation. You can find this article on the Digital modes page.
February CCARA Cub Meeting: Feb. 5, 2020
The February meeting will be held at the county services building on the lower floor on February 5th.
The ARES meeting will start at 6:30PM and the club meeting will start at 7PM at the County Services Building on 6th St.
DX Engineering Winter Sale
DX Engineering will be having a winter sale on Saturday, January 18th from 9AM to Noon at their store in Tallmadge, OH. Check their website for more information here.
Tusco Hamfest January 26, 2020
Check out this Link to get more info on our neighbor's hamfest.
N8VV Reaches the 50,000 QSL Mark on LotW
Today is Tue, 24 Dec 2019 UTC
You are N8VV
Log Off
You have 92,774 QSO records
You have 50,000 QSL records
N8VV Worked DXCC in a weekend (again). Single Band 20
CQ Worldwide DX Contest, CW - 2019
Call: N8VV
Operator(s): N8VV
Station: N8VV
Class: SO(A)AB LP
QTH: OH
Operating Time (hrs): 20.0
Summary:
Band QSOs Zones Countries
------------------------------
160: 7 3 2
80: 27 10 14
40: 194 21 83
20: 296 26 101
15: 86 17 56
10: 0 0 0
------------------------------
Total: 610 77 256 Total Score = 566,433
Club: Mad River Radio Club
Good going Dan!!
September Meeting CCARA on the 4th
The CCARA meeting had a great presentation by Chad AB8SV and his QRP CW 40 Meter radio kit that he had built this year.
Below are a couple of pix of his handywork. Chad also has a youtube page where he demonstartes the rig at: This Page.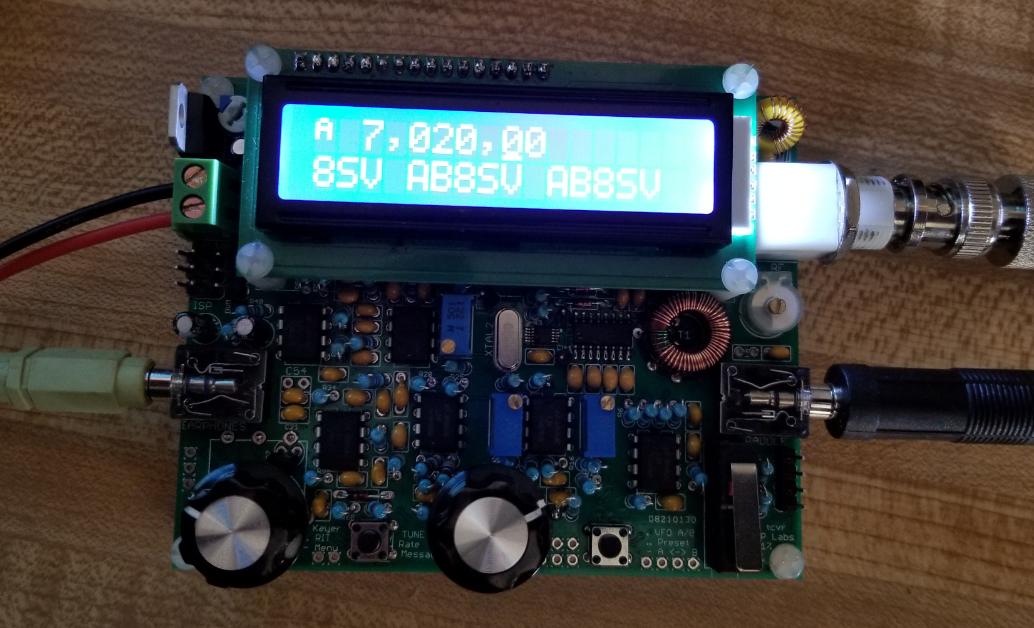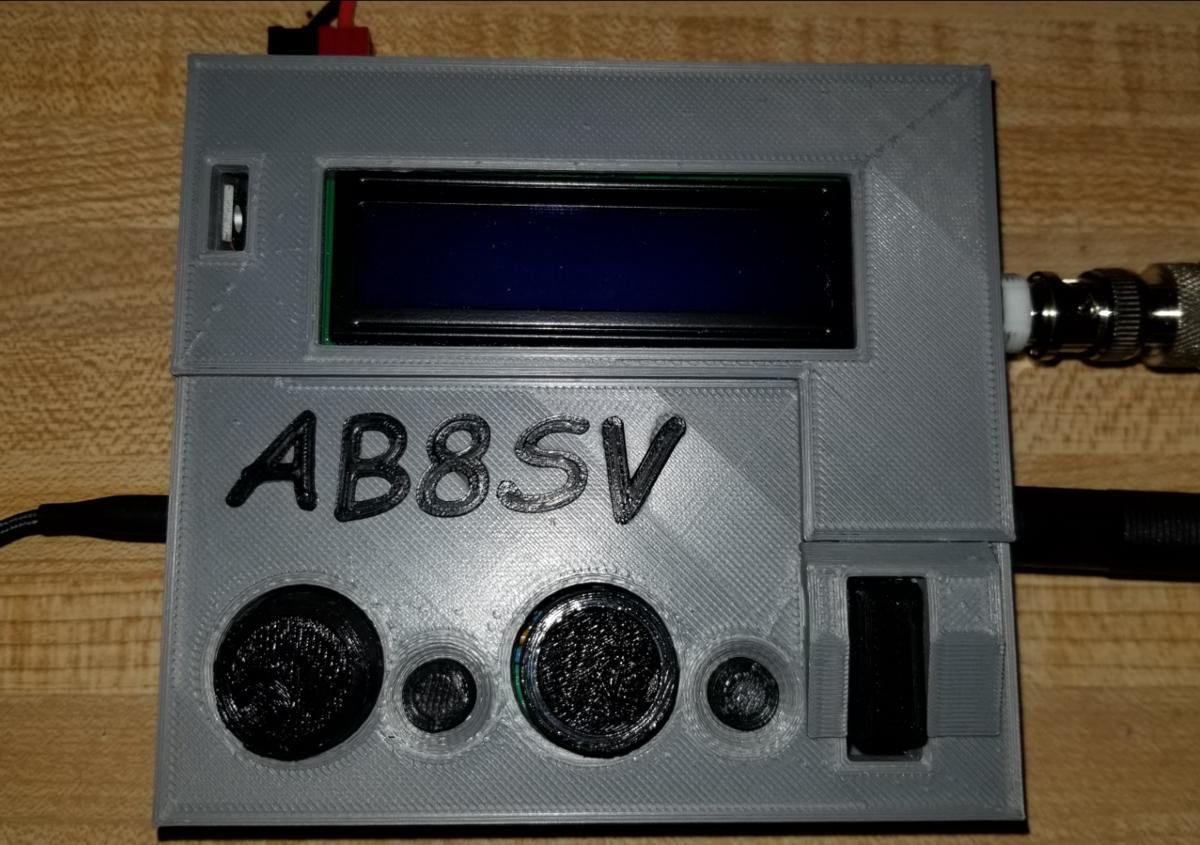 High Speed CW Competition
From the CW man, Dan N8VV
Belarus team member Stanislau Haurylenka, EW8GS, ran up a score of 291,597 points, to top the old world record of 288,671 in the male RufzXP category. The top speed achieved during the attempt was 943 characters/minute or 195 WPM. Teodora Karastoyanova, LZ2CWW, set a new female record in the event, with 293,877 points and a maximum speed of 943 characters/minute or 195 WPM. Last May, she set an official female record in the Romanian Championships with 286,944 points.
Dan says, "I thought I did better than average with 46 WPM on RUFZ." Dan does great in my book! Thanks Dan for the info.
Newcomerstown 2019 Gateway to Fall Festival
Again this year the club and ARES participated in an amateur radio demonstration at the Gateway to Fall Festival in Newcomerstown on August 17th. As part of the "Safety City" program at the festival, Steve AA8BN, Will KC8PUW, Betty KC8SXL, and Heinz KB8VIP introduced folks to ARES and the many benefits of amateur radio including sending out Radiograms for the public. Randy KL7RF assisted by relaying radiograms and talking with the guests on the air.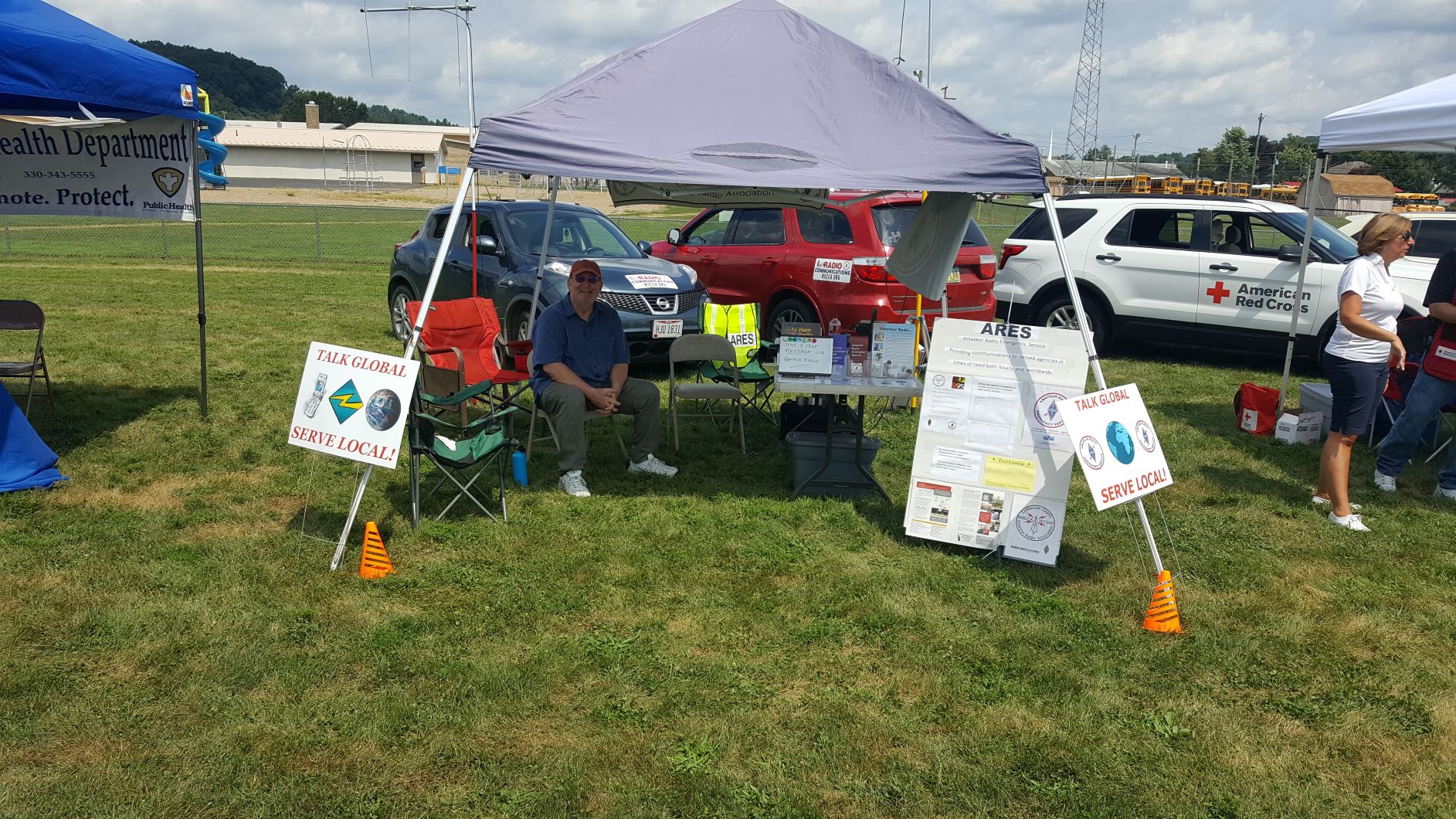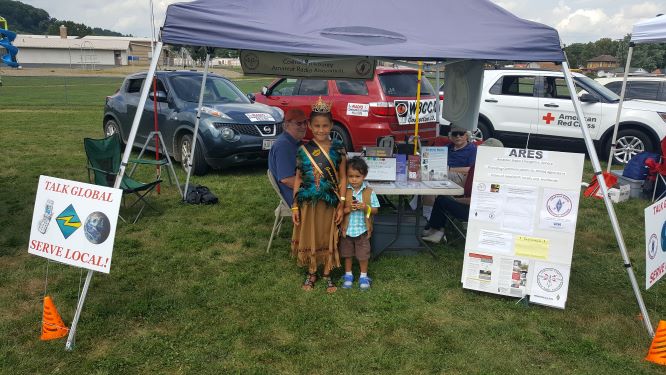 Here is Betty KC8SXL introducing Arazelia, Gnattenhutten Pioneer Days Attending Princess, to ham radio and giving her a chance to talk on VHF for the first time.
KC8PUW photos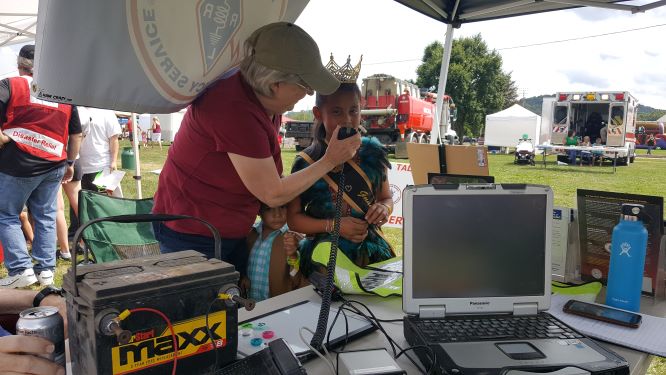 AB8SV Worked 13 Colonies Special Event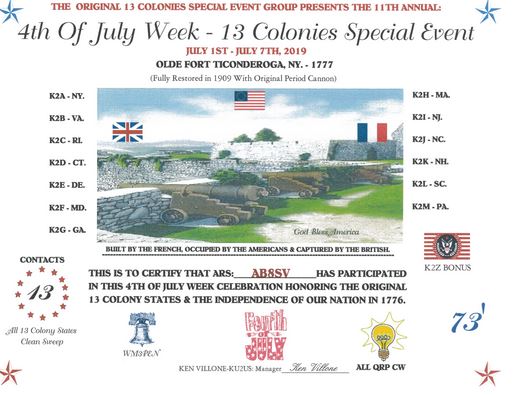 "I was able to work the 13 colonies special event in July with the QCX. I got the stamps for a clean sweep (all 13 colonies) and all QRP CW. I was only able to work 2 of the 3 bonus stations. The 3rd station was in Great Britain and I never caught them on to try and work them. I suspect that one would have been very difficult with my setup anyhow. It's pretty cool for a 5 watt kit and an attic dipole."- Chad AB8SV
Chad is planning to bring his kit-built 5 watt transceiver to the club meeting in Ocotober for a presentation. This radio is a marvelous example of amateur technology, and at a very inexpensive price. QST did a review on this radio recently. Good going Chad; we are looking forward to seeing this little RF wonder. -- RF
CCARA Field Day 2019
Great weather, great food, good propagation; the 2019 CCARA Field Day was a success. The reports are that everyone that attended had a good time. Below are some good pix of some of the operators and set up. Thanks to Steve AA8BN for the photos.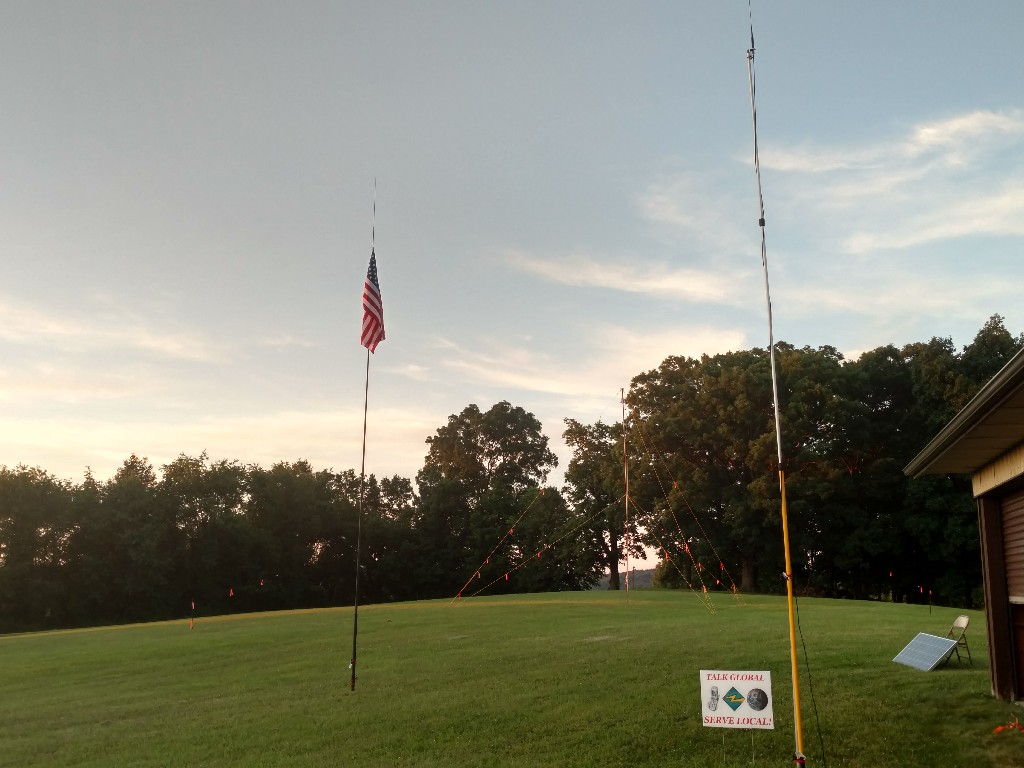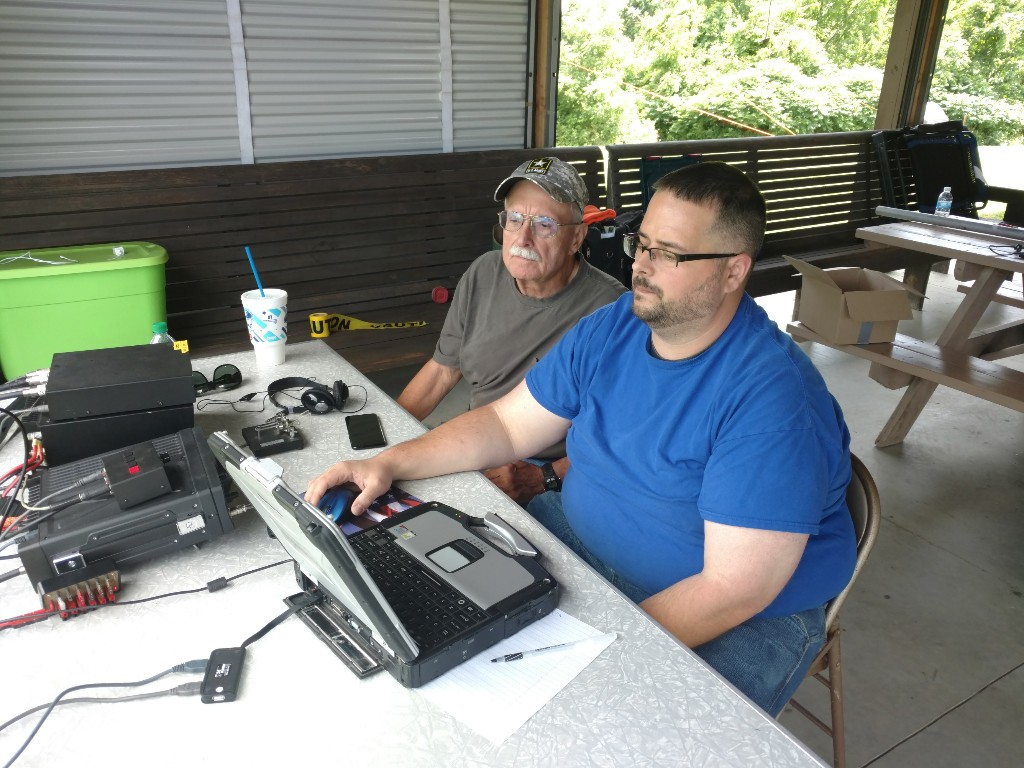 Mike NF8U and Chad AB8SV at the CW station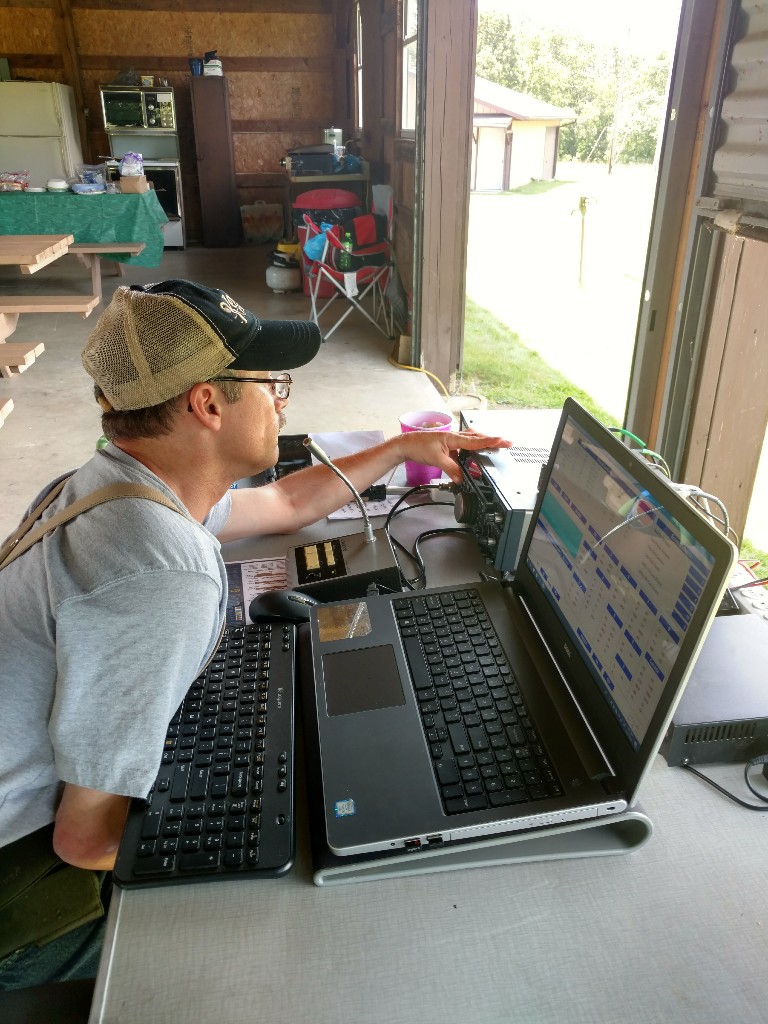 Jamie KC8YXY manning the phone station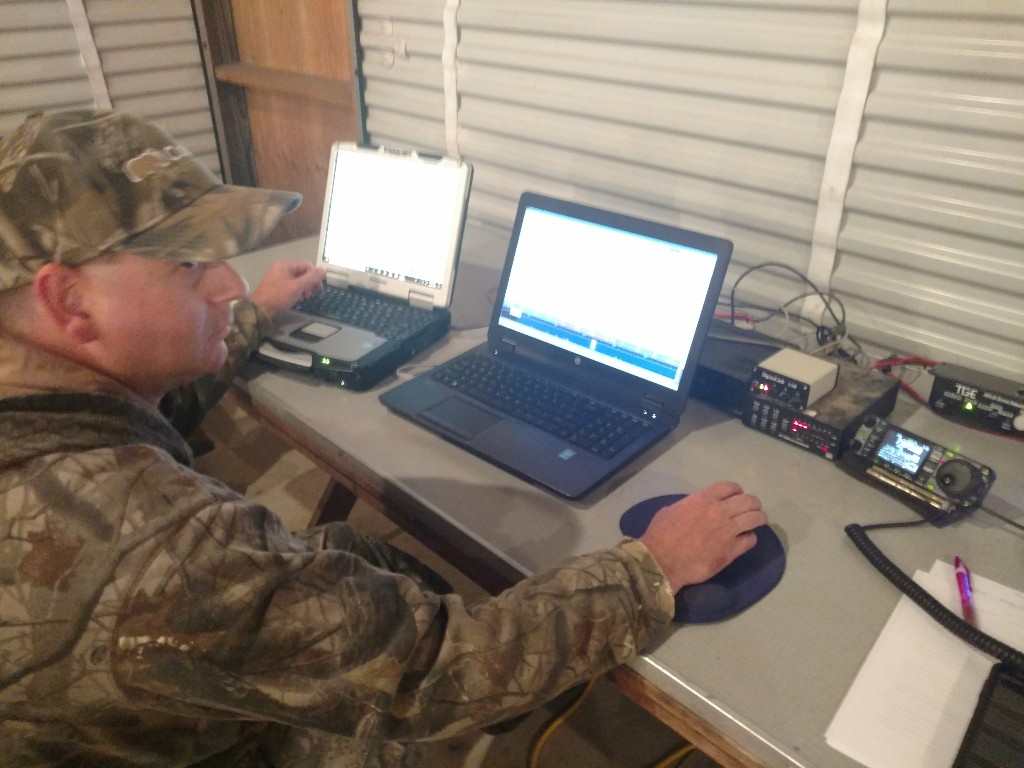 Will KC8PUW serving double duty as digital operator and chef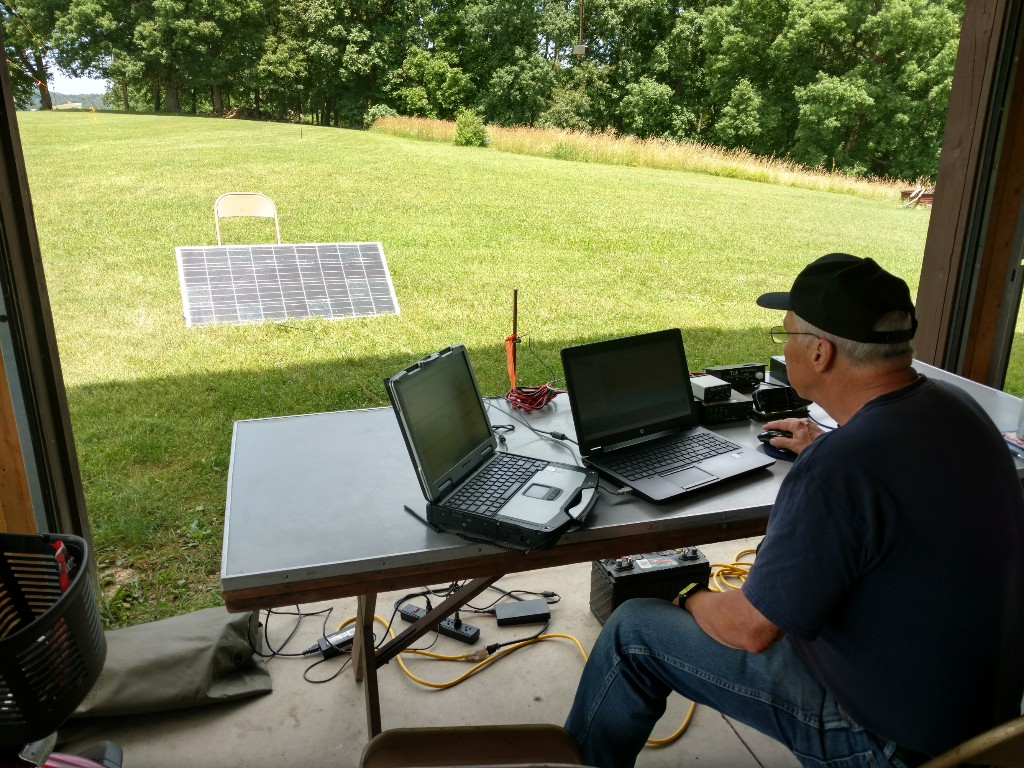 Randy KL7RF also operating digital on solar power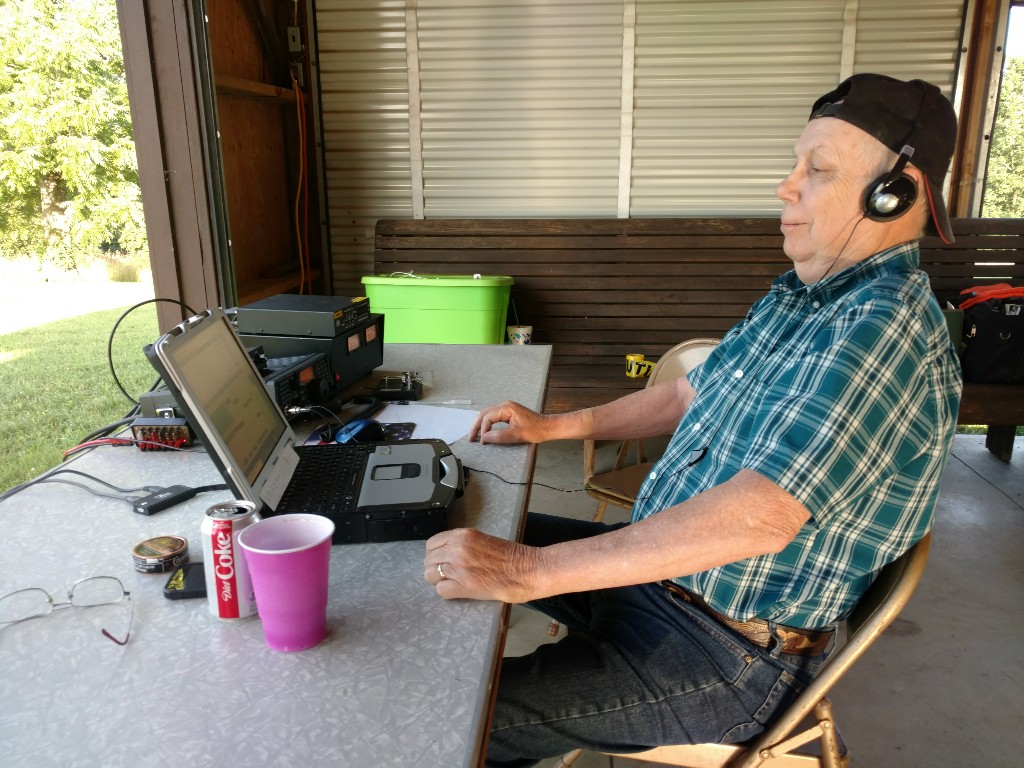 STAND BACK! Dan N8VV being blown away at high speed CW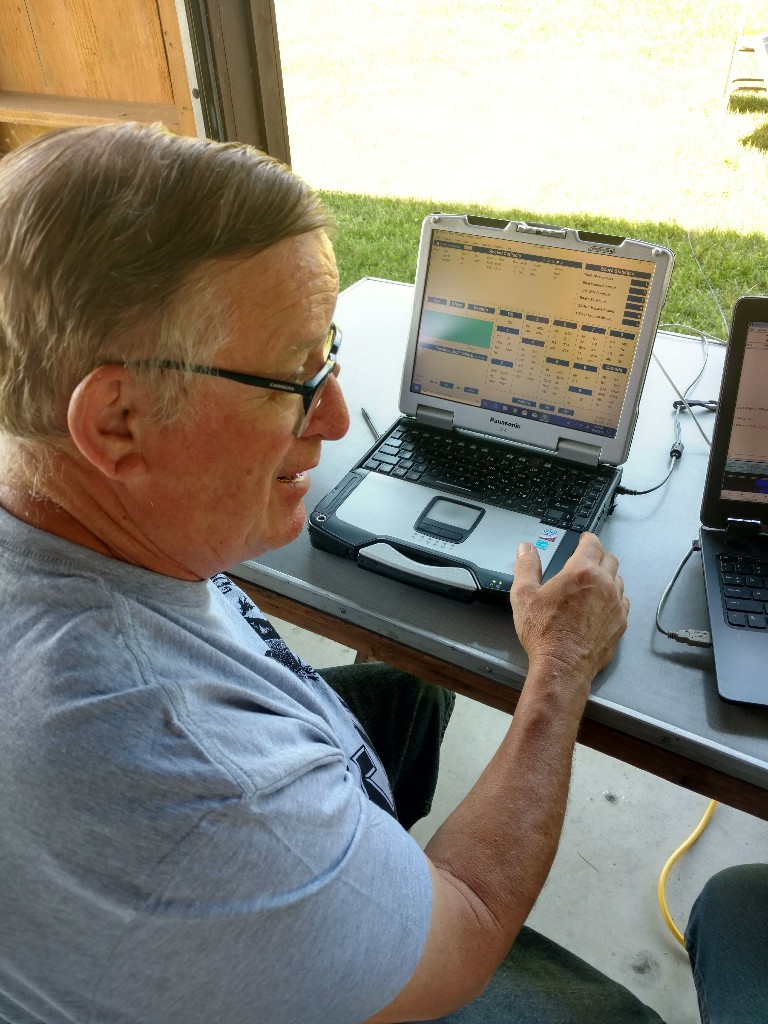 Wip KE8WIP making digital contacts, not to be outdone by the CW ops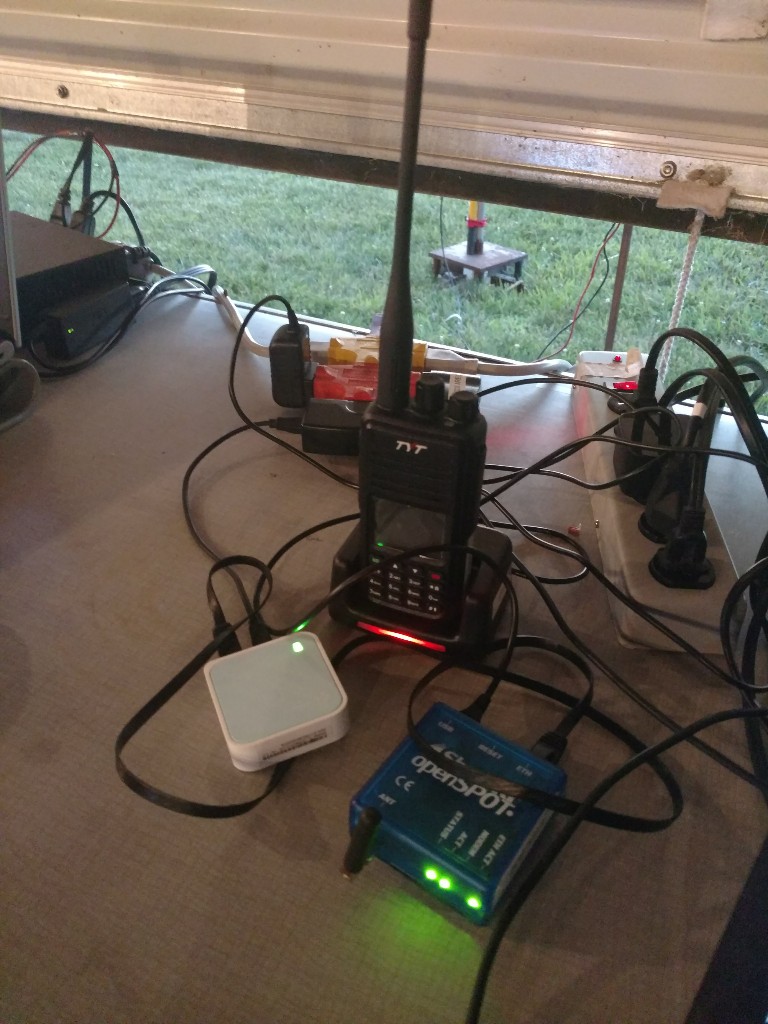 Steve AA8BN even had a DMR station set up along with VHF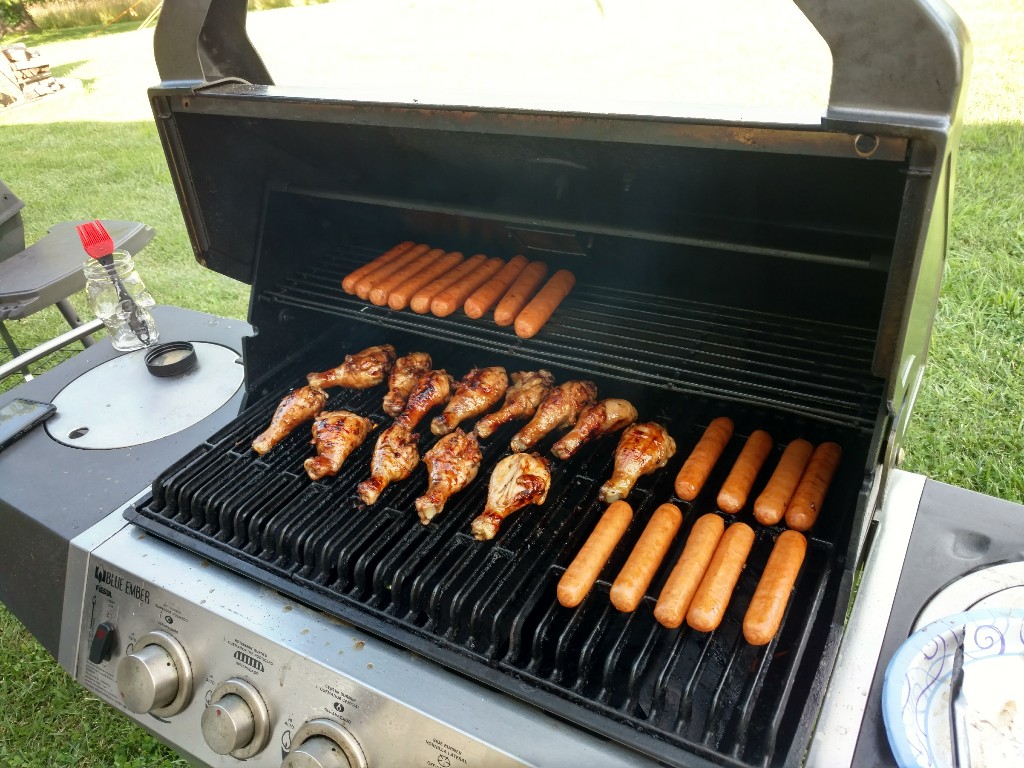 And what about the great griling provided by Will and Amanda KD8ZBR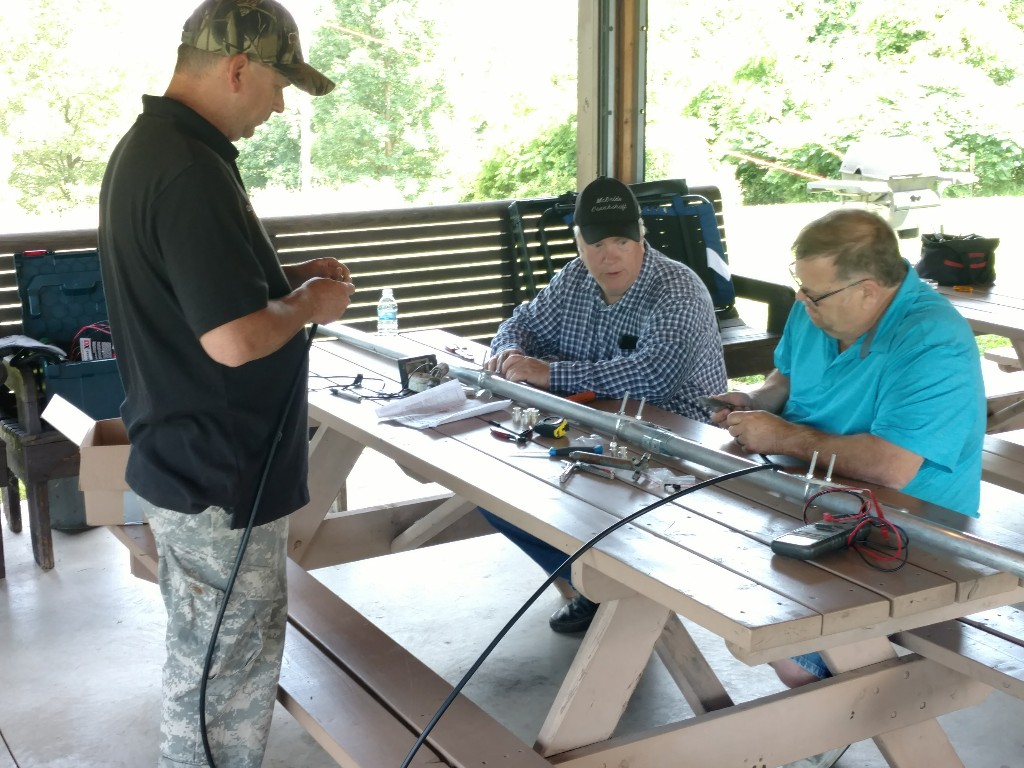 A group project to assemble the new 440 antenna for Rod's repeater
Will KC8PUW, Rod KB9JSC, and Tom KB8HEA working together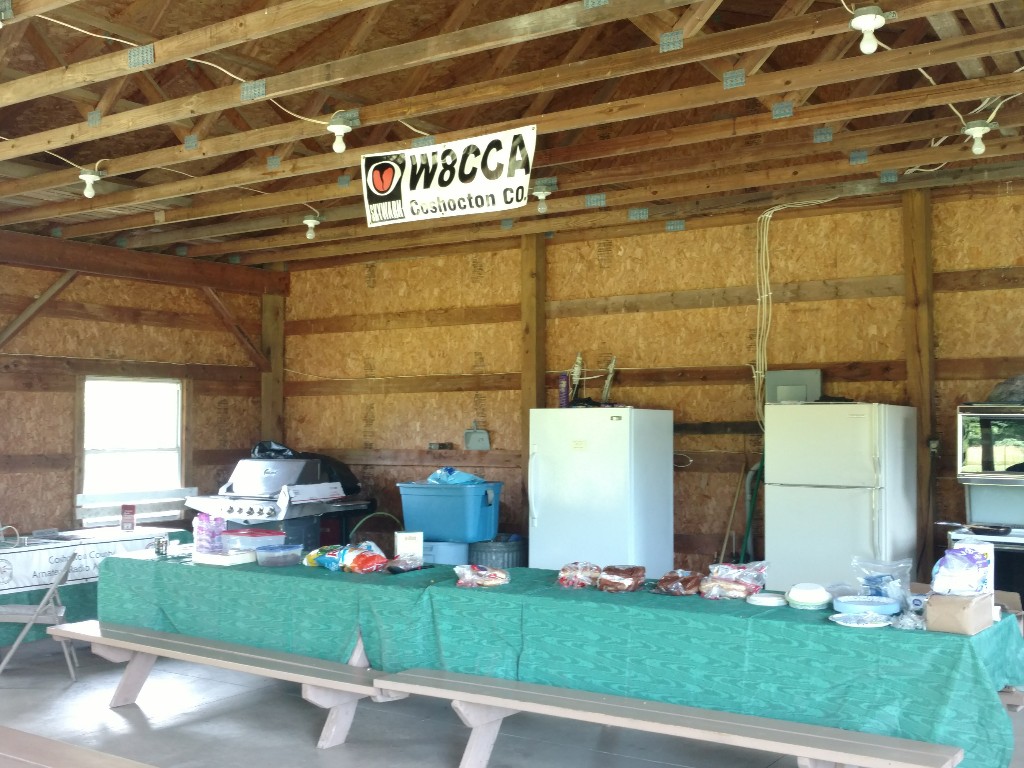 A great picnic as well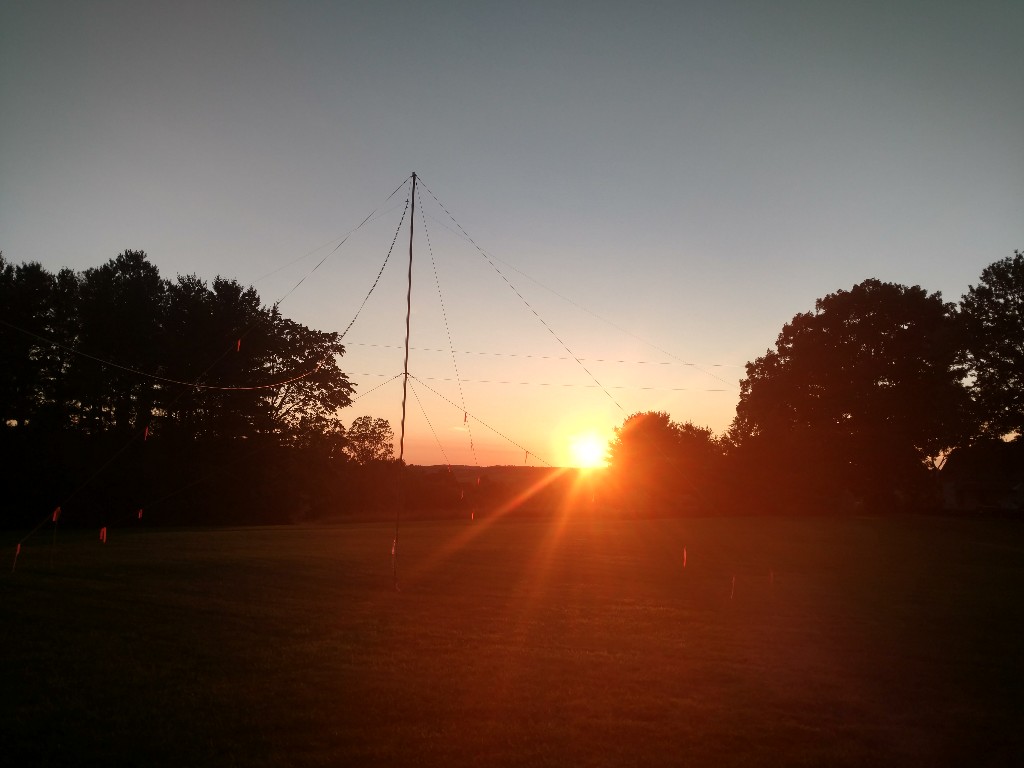 Thanks to all who made an effort to make this another success
New Meeting Day - WEDNESDAY -
At the May meeting the group voted to change the meeting day from the first Tuesday to the first Wednesday of each month for the rest of 2019. Please keep this in mind for the rests of the year. We are hoping that more members will be able to attend the meetings on this new night.
2019 June CCARA Library Display
Thanks to Will KC8PUW and Mike NF8U for setting up a very nice display at the Coshocton County Library. The display was up for the month of June. Public service was one focus of the display and featured an invitation to the CCARA Field Day operation.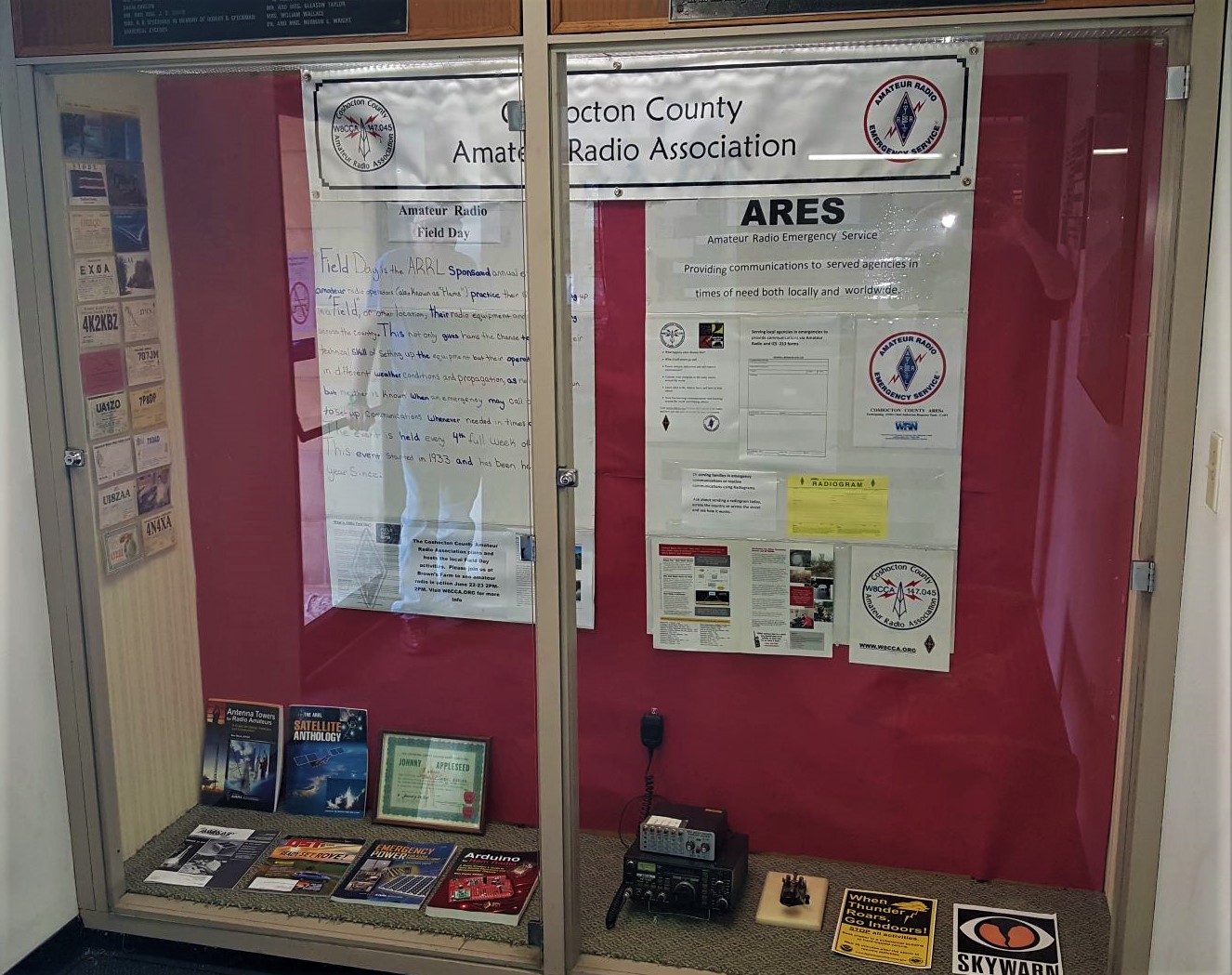 New Club Patches and Mugrugs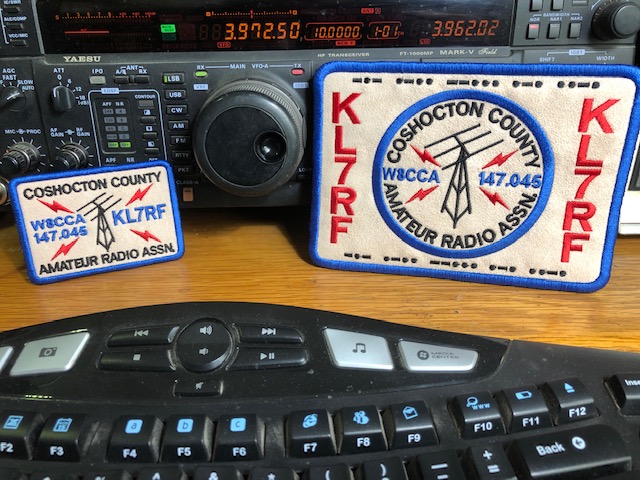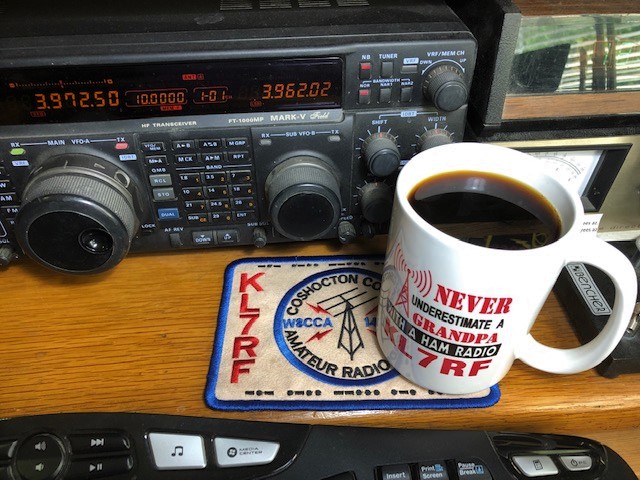 An early Father's Day gift from my grandson really makes the mugrug useful for sure. There are new "personalized" club patches and "Mugrugs" available for members of CCARA. Check out this PAGE to see what is available.
N8VV on the Contest Trail
Dan N8VV has another certificate; this time from the 2019 ARRL DX CW contest. Congratulations to Dan.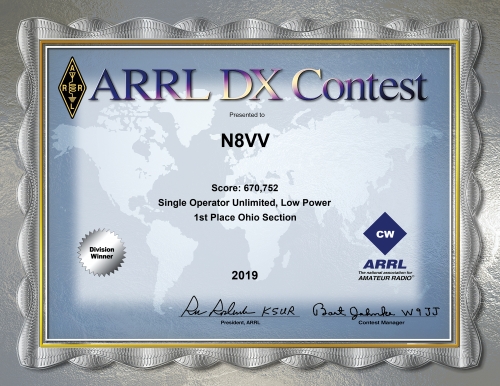 Icom Radio Repair
Check out the Links page if you are in need of an Icom repair. This repair facility is recommended by club member experience.
443.325MH Repeater News
Warren's repeater will be offline for a few days beginning July17th
Warren WX8OH wx8oh@arrl.net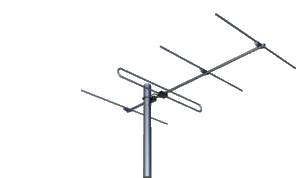 Solar/Terrestrial Weather and Propagation
Check out the website, Solarham.com for current propagation forcasts and solar activity as it relates to ham radio operations.
Meeting Minutes
Don't forget that the club meeting minutes are available on the Meetings page. Check them out before the next meeting to keep up with current information.
The 147.045MHz CCARA Club Repeater Antenna and Equipment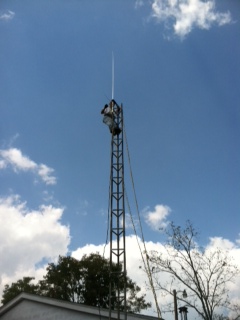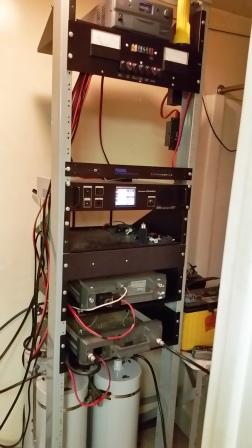 KL7RF photo KB8HEA photo
Ohio Single Sideband Net
The OSSBN is a great introduction to the ARRL's National Traffic System. It meets three times a day: 10:30AM, 4:15PM, and currently 6:00PM to handle traffic in, out, and througout the state of Ohio, and the rest of the country. Check them out, and listen in on 75 meters on 3.9725MHz. This is a very active net and represents some of the best of amateur radio operating, as well as continuing the fine tradiotion of providing emergency communications in existance since the inception of ham radio iteslf. This was the foundation of the formation of the Amateur Radio RELAY League. This is where the "Relay" came from in the name.
Check out the OSSBN website at: Ohio Single Sideband Net
Net on 440
The KB9JSC repeater will be linked to the 145.230MHz for the Monday ARES net at 9PM local, so you can check in to the net on either band. The frequency of the UHF repeater is 443.5375+MHz.
Right after the ARES net, the 440 link will be brought down, and there will be a new net run on the 440 repeater alone. The purpose of this net is for folks to set up and test their equipment on the 440 band and get used to operating there. If you have 440 capability, you are welcome to check in to the net. You don't have to be a member of any group to join in.