CCARA Club News
Ohio ARES Simplex Activity Jan. 12
January 12 – 10AM through 4PM EDT.
The purpose of our annual simplex activity is to improve our station and antenna capabilities, and to test our coverage areas on simplex frequencies. These may be very important in times of emergency, when repeaters have failed and simplex is the only method of emergency communication. We are NOT giving any consideration for backup power- this exercise is aimed at testing antennas and determining coverage areas.
Bands All bands from 50 MHz up We recommend the following frequencies:
50 MHz – Standard simplex calling frequencies Your QSO Points X 10 for six meters!! 146.49 (alternate 146. 46) for VHF UHF and above - Standard simplex calling frequencies
Check out the Ohio ARES Website for details.
Tusco Hamfest January 27th, 2019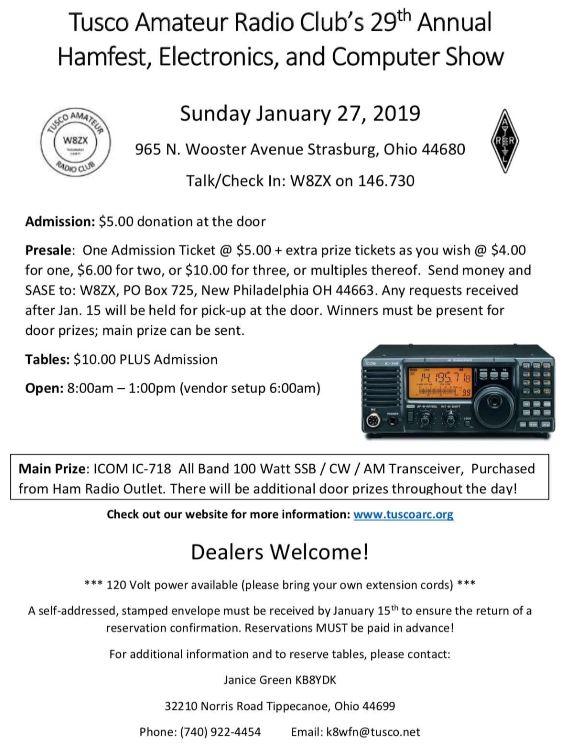 The Tusco club will be having their anual hamfest on Sunday, January 27th, 2019. There will be many door prizes, includinig a grand prize of an Icom IC-718 HF transceiver. Please check out their Home Page to view more details on the event. This is the closest hamfest to us here in Coshocton and I know they appreciate our participation.
CCARA Club Meeting February 5th
The February meeting is scheduled for February 5th at the County Services Building on 7th st. in Coshocton in the lower level. The meeting will start at 7PM with an ARES meeting being held at 6:30PM. We look forward to seeing you there.
The program will be a presentation on CoCoRaHS. The Community Collaborative Rain, Hail, and Snow Network. KL7RF has been participating with the project for over a year.
443.325MH Repeater News
Finally got my OARC Repeater Coordination. The Repeater is running 50 Watts Daytime 8 AM -11 PM. Night Mode is 5-6 watts to Antenna off the Deep Cycle Battery, Without the Amp On, which runs off AC at this time. PL is On now Full Time. 71.9
Looking ahead to 2019, I have the new 4 Bay and LMR-600 top Cable to go up in March. Also Budgeting for a new 50 Watt Hytera Analog/DMR Repeater as a replacement for this old EFJ Analog. I plan on keeping it Primarily Analog.
Slot 1 as Analog
Slot 2 as DMR
That way you won't get Busied Out due to DMR traffic taking over both Time Slots. I plan on only having TG2 or TG9, Ohio Statewide, Ohio Tac1, Area 8 on Slot 2. That way you have a Local DMR Channel On 2 and can also access by Keyup, the broader coverage Ohio Channels. They will be on a 10-15 minute Timeout. Except for the Wednesday Statewide ARES Net that will be Scheduled On.
Warren WX8OH wx8oh@arrl.net
October SET
The 2018 Black Swan SET is in the books. Thanks to all of the ARES volunteers who put in time on October 6th, and deployed to assist in the test.
We test our equipment and abilities to assist with communications for emergency services in Coshocton County in time of need.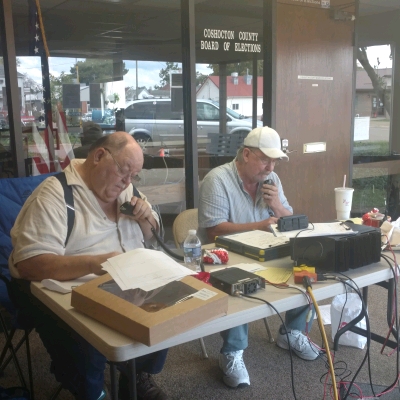 KC8PXM and AA8BN operating the SET at the EOC in Coshocton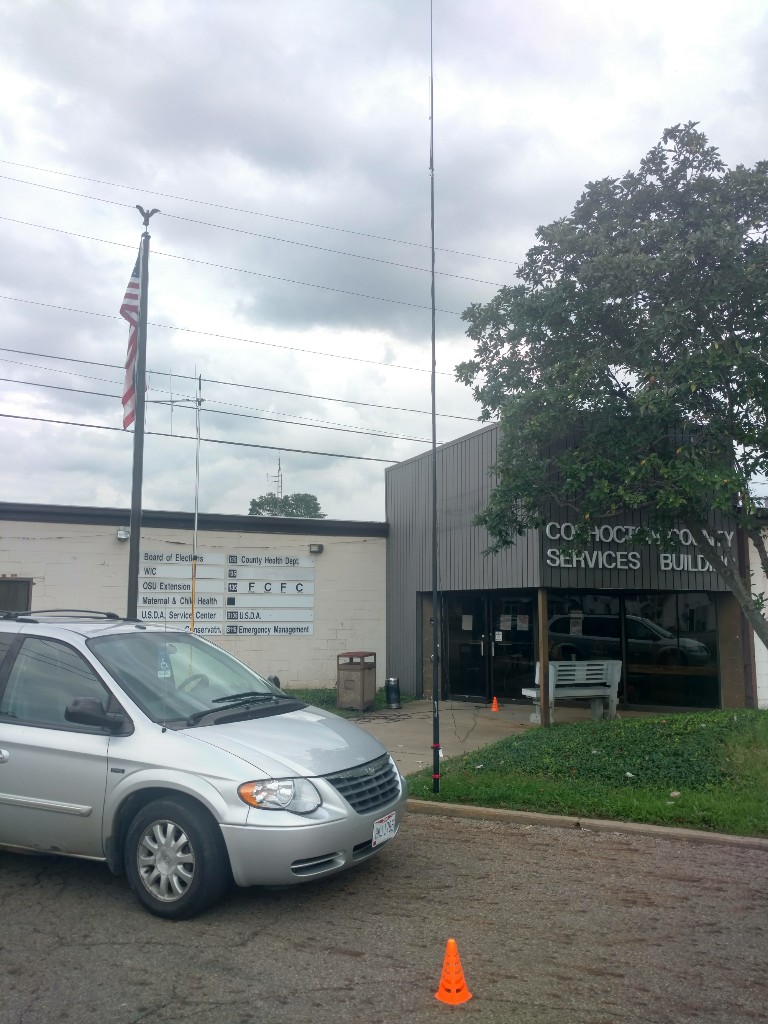 County Services Building with temp. antennas set up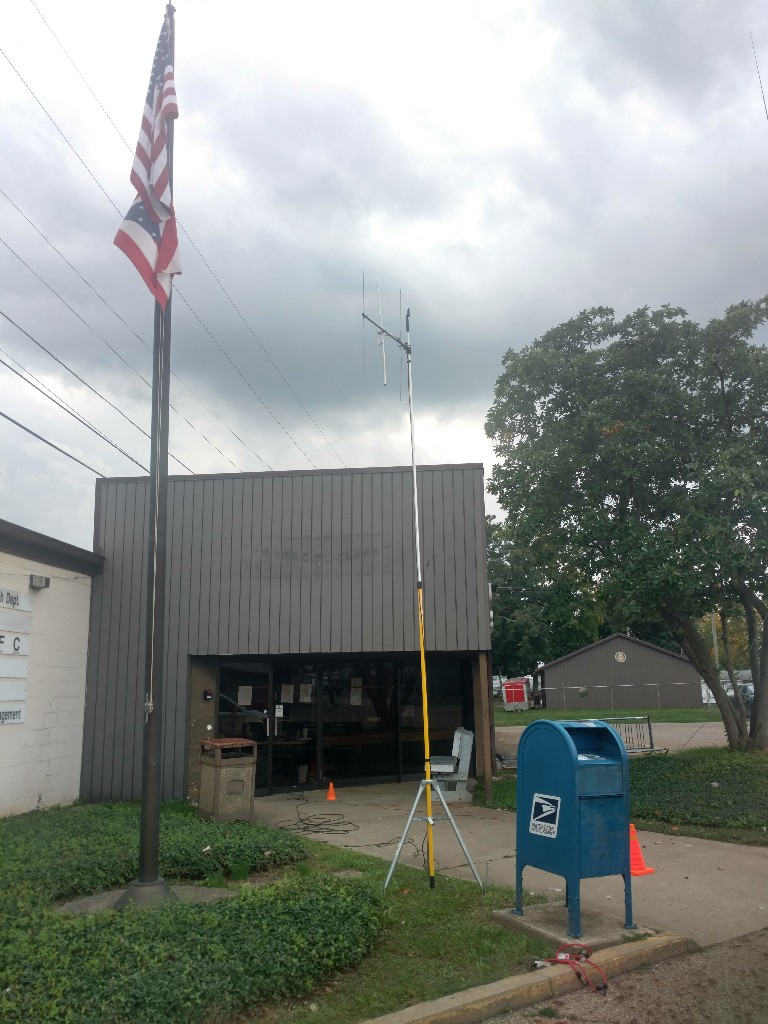 Beam antenna used for VHF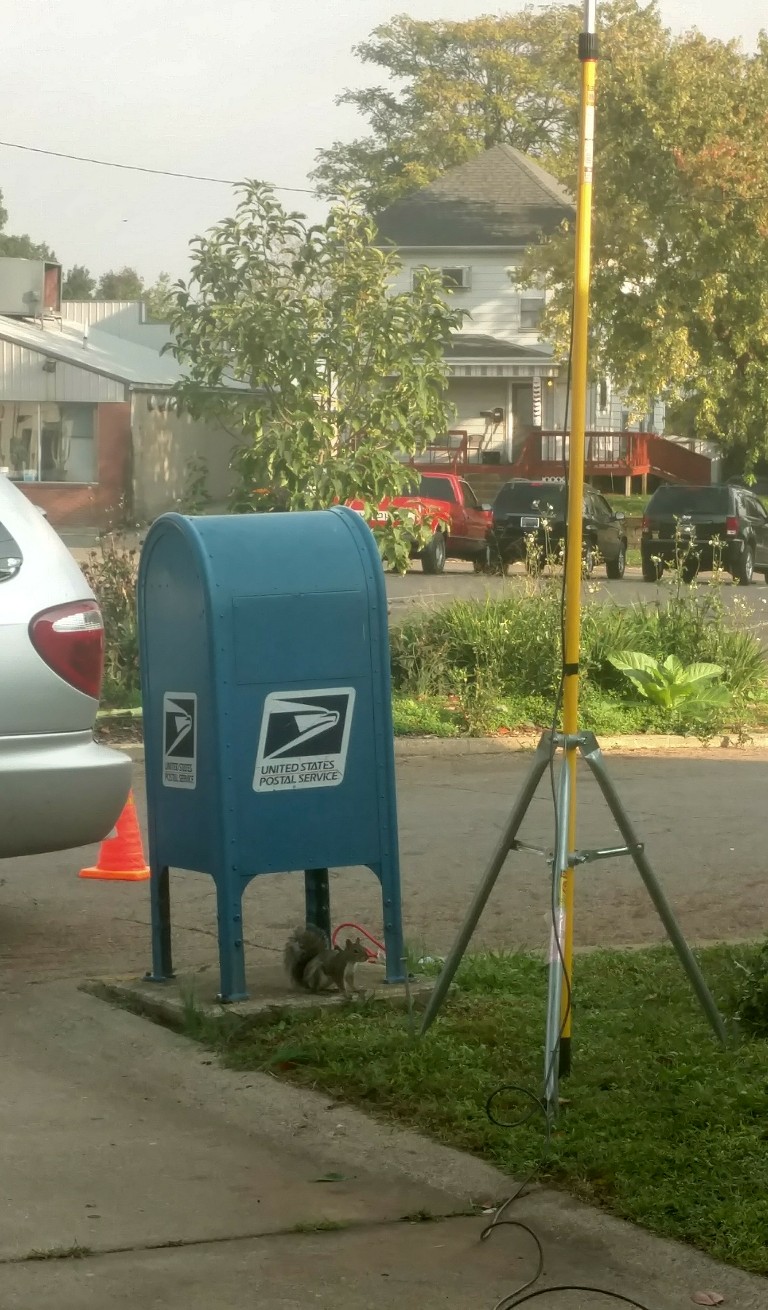 A very persistant, inquiring vistor to the EOC operations for Black Swan (brown Squirrel)
Safety City Operations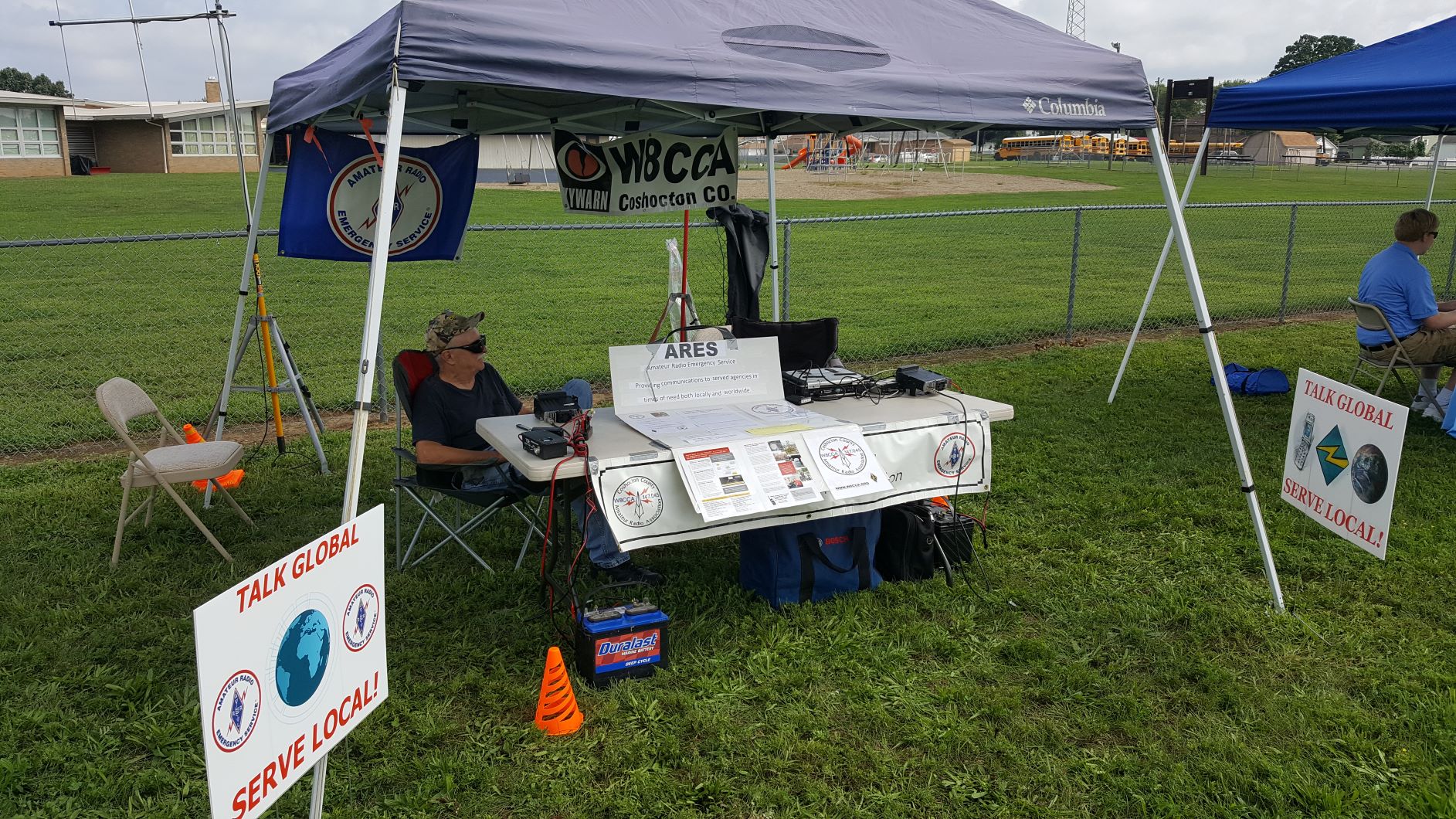 NF8U August 18th Safety City at the Newcomerstown Gateway to Fall Festival
Thanks also to KC8PUW, KB8VIP, and KC8SXL (KC8PUW photo)
West Lafayette Homecomming
WX8OH, NF8U, and KC8PUW manning the CCARA display at the W. Lafayette Homecoming (AA8BN photos)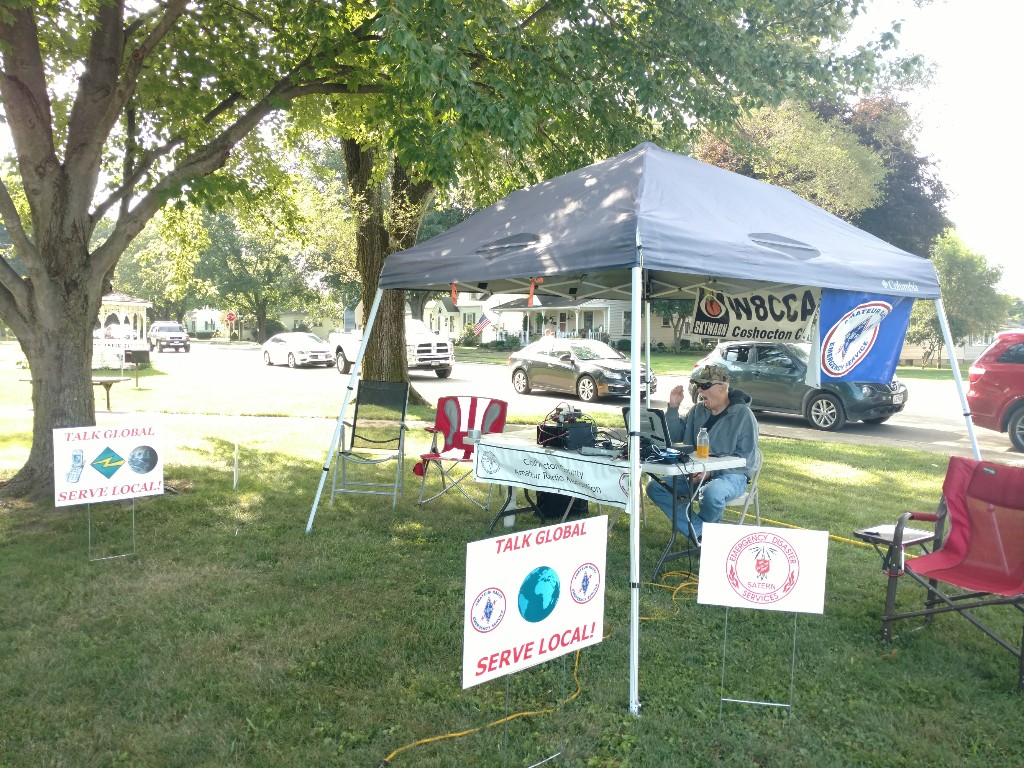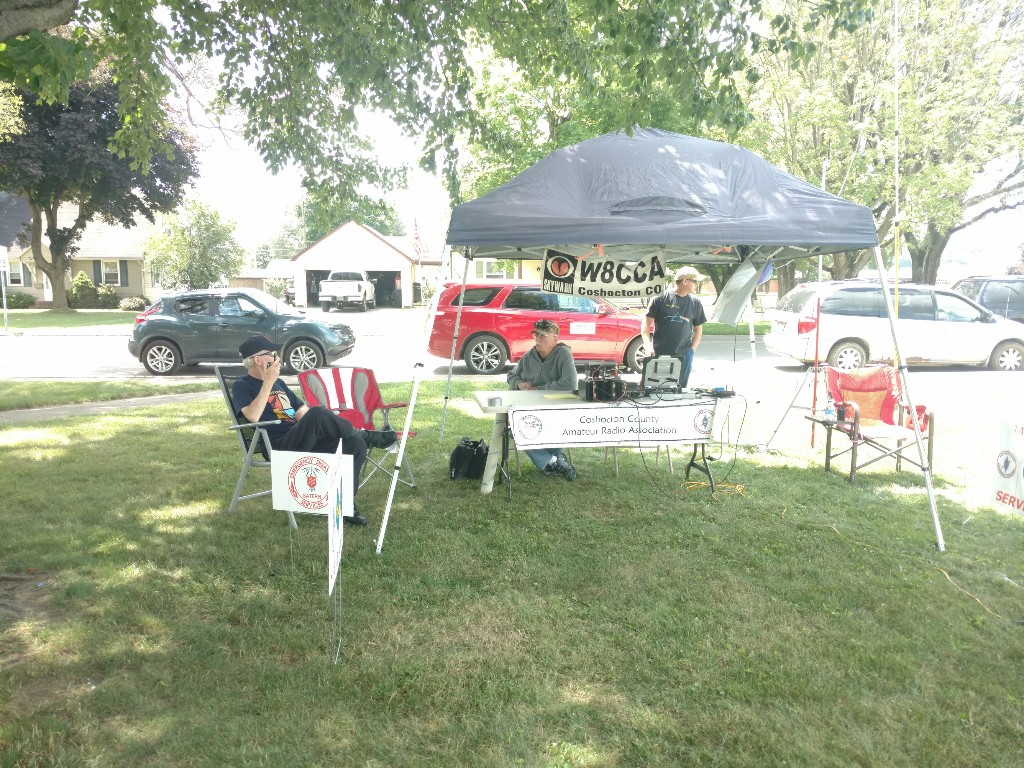 D.E.A.R.S School Club
D.E.A.R.S. stands for the Dresden Elementary Amateur Radio Sation. This is a very active school amateur radio group in our neighboring town of Dresden.
If you would like to work some of the students there, they will be active on the local two meter repeaters surrounding Dresdon every other Tuesday afternoon, with the club call of KD8NOM, starting around 2:30PM local. In the last school club roundup in February,they came in at second place in the country. In the roundup before that, the came in first place. They would love to work stations in our area.
If you would like to volunteer some time mentoring these young folks, you can contact KE8HEC, and he would be happy to get you information on how to do that. Let's all encourage these young hams in our area.
D.E.A.R.S. also has a facebook page which is:Here.
Library Display
Pix of the July library display at Coshocton by KC8PUW.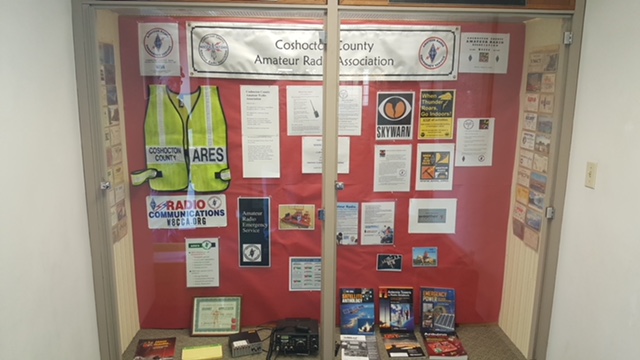 N8VV 2018 Certificates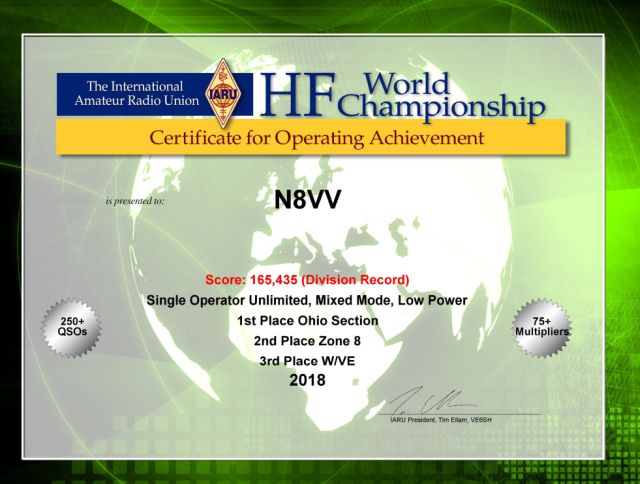 Received my certificate for the (summer between contest seasons) IARU World Championship which indicates a division record for Single Operator, Unlimited, Mixed Mode, Low Power I set the division record in 2014 in the IARU for Single Operator, Mixed Mode, Low Power (not Unlimited)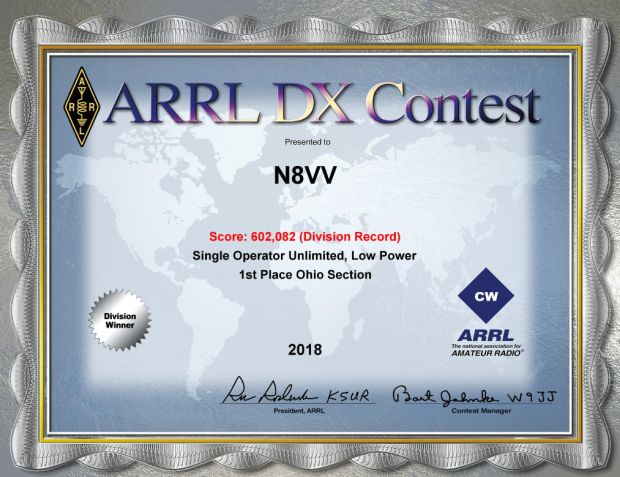 I also received a revised ARRL DX CW contest certificate for 2018 which indicates a division record for Single Operator, Unlimited, Low Power
2018 Field Day
Field Day was held at the Canal Lewisville United Methodist Church's facility, the Brown Farm. We had a great time operating and the picnic was superb. Thanks again to the culinary expertise of Will, KC8PUW, who kept us well fed.
Thanks to all who came, helped set up and tear down, enjoyed the picnic, and to all the operators that make up a great field day.
Pictures provided by AA8BN and WB8VIP.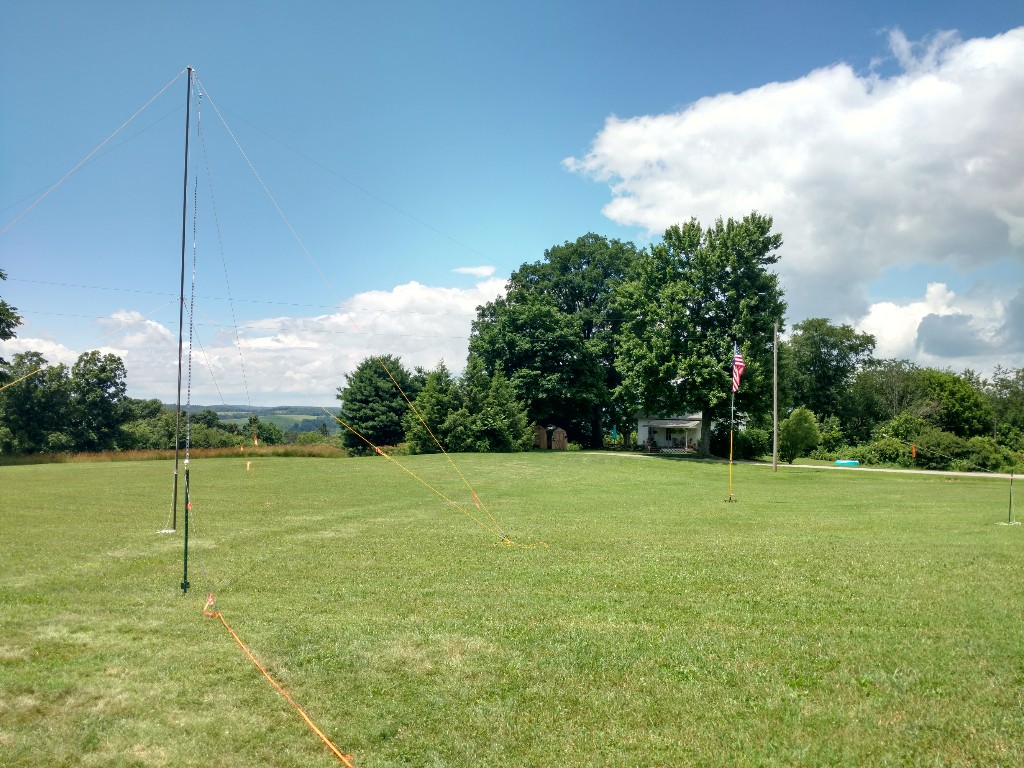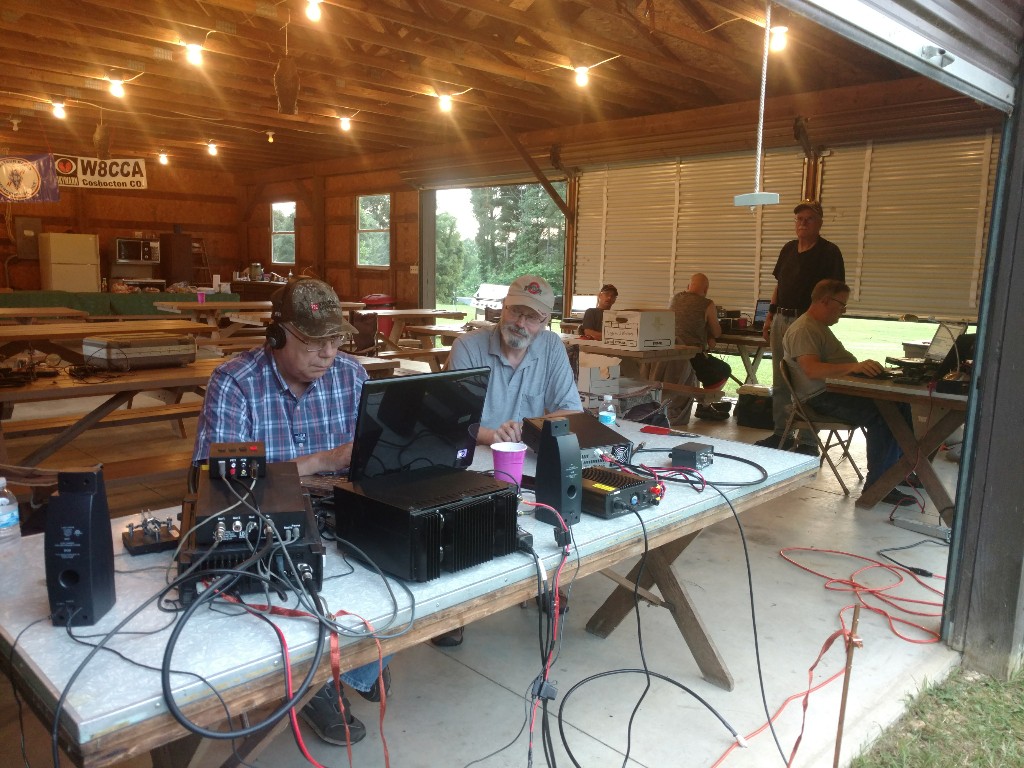 N8VV and N8MXX at the CW & 6 Meter Station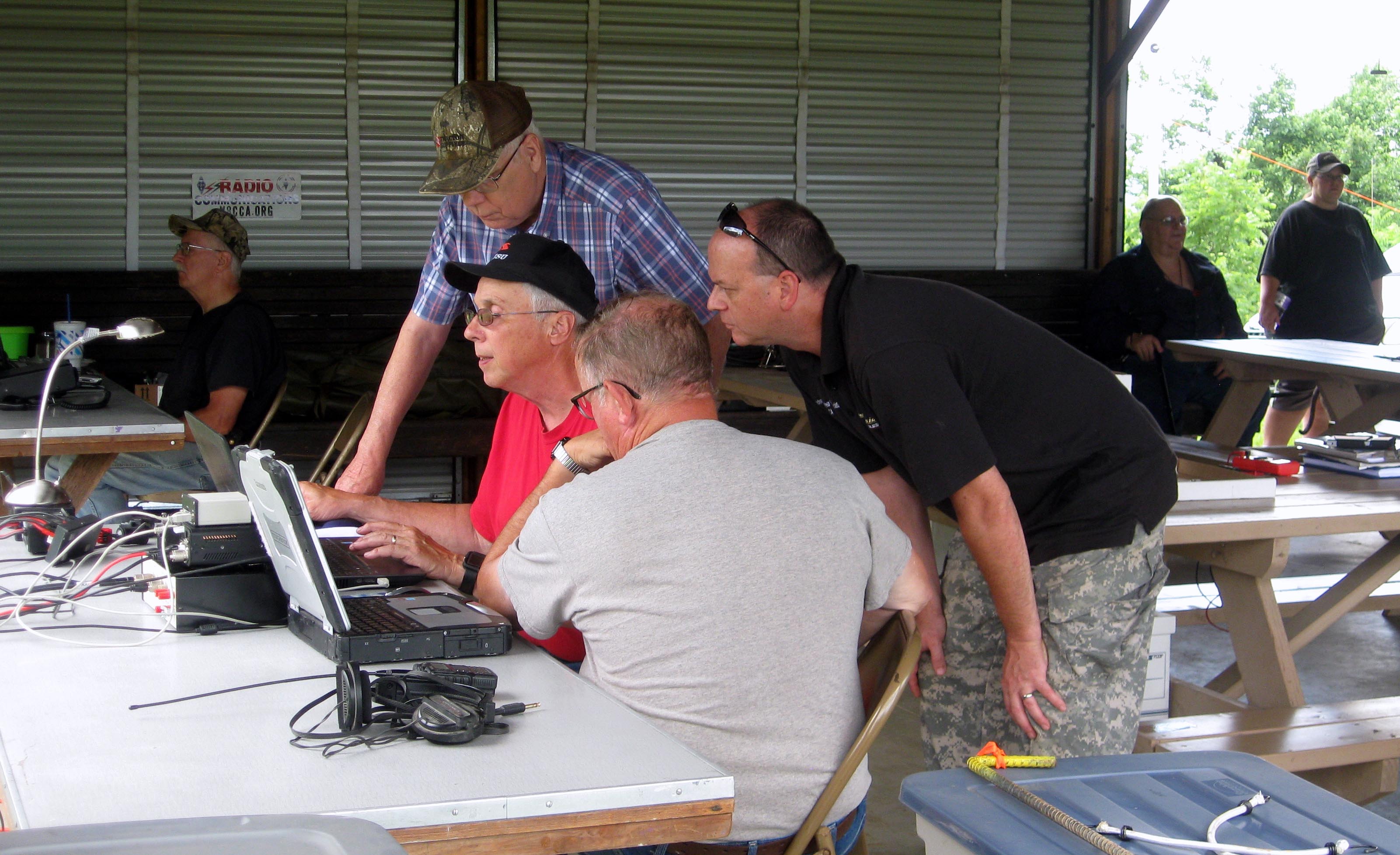 Four heads better than one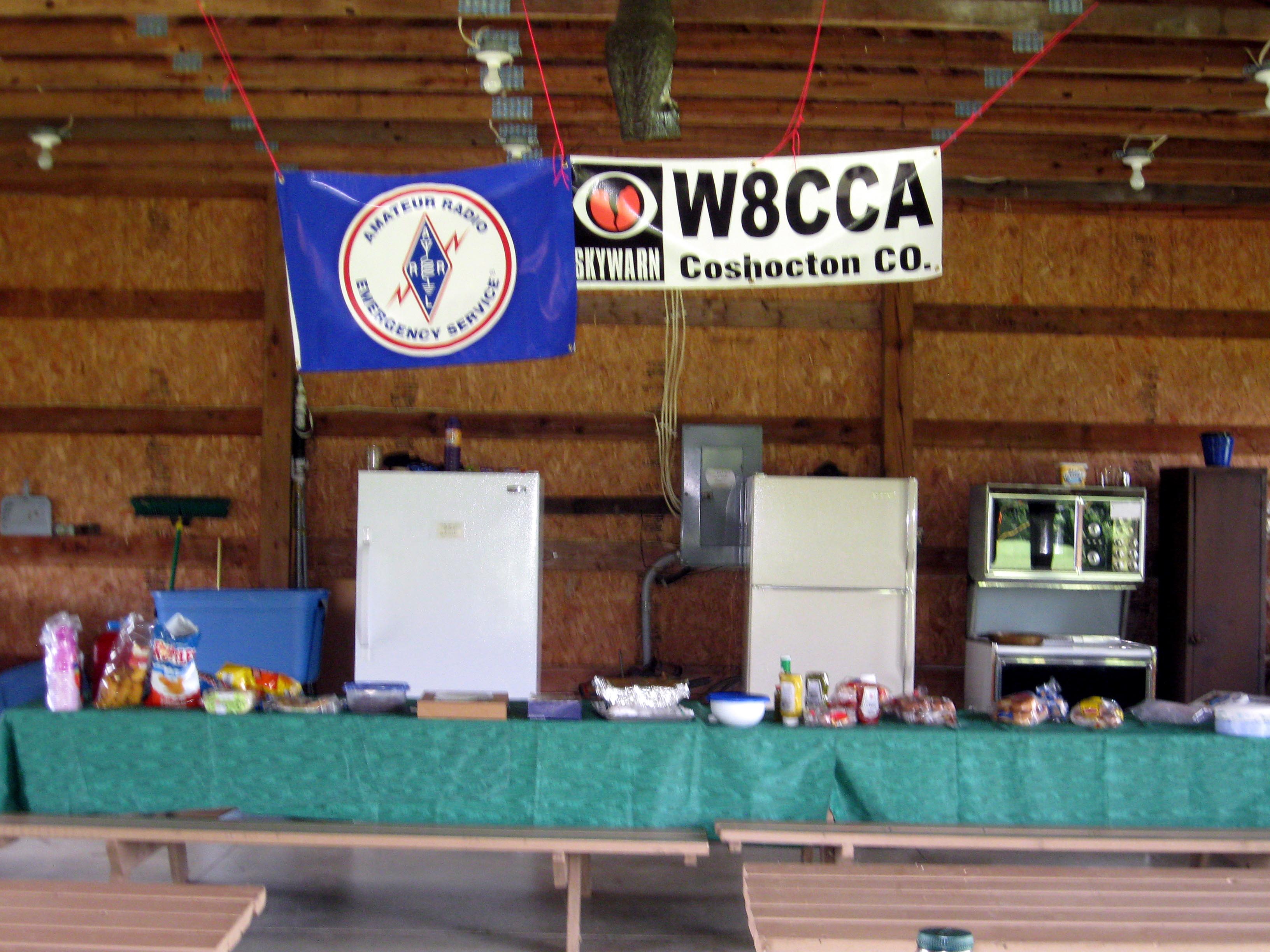 Great Food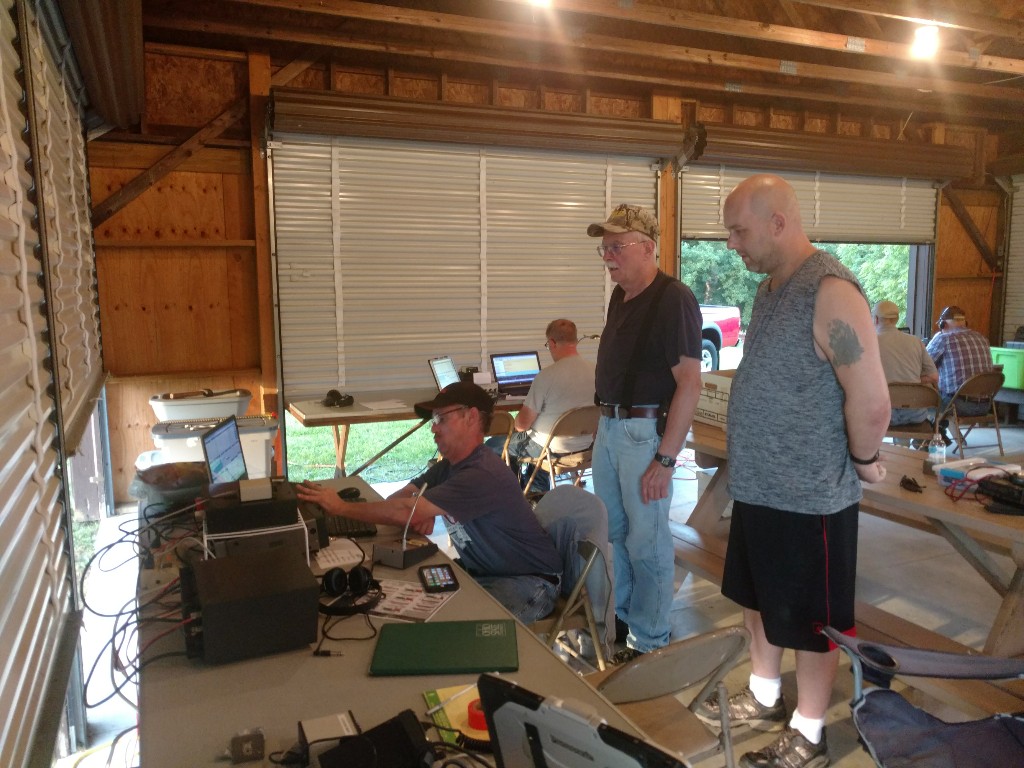 KC8YXY, NF8U, and KC8ZWR at the SSB Station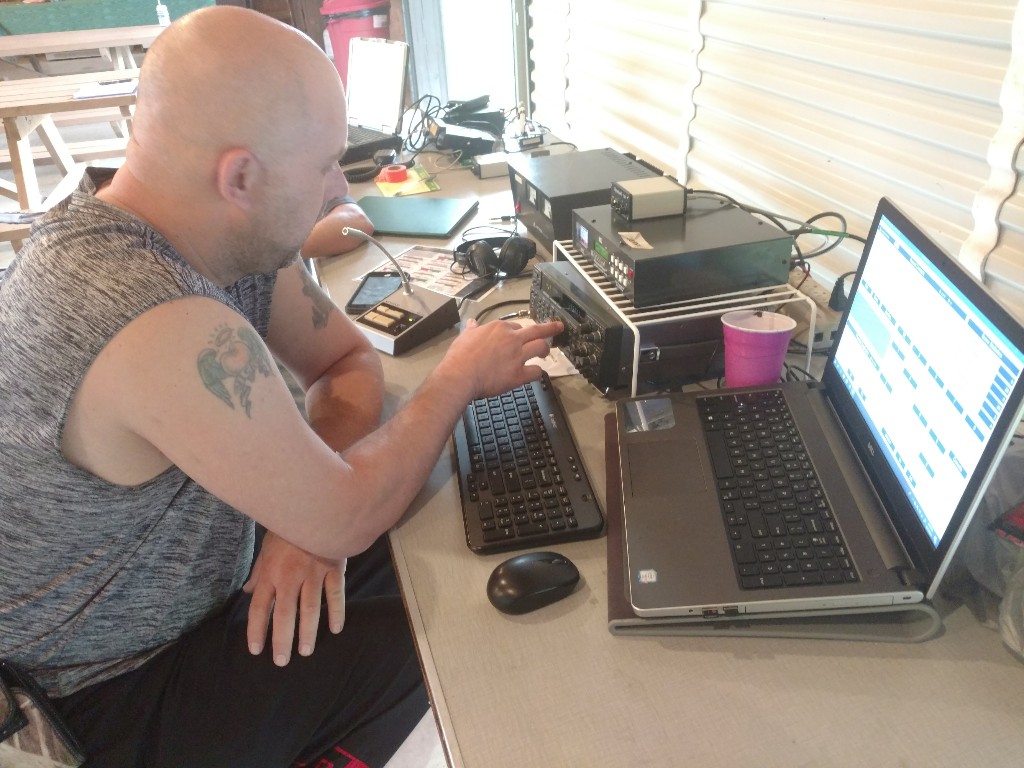 KC8ZWR at the SSB station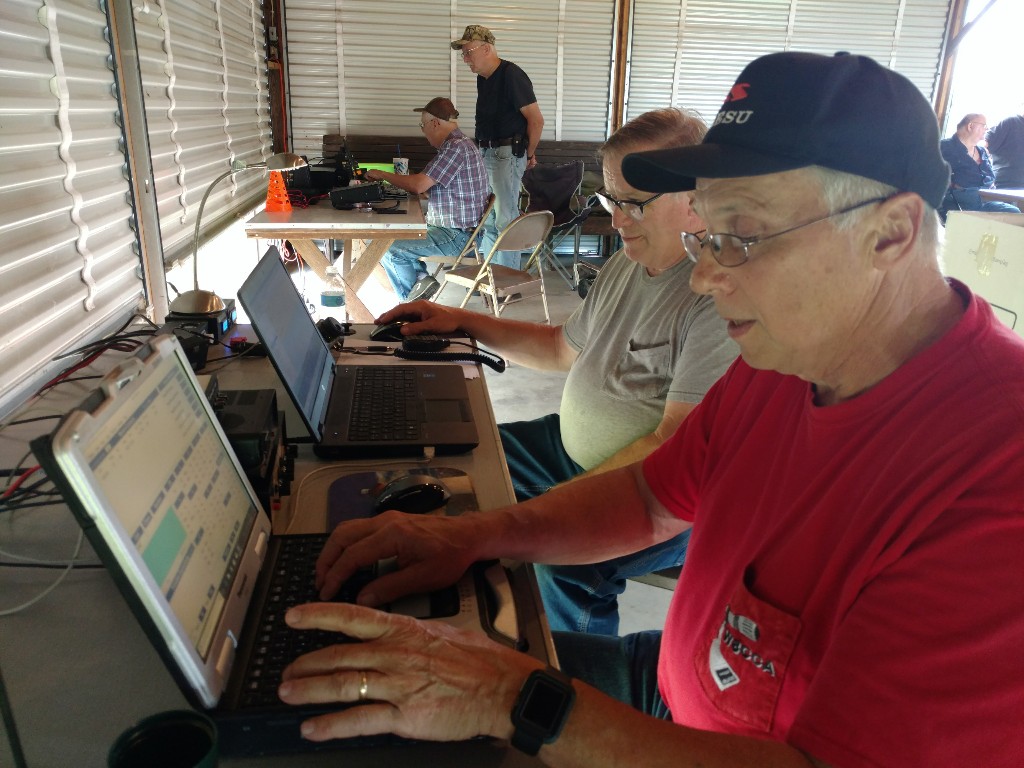 KL7RF and KE8WIP manning the Digital Station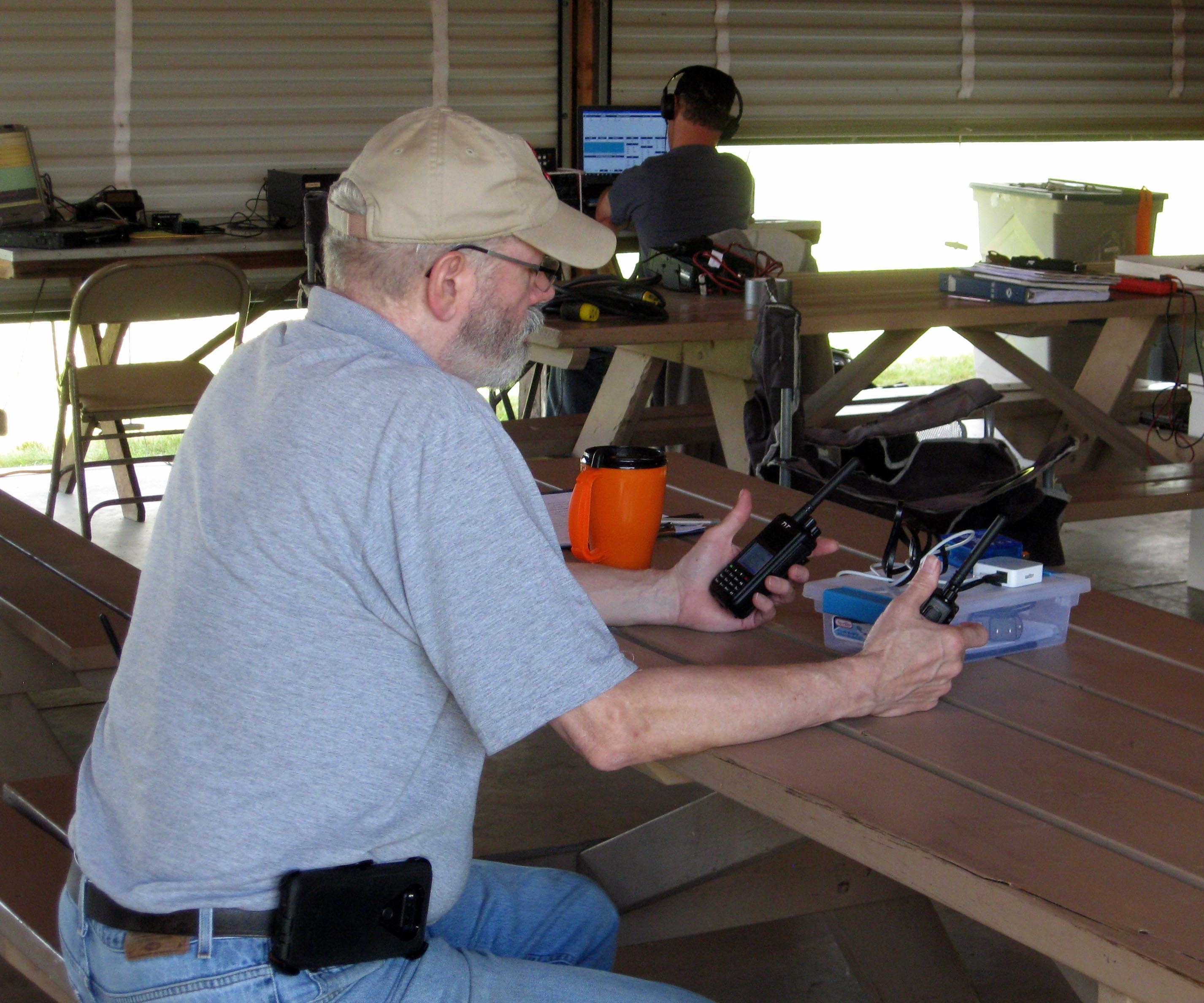 N8MXX with a DMR setup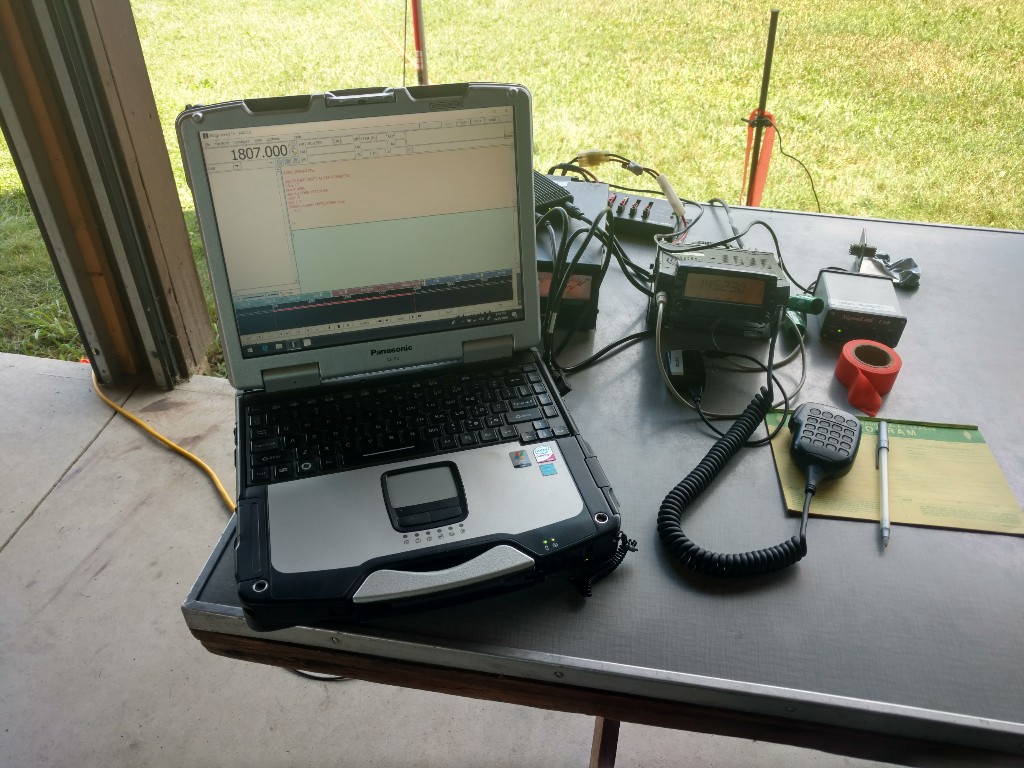 VHF & UHF & FLDIGI Station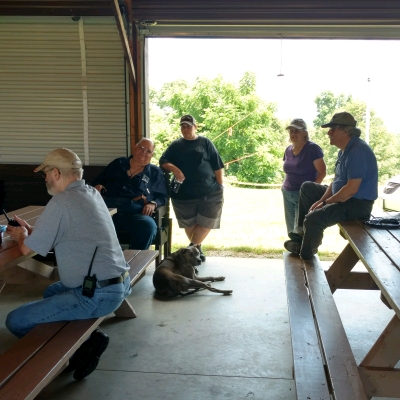 N8MXX KB8PXM KB8YUL KC8SXL KB8VIP (good fellowship)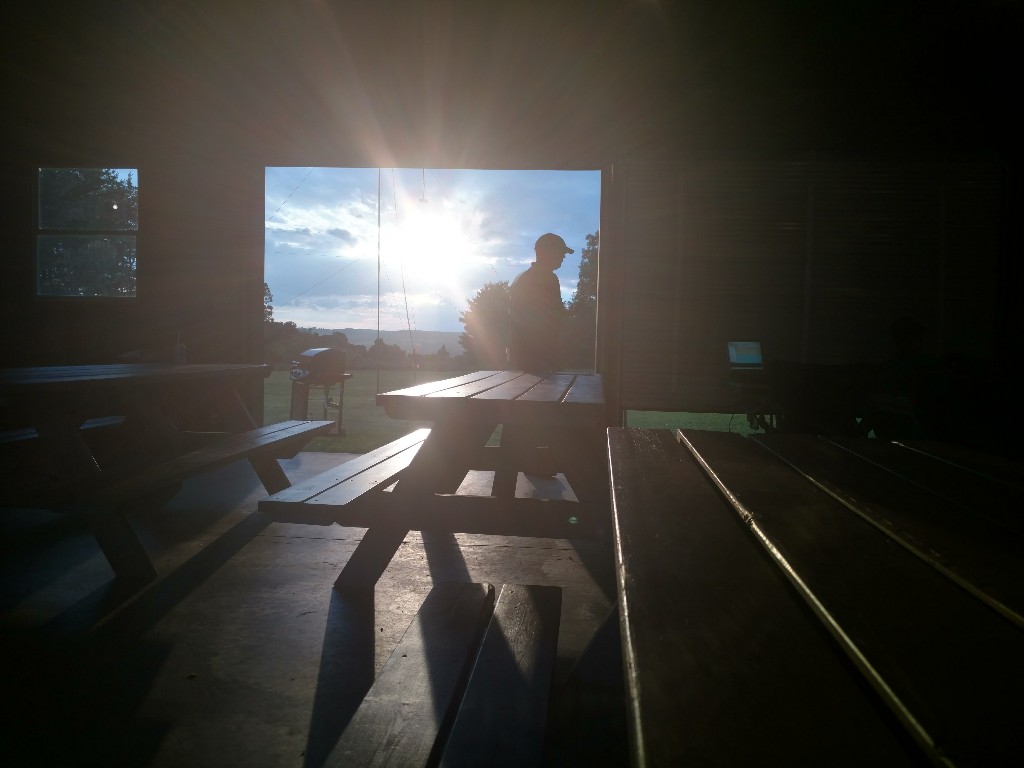 Sundown on Saturday Evening with KC8PUW by the Grill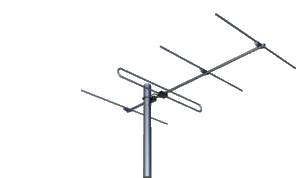 Solar/Terrestrial Weather and Propagation
Check out the website, Solarham.com for current propagation forcasts and solar activity as it relates to ham radio operations.
Meeting Minutes
Don't forget that the club meeting minutes are available on the Meetings page. Check them out before the next meeting to keep up with current information.
Ohio HF Net and Digital Net Information
The HF Net run by the Team W8SGT at the State of Ohio Emergency Operations Center in Columbus Ohio. A voice net is conducted every Tuesday at 7:15 pm on 75 meters (around 3.902MHz). All are welcome to check in. You do not have to be an ARES volunteer to check in. Check in often and put Coshocton Co. in their log.
The Ohio OHDEN Digital Emergency Net is held every Tuesday at 7:45 PM on 3.585MHz using Olivia 8/500. Anyone with questions or comments should send Net Manager Eldon, W5UHQ an email at: w5uhq@theohden.org
The 147.045MHz CCARA Club Repeater Antenna and Equipment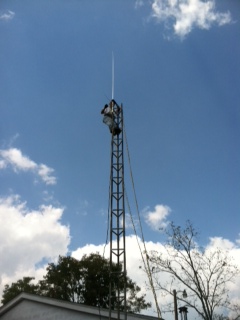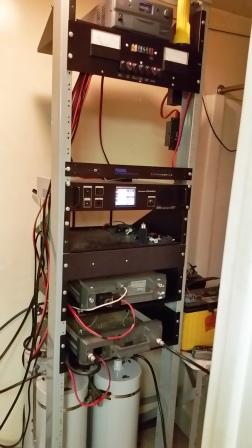 KL7RF photo KB8HEA photo
Ohio Single Sideband Net
The OSSBN is a great introduction to the ARRL's National Traffic System. It meets three times a day: 10:30AM, 4:15PM, and currently 6:00PM to handle traffic in, out, and througout the state of Ohio, and the rest of the country. Check them out, and listen in on 75 meters on 3.9725MHz. This is a very active net and represents some of the best of amateur radio operating, as well as continuing the fine tradiotion of providing emergency communications in existance since the inception of ham radio iteslf. This was the foundation of the formation of the Amateur Radio RELAY League. This is where the "Relay" came from in the name.
Check out the OSSBN website at: Ohio Single Sideband Net
Net on 440
The KB9JSC repeater will be linked to the 145.230MHz for the Monday ARES net at 9PM local, so you can check in to the net on either band. The frequency of the UHF repeater is 443.5375+MHz.
Right after the ARES net, the 440 link will be brought down, and there will be a new net run on the 440 repeater alone. The purpose of this net is for folks to set up and test their equipment on the 440 band and get used to operating there. If you have 440 capability, you are welcome to check in to the net. You don't have to be a member of any group to join in.