CCARA Club News
FIELD DAY IS COMING
This year the club is again planning on using the Brown Farm as our location for the field day and our annual picnic. Field Day will be on June 25th and 26th. We will be setting up our antennaa on Friday June 24th at 10 AM. More details will be posted here soon. Check out the pix from last year's event down below on this page.
To find the Brown Farm take Rt 36 to Canal Lewisville (near the Walmart), take RT 621 north for a few miles until you come to the cemetary on your right. Directly after the cemetary, take a right onto Township Rd. 200 (a narrow blacktop road). Follow that winding road about a mile or so to the top of the hill. You will see the sign on your right for the Brown Farm.
We will set up equipment on Saturday morning and have a picnic lunch at noon. The actual Field Day begins at 2PM and runs through 2PM on Sunday. Our offical club picnic will be on Saturday evening around 6PM. Come out for the food and fellowship even if you do not plan to operate. Please bring a covered dish. The meat and water, and table service will be provided by the club. You can bring other drinks if you like.
Feel free to come and operate at one or more of our operating positions: voice, CW, and digital for as long or as little as you like. Of course you can just come and enjoy the food and fellowship. Bring family members and have a great time.
June 1st Club Meeting
The Club meeting was held at the County Services Building on 7th St in Coshocton. We finalized plans for the club Field Day on June 25 & 26. We plan to have set up at the Brown farm facility on Friday June 24th at 10 AM. Please come and help out if you can.
Cyber Security
We might all want to make ourselves aware of potential disruption. During these stressing times we might want to be aware of possible problems online. The article refers to this link for information from the government's Cybersecurity and Infrastructure Security Agency. It is a good thing for hams to be aware of tech. vulnerabilities around us.
K8MLT Estate Sale
K8MLT, Ben - a member of the Tusco Radio Club, passed away several months ago and his parents are attempting to sell his ham radio equipment. The equipment is in excellent condition and priced to sell. The location of the sale is: a few miles south of New Philadelphia 534 North Main Street Tuscarawas, OH 44682 The sale is in conjunction with the Village of Tuscarawas community yard sale. SALE DATES JULY 16, 2022 9 am - 2 pm JULY 17, 2022 9 am - 2 pm
A list of available equipment is on this PDF
N8VV Tops in 10 Meter Contest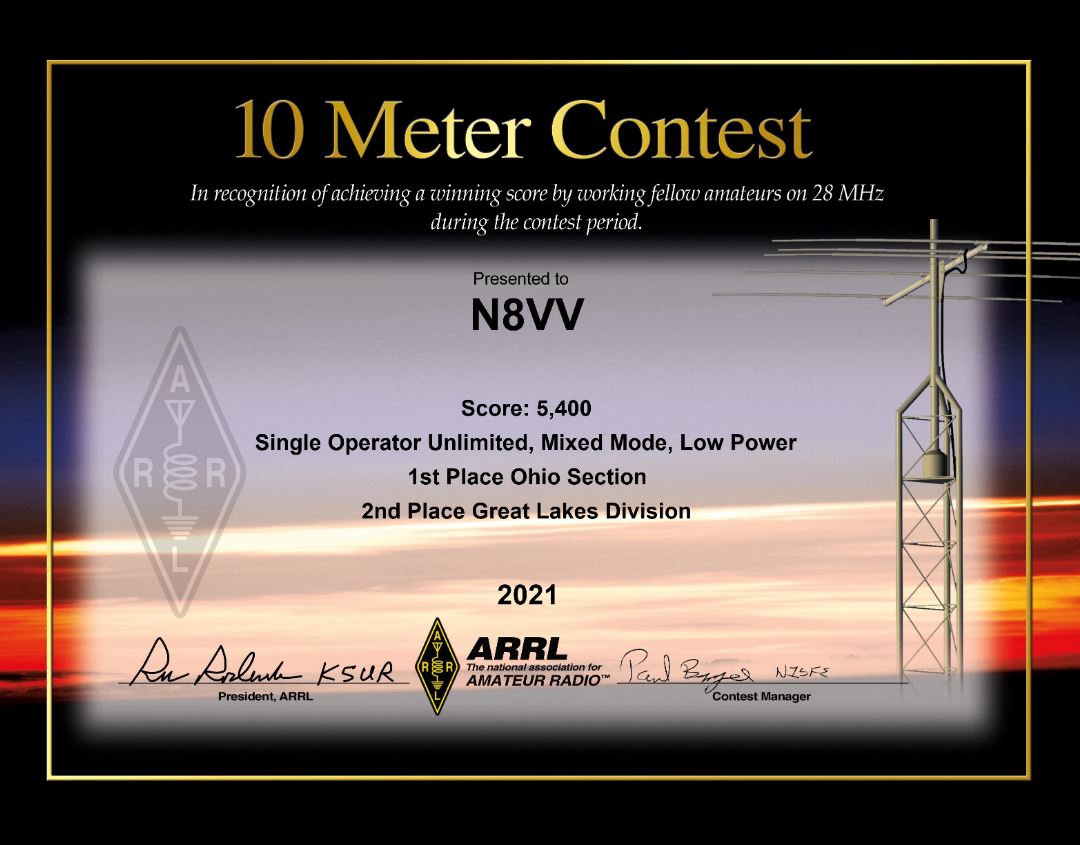 Video on the ICS-213 and Radiograms
Matt Curtin, KD8TTE, has prepared a very good youtube video on how to "encapsulate" a FEMA ICS-313 form into an NTS Radiogram form. It is a great step forward to be able to take a commonly used form for ARES served agencies and be able to send this form great distances if needed through the national traffic system in a format that is common to the NTS. Click on this link to view the presentation.
New RF Exposure Requirements
New FCC RF exposure requirements went into effect May 3, 2021. Have you performed your station evaluation?
There is a very good article in the Ohio Section Journal published on January 22. This is a new law and all amateur stations are required to perform calculations for their stations and have them available for inspection if required by the FCC.
ARES COCO Net
The Monday evening ARES net is meeting at 8PM. Please join us at 8:00PM. Thanks.
Club Repeater On Medium Power
We are operating at the 25 watt power level with no external amp connected. The results seem to be good.
Field Day at the Brown Farm
The club has resumed an actual field day even at the Brown farm, and we had excellent weather for it. We set up an amateur radio club display and had our usual 3A (voice, cw, digital) stations set up for operation. We had some good scores considering the poor radio propagation. We still had lots of fun, fellowship, and very good eats. Thanks to Will KC8PUW and his family, Wip KE8WIP for handling breakfast duty on Sunday, and all who brought covered dishes to augment what the club provided.
Thanks to all who came out to operate, feast, or just to catch up on how each of us have been fairing during the long period of forced separation. It should be mentioned that Dan N8VV, although at home, supported the group with his more than 300 CW contacts to add to the club totals.
Below are some pix of the beautiful set up and some of the activity at this year's CCARA Field Day taken by Steve AA8BN.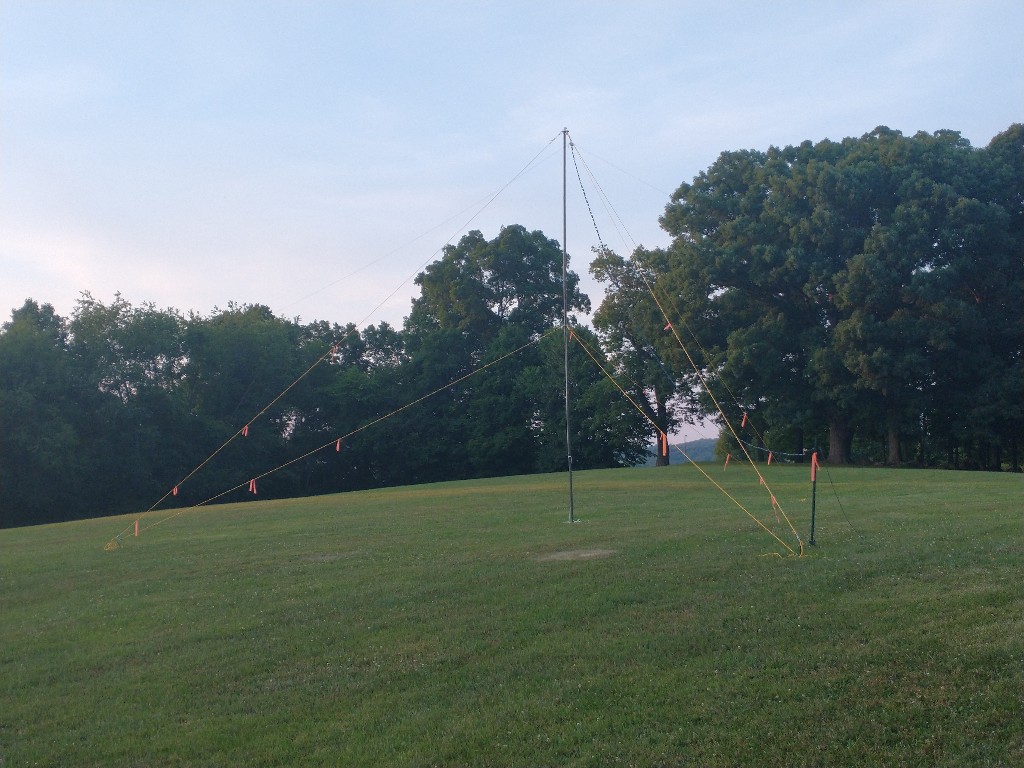 one of the G5RV antennas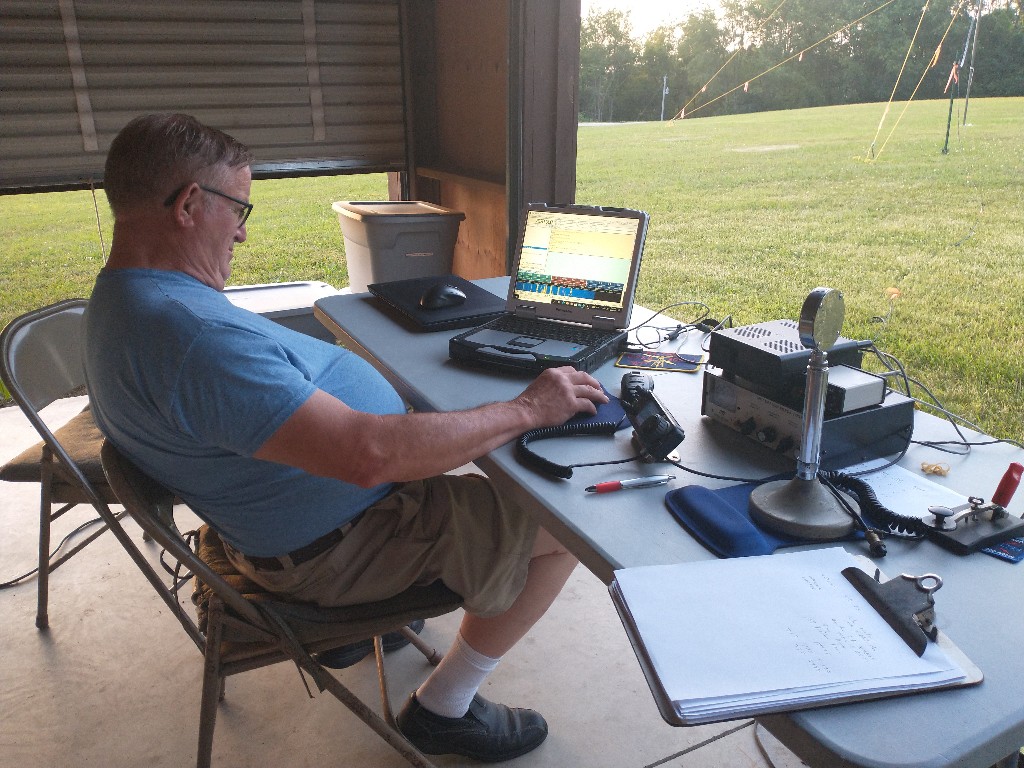 KE8WIP on the digital station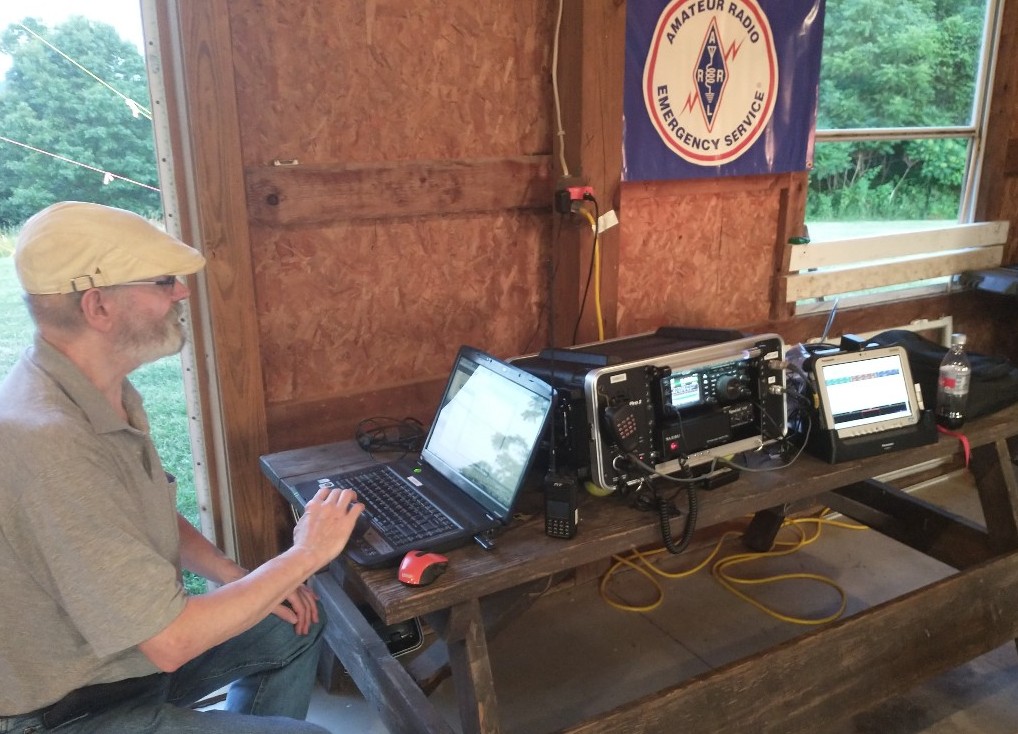 N8MXX at the VHF station with his portable station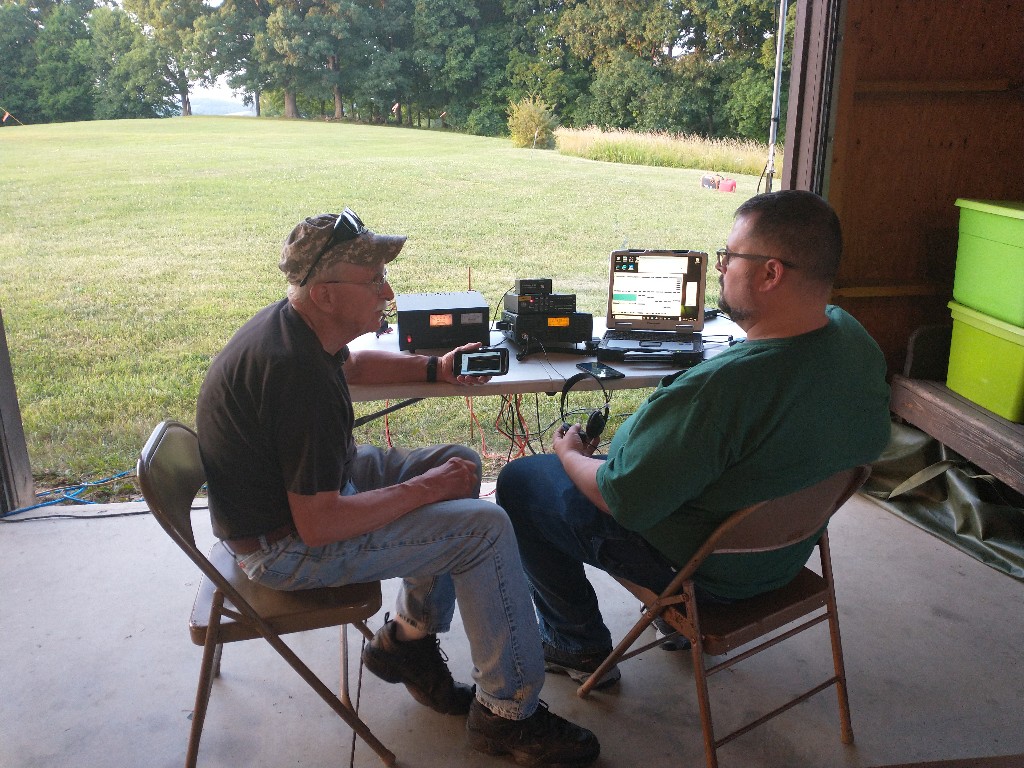 Mike NF8U and Chad AB8SV at the CW station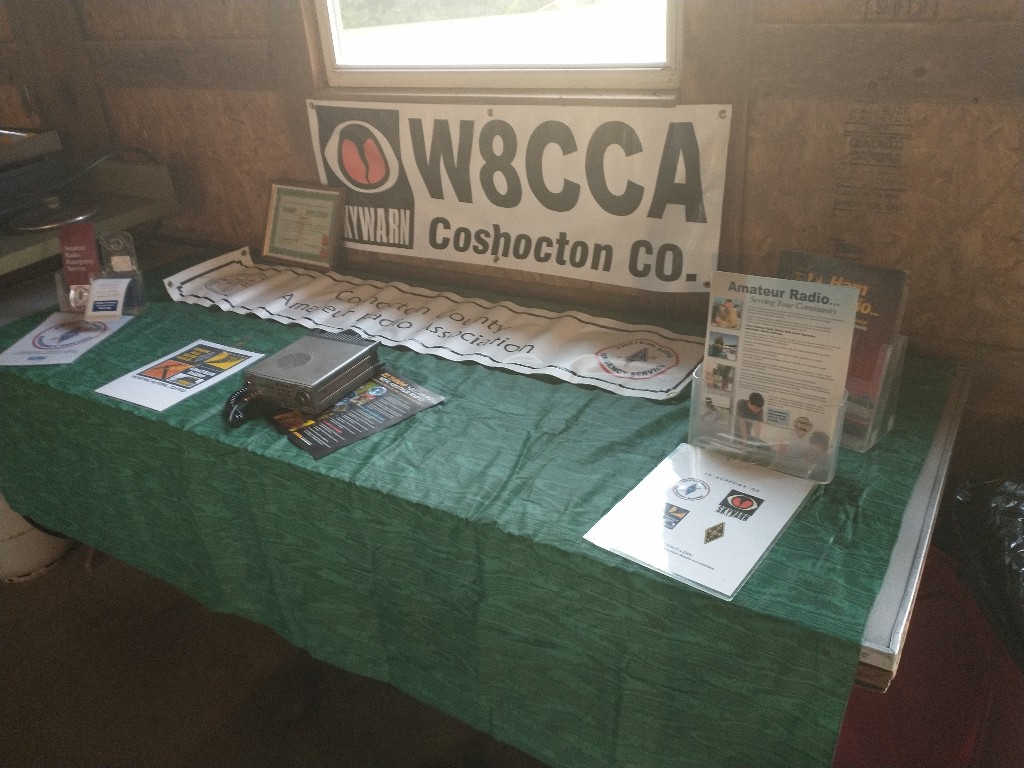 Ham radio info. and club signs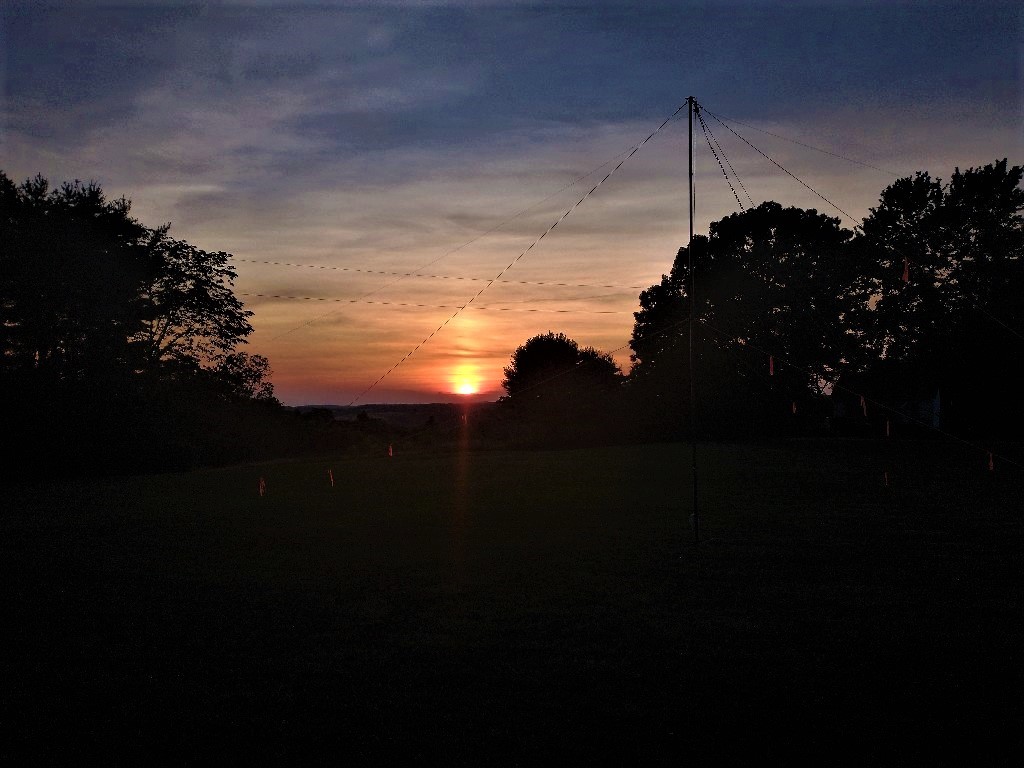 Beautiful sunset beyond antenna
Ham's Social Distancing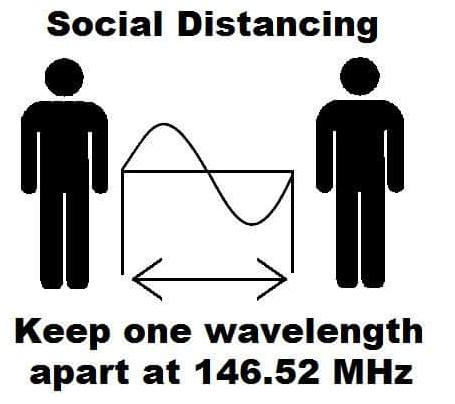 Ft8 & JS8CALL Article
Thanks to Heinz KB8VIP for writing and submitting a short article describing two neat operating modes for making use of poor propagation. You can find this article on the Digital modes page.
Icom Radio Repair
Check out the Links page if you are in need of an Icom repair. This repair facility is recommended by club member experience.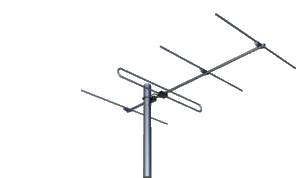 Solar/Terrestrial Weather and Propagation
Check out the website, Solarham.com for current propagation forcasts and solar activity as it relates to ham radio operations.
Meeting Minutes
Don't forget that the club meeting minutes are available on the Meetings page. Check them out before the next meeting to keep up with current information.
The 147.045MHz CCARA Club Repeater Antenna and Equipment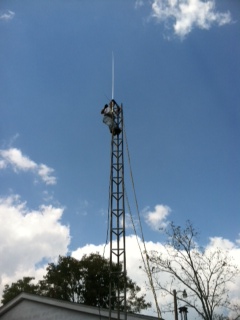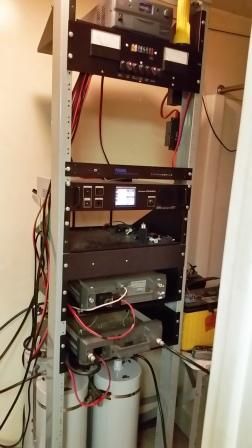 KL7RF photo KB8HEA photo
Ohio Single Sideband Net
The OSSBN is a great introduction to the ARRL's National Traffic System. It meets three times a day: 10:30AM, 4:15PM, and currently 6:00PM to handle traffic in, out, and througout the state of Ohio, and the rest of the country. Check them out, and listen in on 75 meters on 3.9725MHz. This is a very active net and represents some of the best of amateur radio operating, as well as continuing the fine tradiotion of providing emergency communications in existance since the inception of ham radio iteslf. This was the foundation of the formation of the Amateur Radio RELAY League. This is where the "Relay" came from in the name.
Check out the OSSBN website at: Ohio Single Sideband Net
Net on 440
The KB9JSC repeater will be linked to the 145.230MHz for the Monday ARES net at 9PM local, so you can check in to the net on either band. The frequency of the UHF repeater is 443.5375+MHz.
Right after the ARES net, the 440 link will be brought down, and there will be a new net run on the 440 repeater alone. The purpose of this net is for folks to set up and test their equipment on the 440 band and get used to operating there. If you have 440 capability, you are welcome to check in to the net. You don't have to be a member of any group to join in.