CCARA Club News
ARRL Amateur Radio Exam Session Feb 26, 2018, 10AM
Exam session at the Coshocton Public Library. See details Here.
440 Repeater On the Air
The 440 repeater is back on the air still with some "crackling". The club is continuing the construction of Rod's new antenna for the 440. We are hoping to have it up in the air in early Spring.
March CCARA Meeting
The March meeting will be held at the County Services Building (lower floor) on March6th at 7:00PM. The program for the night will be a presentation on "Small Antennas for the Top Band (or maybe big antennas for the Top Band)"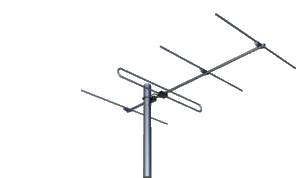 Belle Valley, OH General Class Crash Course
The American Legion Post 641 Amateur Radio Club will be hosting a General Class crash course on Feb 25th, 2018 at beginning at 10:00 am on both dates with exams to follow immediatley afterwards. Courses will be held at Post 641 in Belle Valley Oh just off exit 28 on I77. The course will be instructed by Sonny Alfman W8FHF. Exams will be conducted by the Laural Valley Group and there is NO CHARGE for the exams. Lunch will be served by the club for a small donation. For further information please contact Gary Oliver, Membership Chairman at garyoliver523@gmail.com.
More Upcoming Area Events
Feb. 20 ARRL Registered Instructor Bill Hannon, N8PW will be holding a General License Class & Testing Review, on Tuesday Evenings from 7pm to 9pm for six weeks, for more information contact Bill, N8PW at 330-454-7793 or n8pw@neo.rr.com
D.E.A.R.S School Club
D.E.A.R.S. stands for the Dresden Elementary Amateur Radio Sation. This is a very active school amateur radio group in our neighboring town of Dresden.
If you would like to work some of the students there, they will be active on the local two meter repeaters surrounding Dresdon every other Tuesday afternoon, with the club call of KD8NOM, starting around 2:30PM local. In the last school club roundup in October, they came in at first place in the country. They would love to work stations in our area.
If you would like to volunteer some time mentoring these young folks, you can contact KE8HEC, and he would be happy to get you information on how to do that. Let's all encourage these young hams in our area.
D.E.A.R.S. also has a facebook page which is:Here.
November CCARA Meeting - Special November 14th
The November CCARA and Coshocton ARES meeting was well attended as the club welcomed several guests from the ARRL-Ohio cabinet. This meeting was a joint meeting of CCARA and ARES coordinated by NF8U and AA8BN. Scott Yonally N8SY Section Manager, Stan Broadway N8BHL Section Emergency Coordinator, Lyn Alfman N8IMW Assistant Section Manager, and Sonny Alfman w8fhf District Emergency Coordinator. Refreshments were provided by AA8UA and AA8BN. Thanks to all for a great meeting.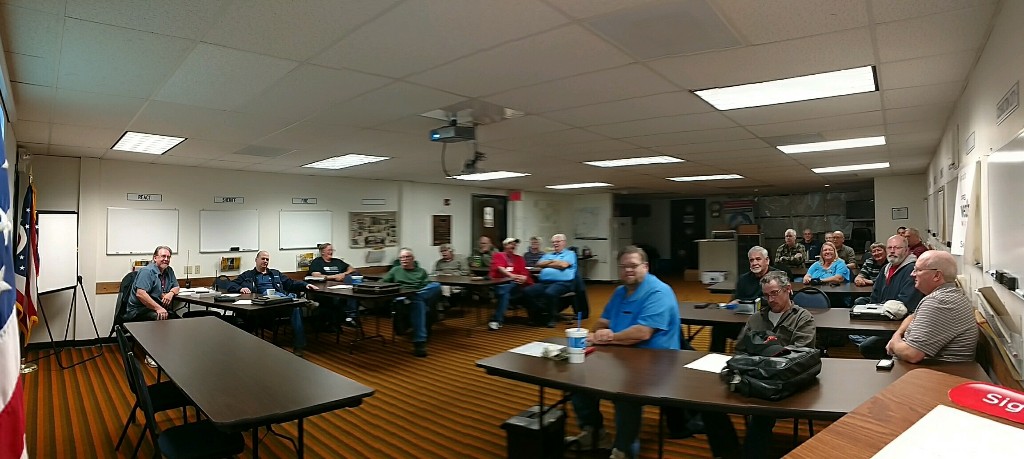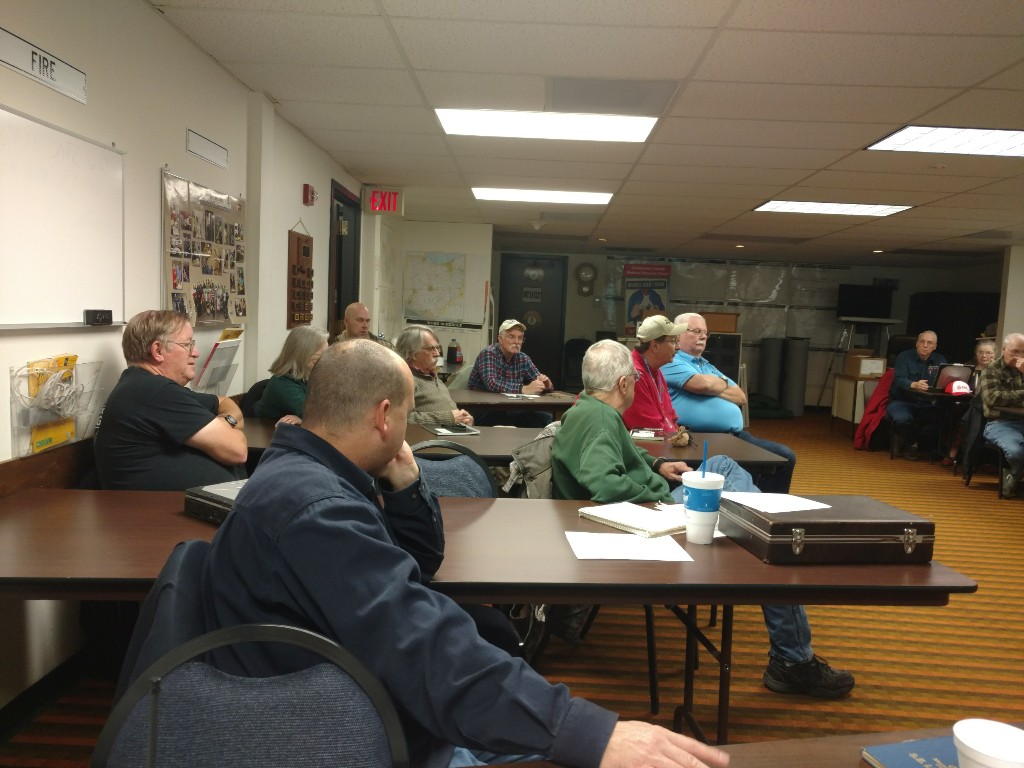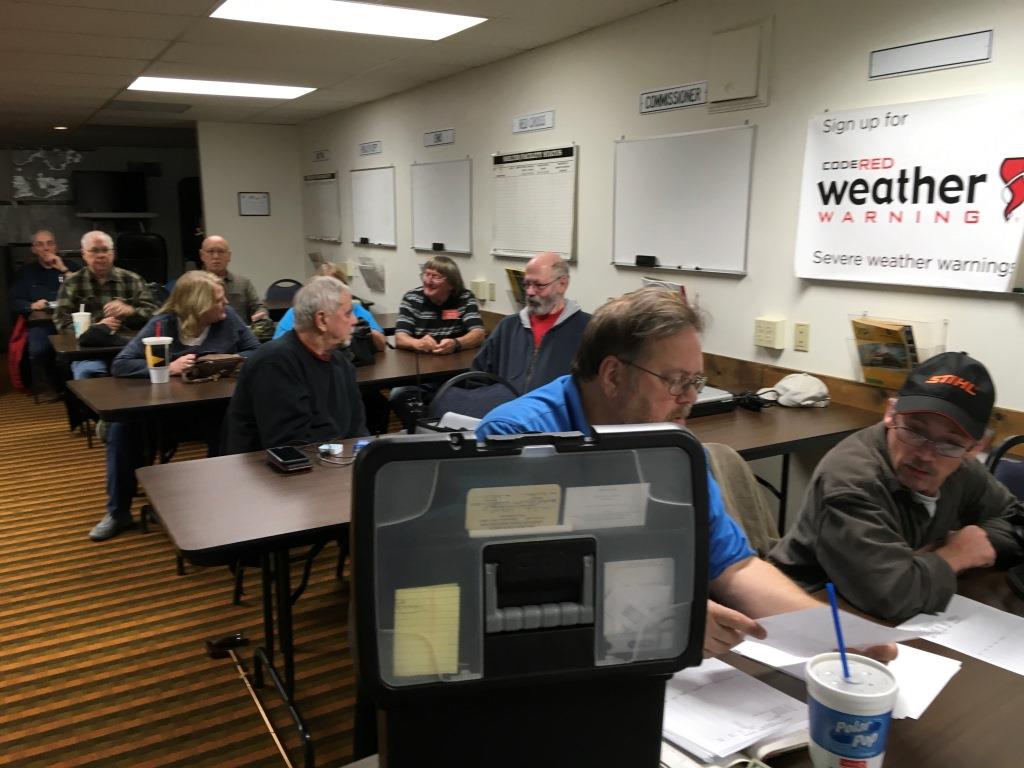 First up: Steve AA8BN reviewed our recent ARES activities with the SET, MARS Test, and local events including assisting the board of elections with communications to two outlying poling places, and a hospital table top exercise.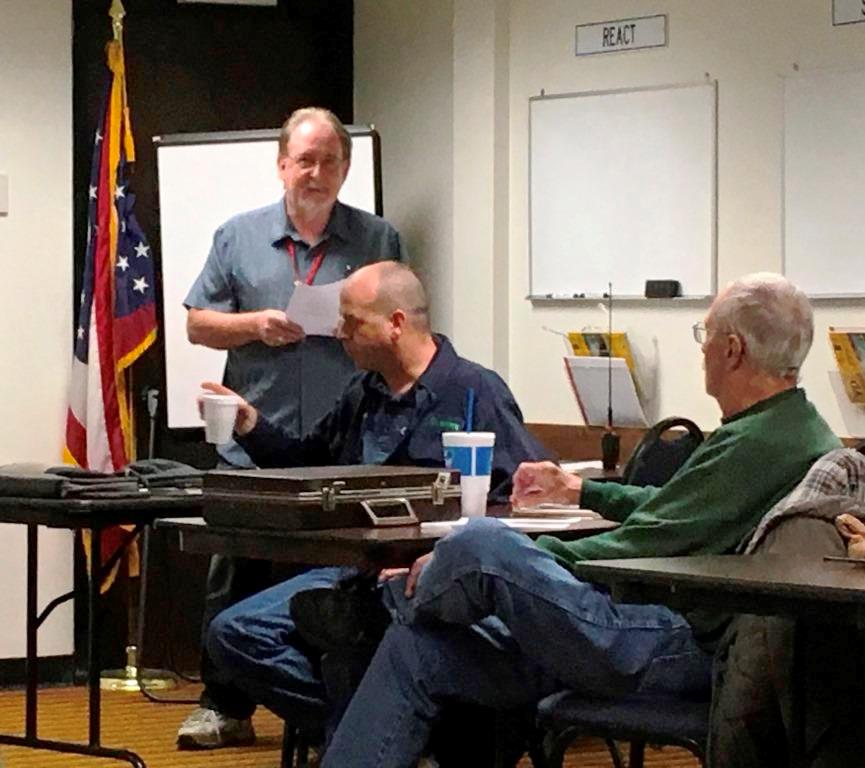 Next, Scott Yonally N8SY presented Randy Fisher KL7RF an Ohio Section Manager's "Special Recognition Award" for his work as a Coshocton County Assistant Emergency Coordinator.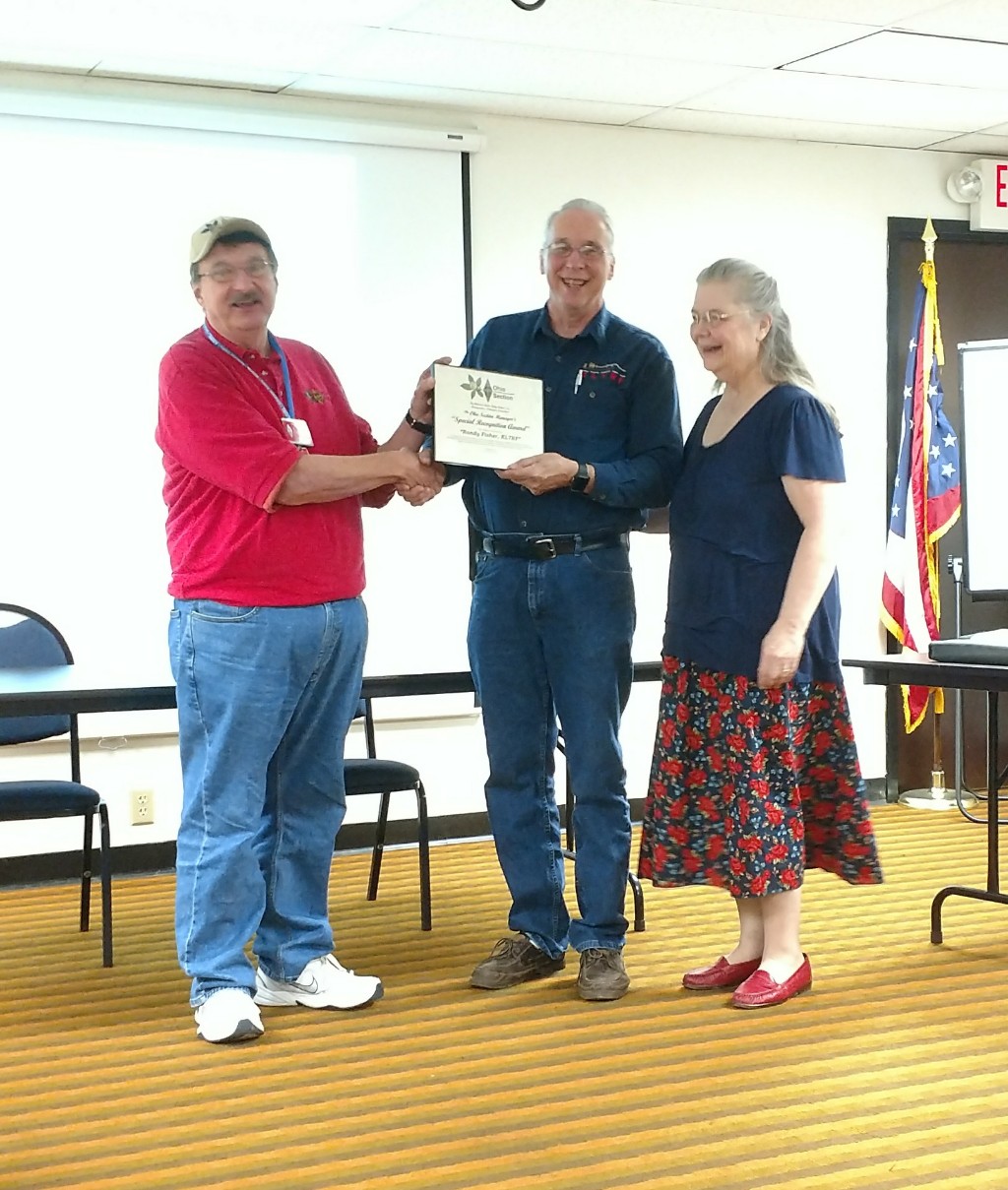 Scott then spoke on some statistics relating to radio amateurs in Ohio, including the fact that the Ohio ARRL section has the largest membership of any section in the country.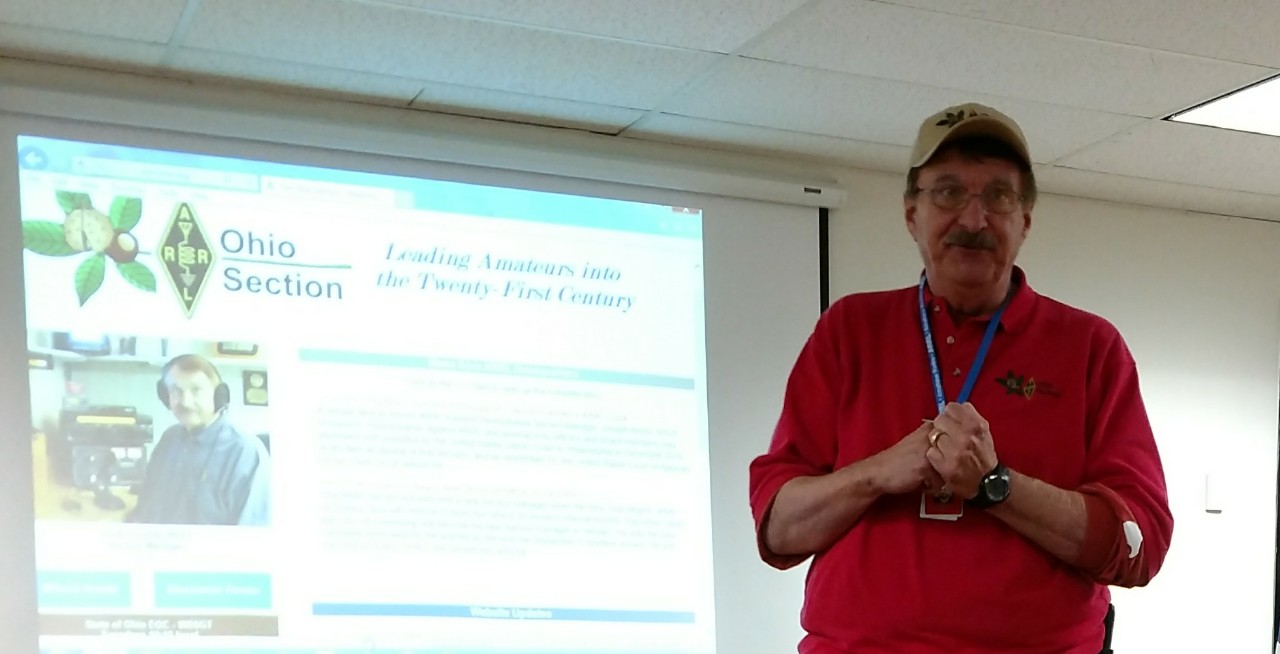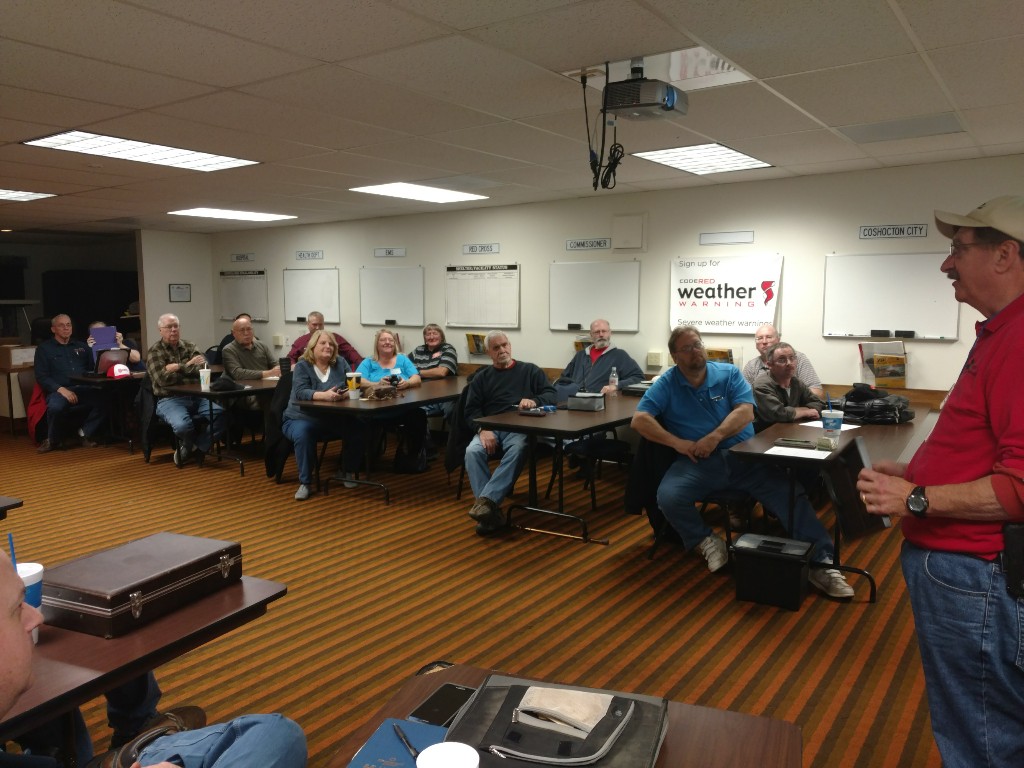 Stan Broadway N8BHL then spoke on ARES and the need for all ARES to complete the 4 FEMA courses in order to assist with real emergencies. He also spoke on the recent tornado outbreak in western Ohio.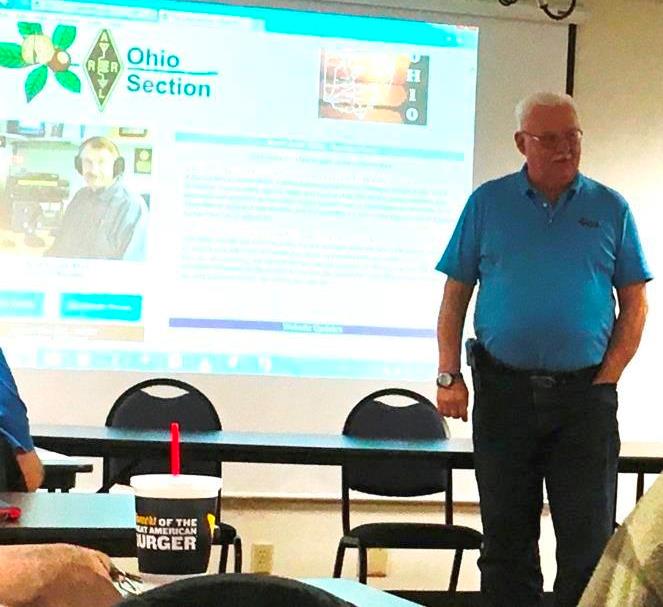 Both Stan and Scott were open to questions from the club. Mike NF8U asked our guests about the pros and cons of registering the club as a charitable orgaization for tax purposes, and for being able to receive grant money.
Refreshments were provided by AA8UA and AA8BN, and there was time for fellowship following the meeting.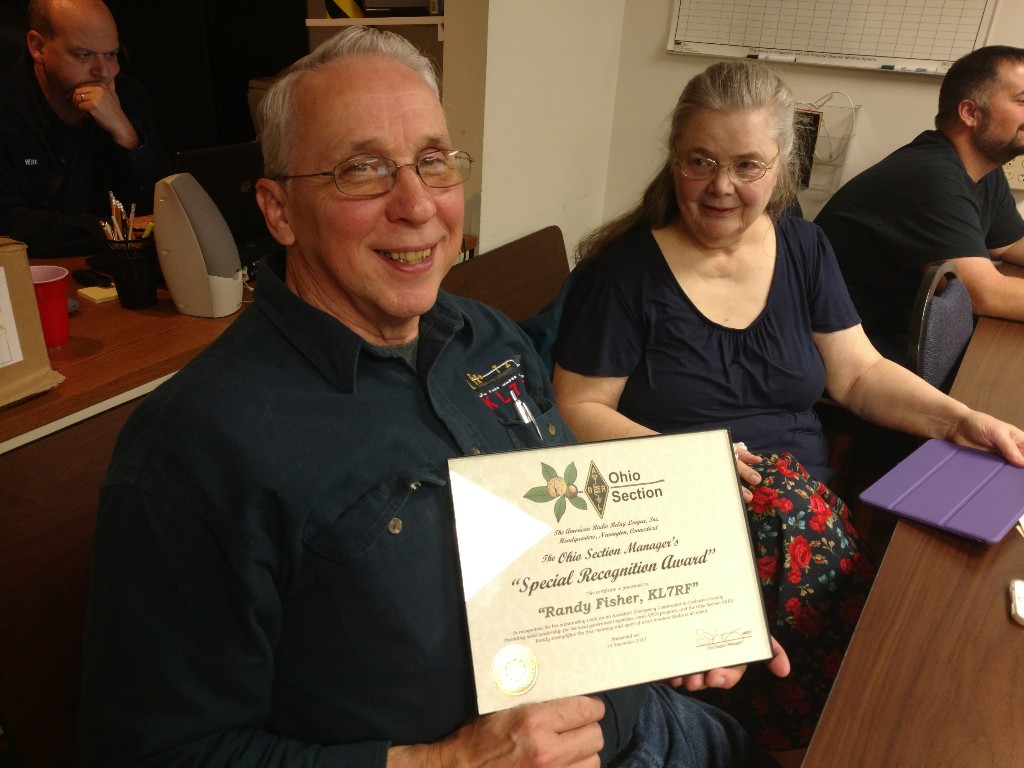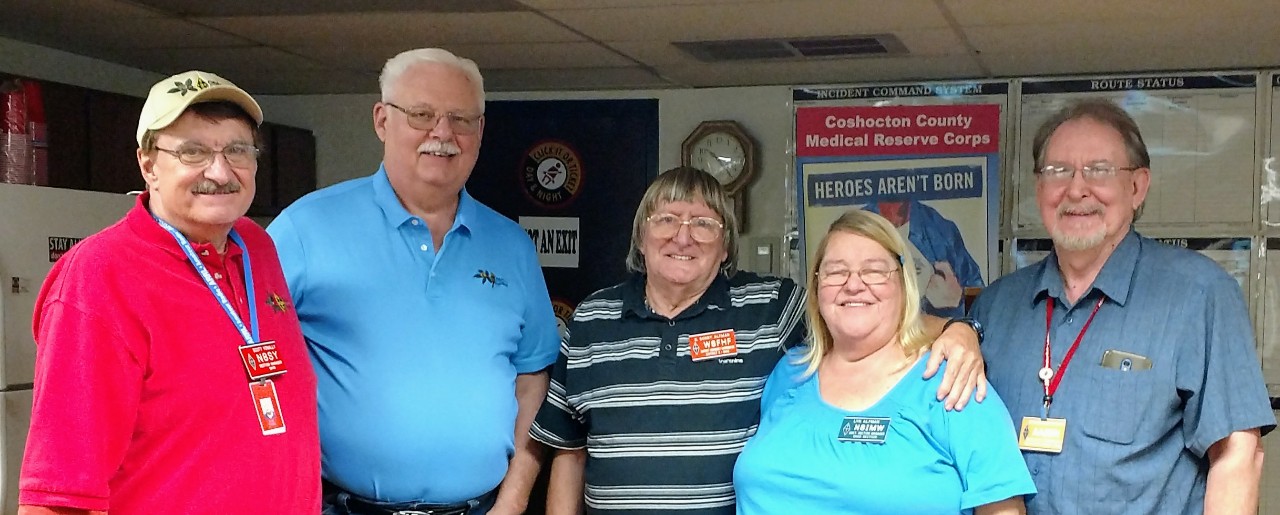 N8SY, N8BHL,W8FHF, N8IMW, and AA8BN
Pictures provided by AA8UA, AA8BN, and KL7IUC.
Solar/Terrestrial Weather and Propagation
Check out the website, Solarham.com for current propagation forcasts and solar activity as it relates to ham radio operations.
2017 Field Day
What a wonderful field day this year at the Brown farm. Conditions and arrangements could not have been better.
A few pix submitted by Steve AA8BN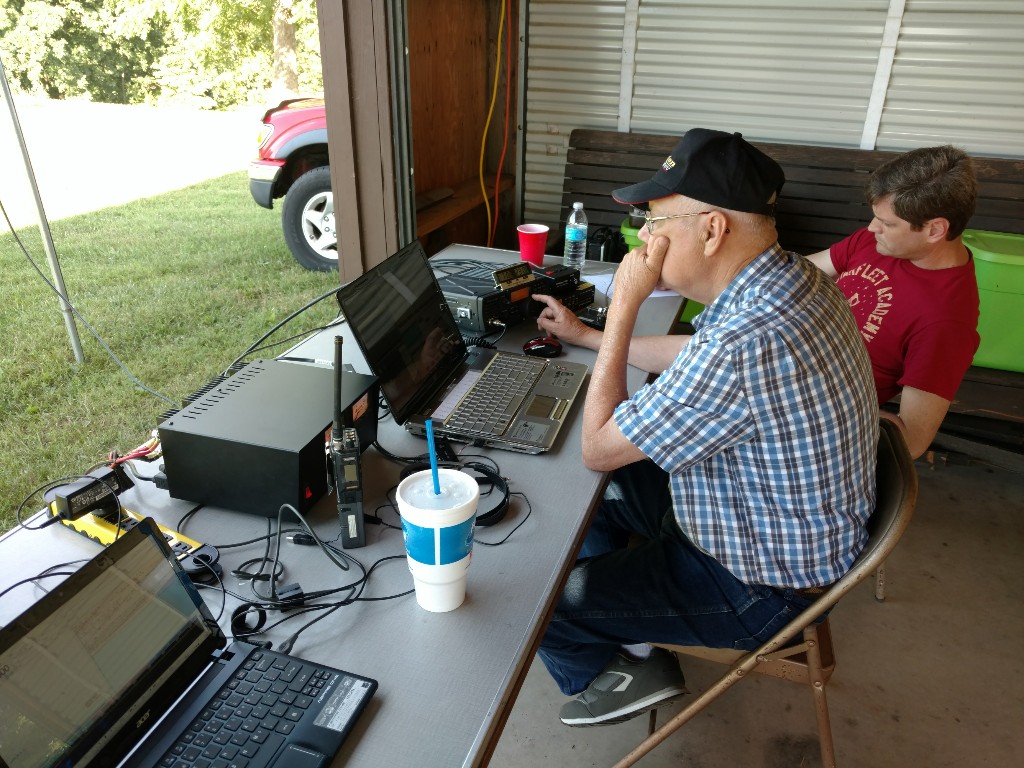 N8VV at the CW postion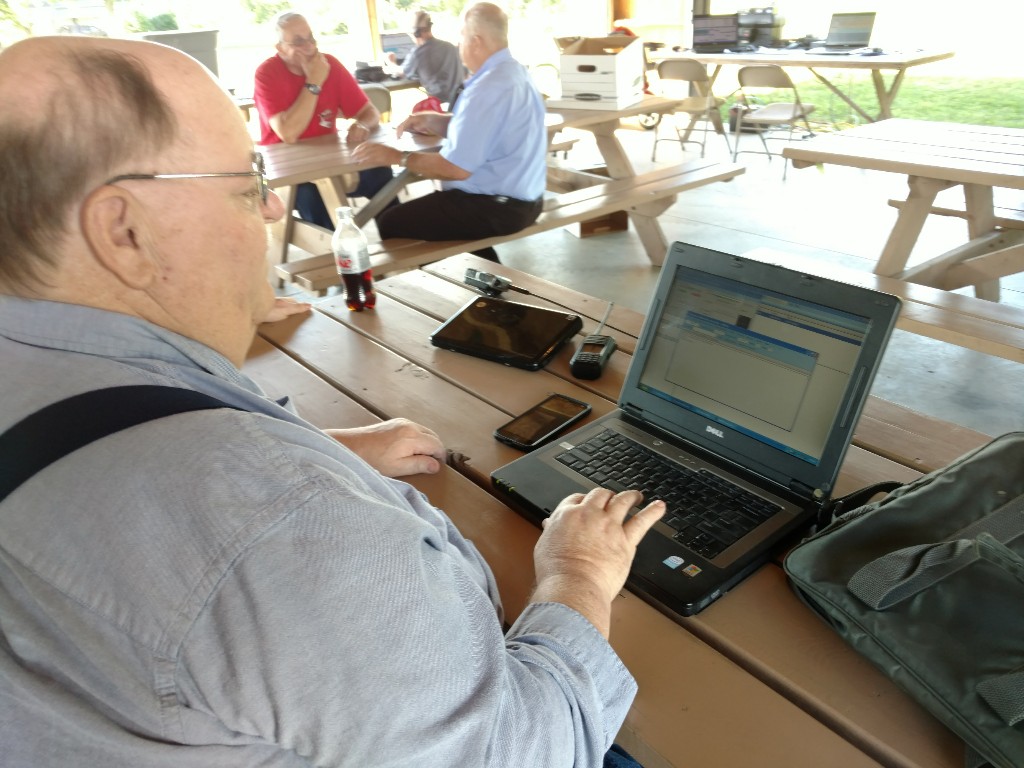 Charlie KB8PXM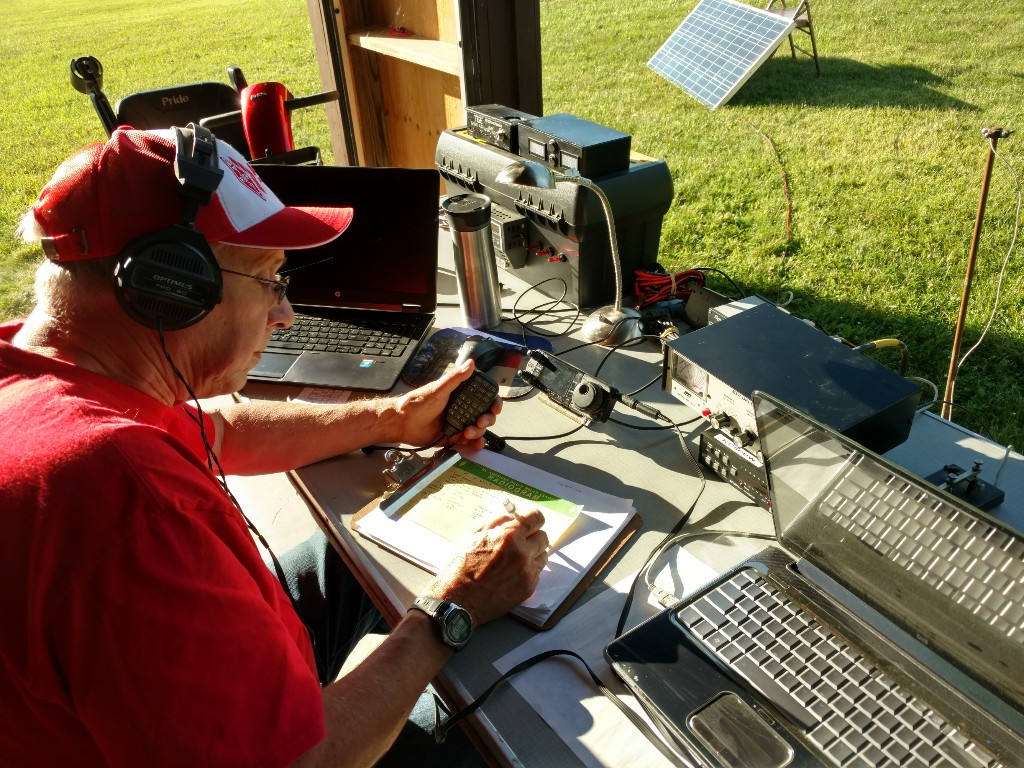 KL7RF sending traffic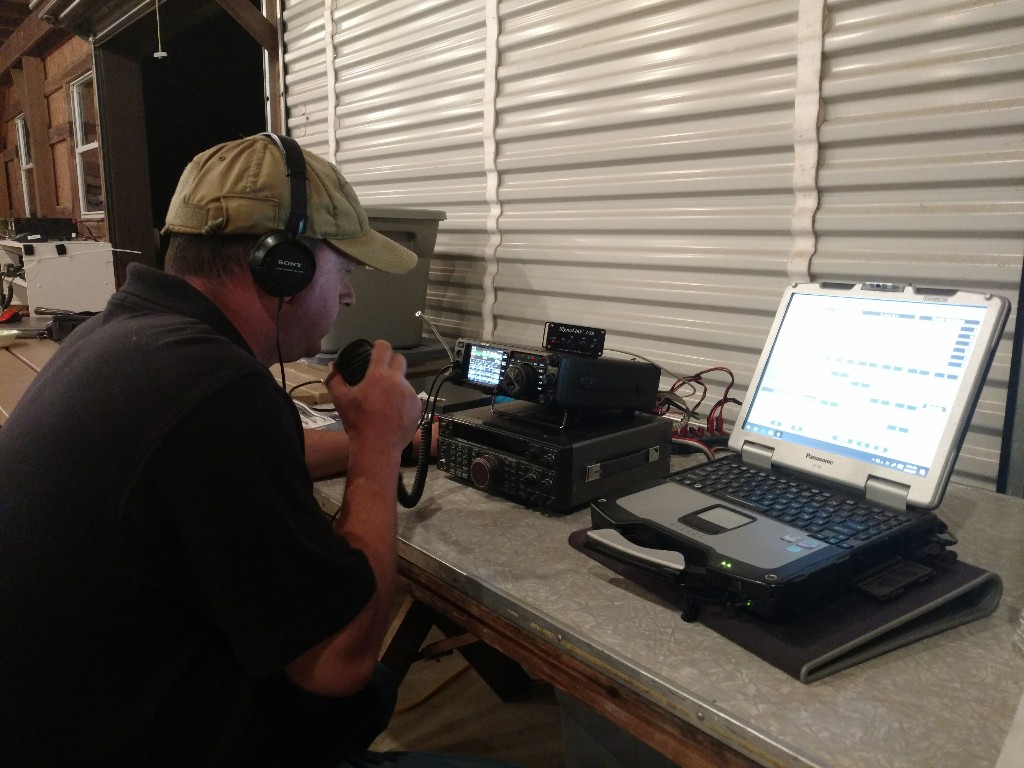 KC8PUW at the phone station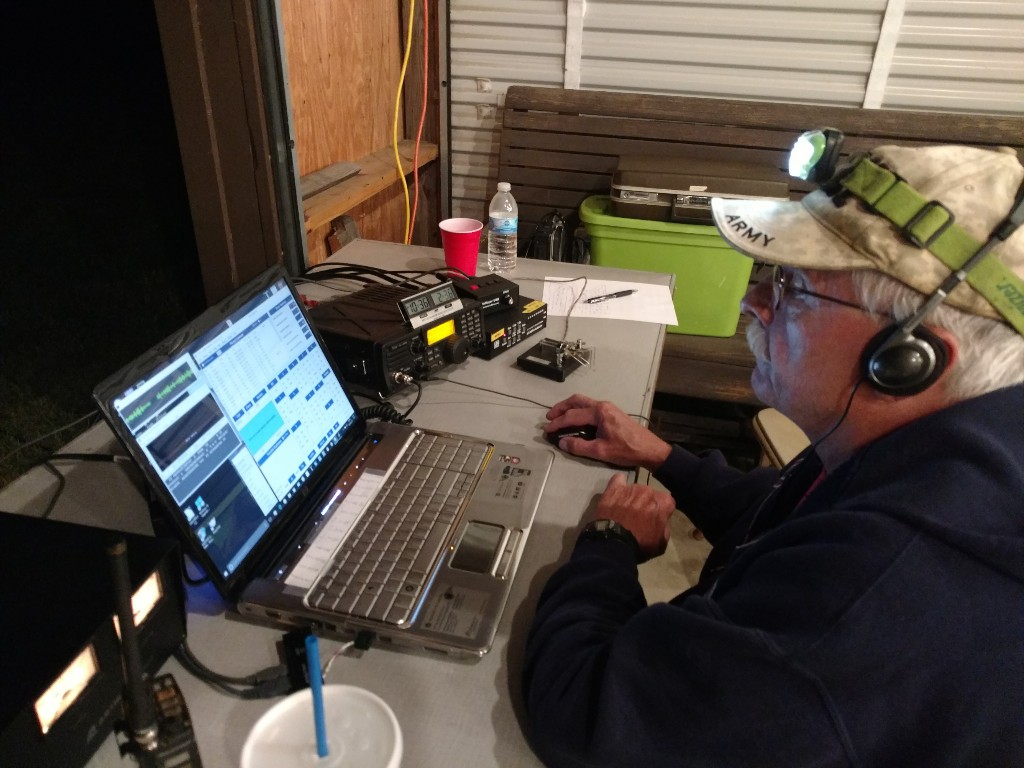 NF8U at CW position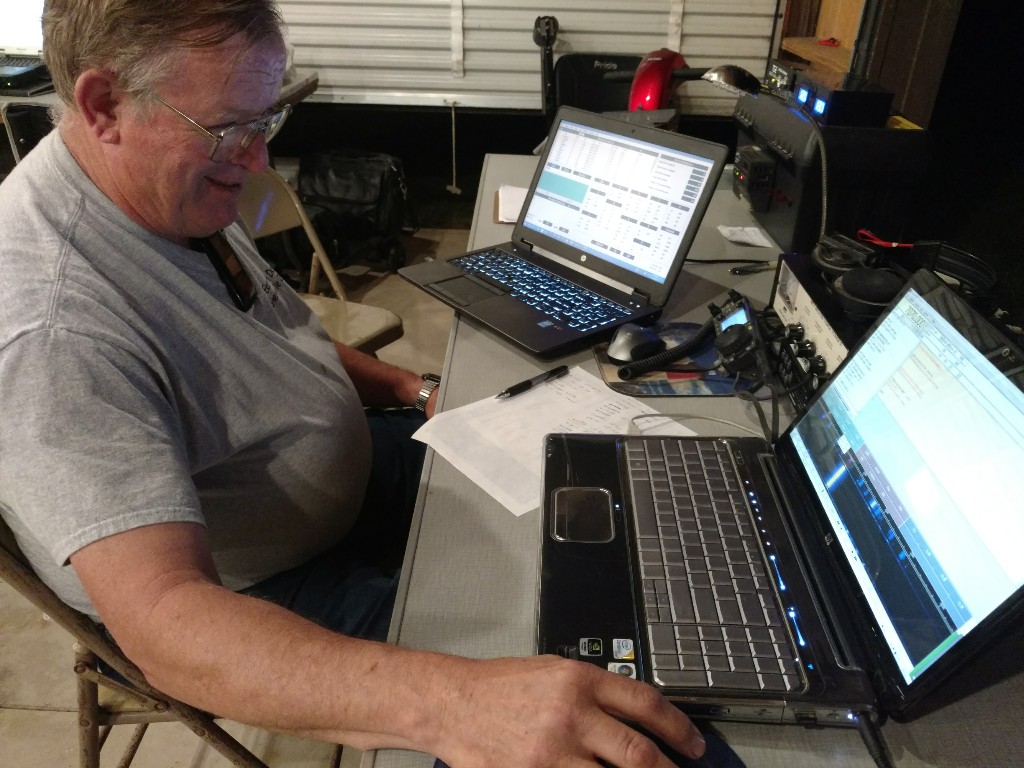 KE8WIP at the digital station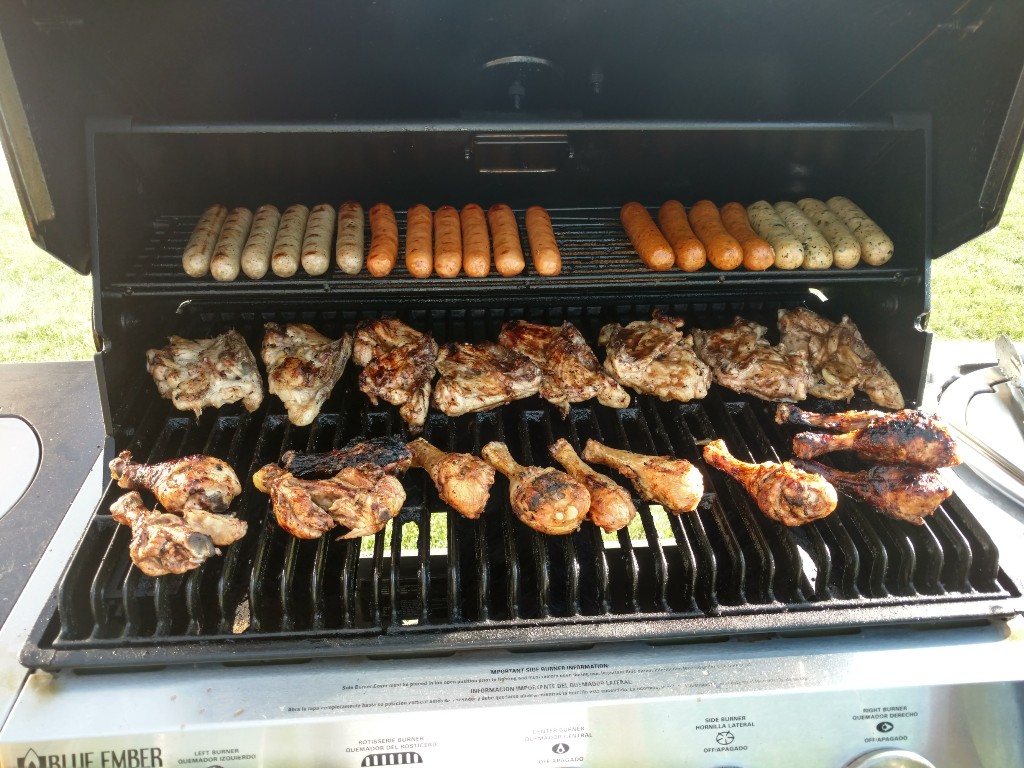 and how about the good eats - Thanks Will KC8PUW and Amanda KD8ZBR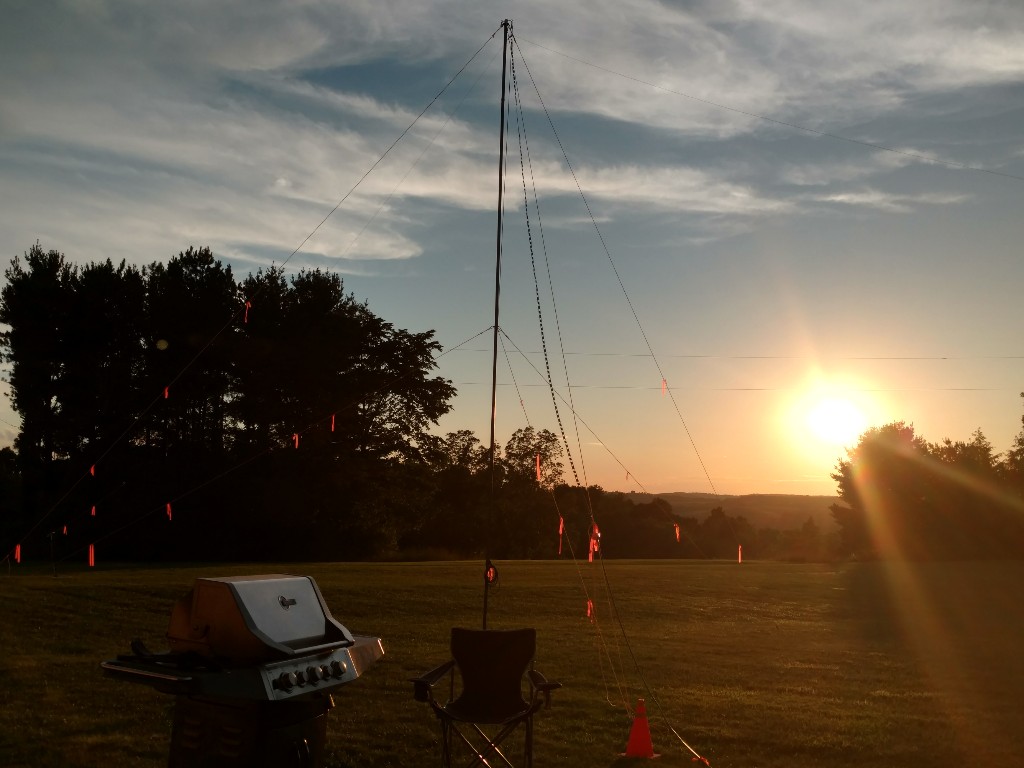 A beautiful sunset and a beautiful day
These pix from KC8PUW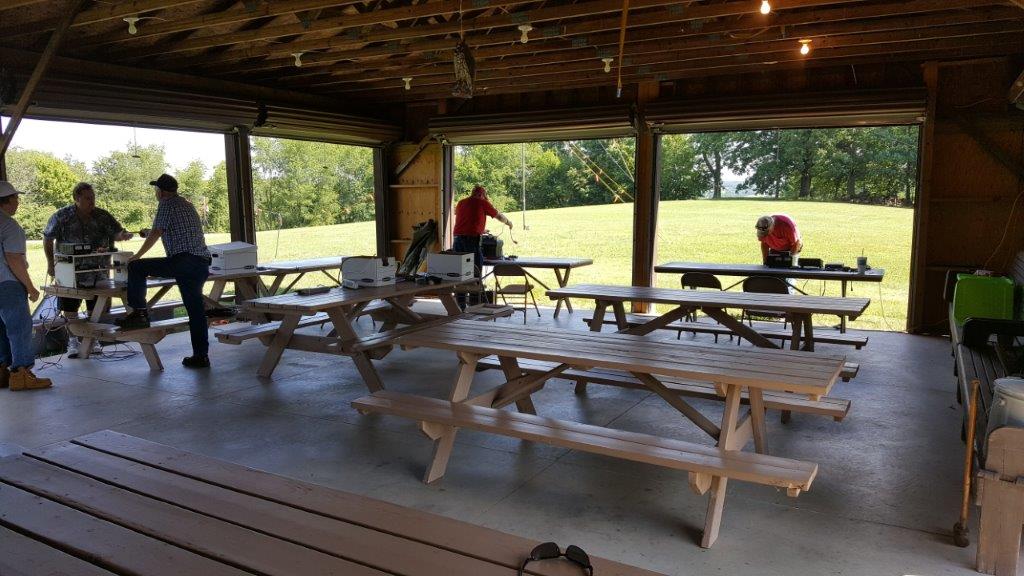 Set up of equipment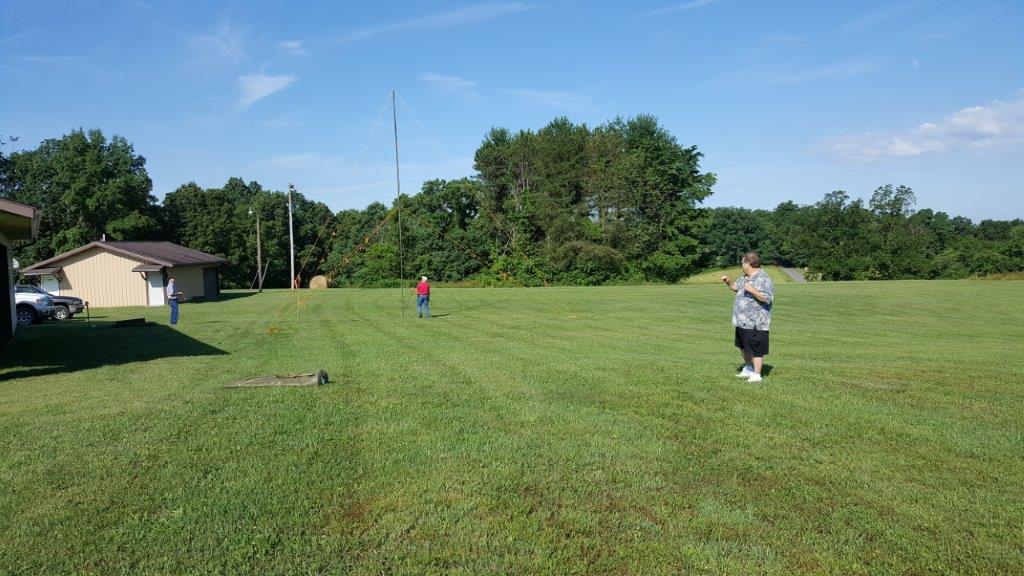 Antenna Fabrication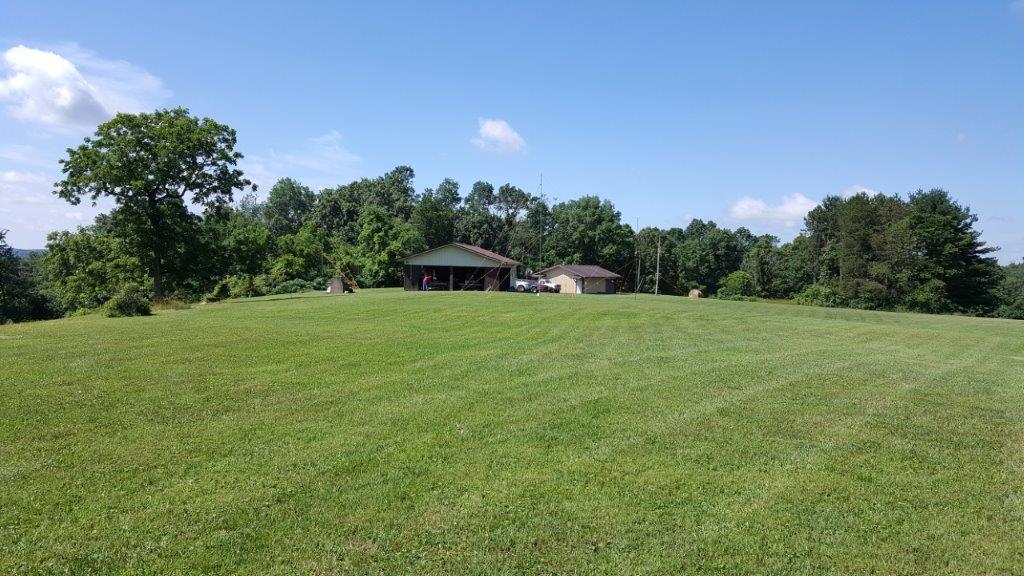 Fine location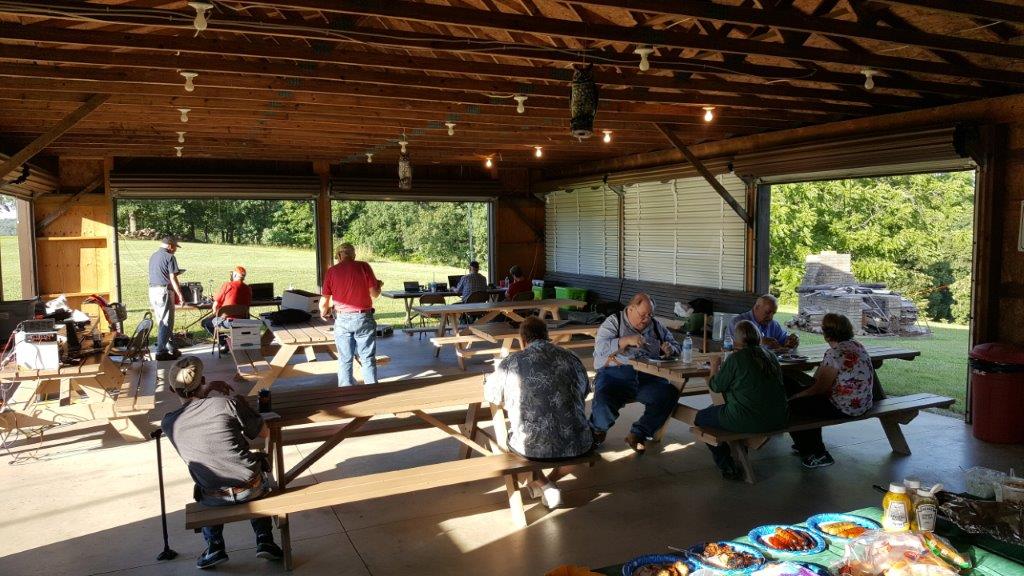 Good Food
Meeting Minutes
Don't forget that the club meeting minutes are available on the Meetings page. Check them out before the next meeting to keep up with current information.
Ohio HF Net and Digital Net Information
The HF Net run by the Team W8SGT at the State of Ohio Emergency Operations Center in Columbus Ohio. A voice net is conducted every Tuesday at 7:15 pm on 40 meters and then on 75 meters. For net frequencies check with your EC. All are welcome to check in. You do not have to be an ARES volunteer to check in. Check in often and put Coshocton Co. in their log.
The Ohio ARES/OES Digital Emergency Net is held every Tuesday at 7:45 PM. Anyone with questions or comments should send Net Manager Gary NJ8BB an email to nj8bb@ohden.org
The 147.045MHz CCARA Club Repeater Antenna and Equipment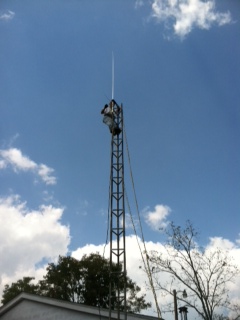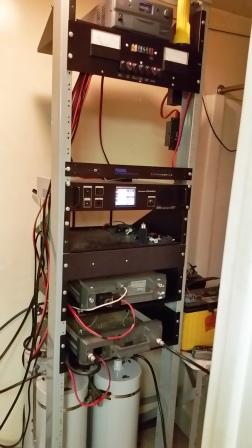 KL7RF photo KB8HEA photo
Ohio Single Sideband Net
The OSSBN is a great introduction to the ARRL's National Traffic System. It meets three times a day: 10:30AM, 4:15PM, and currently 6:00PM to handle traffic in, out, and througout the state of Ohio, and the rest of the country. Check them out, and listen in on 75 meters on 3.9725MHz. This is a very active net and represents some of the best of amateur radio operating, as well as continuing the fine tradiotion of providing emergency communications in existance since the inception of ham radio iteslf. This was the foundation of the formation of the Amateur Radio RELAY League. This is where the "Relay" came from in the name.
Check out the OSSBN website at: Ohio Single Sideband Net
Net on 440
The KB9JSC repeater will be linked to the 145.230MHz for the Monday ARES net at 9PM local, so you can check in to the net on either band. The frequency of the UHF repeater is 443.5375+MHz.
Right after the ARES net, the 440 link will be brought down, and there will be a new net run on the 440 repeater alone. The purpose of this net is for folks to set up and test their equipment on the 440 band and get used to operating there. If you have 440 capability, you are welcome to check in to the net. You don't have to be a member of any group to join in.