CCARA Club News
Upcoming Events
July 28th West Layfette Home Coming
August 18th Safety City at Newcomerstown Gateway to Fall Festival
For the 2 events above we are looking for anyone interested in manning a table to promote Ham Radio and Emergency Communications. If anyone is interested contact KC8PUW or NF8U for details.
Will Parks KC8PUW
Library Display
Pix of the July library display at Coshocton by KC8PUW.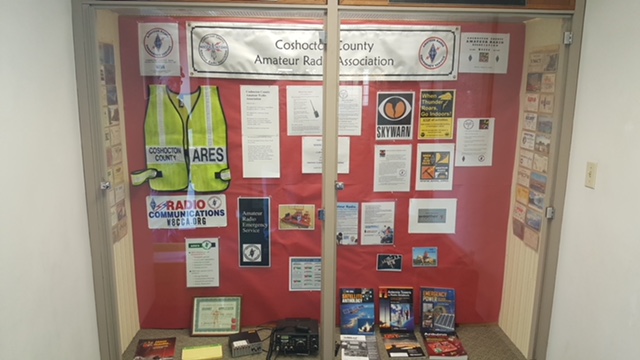 N8VV IARU World Championship Certificate
Dan was awarded this neat certificate for his very successful efforts in last year's IARU World Championship contest. Congrats to N8VV.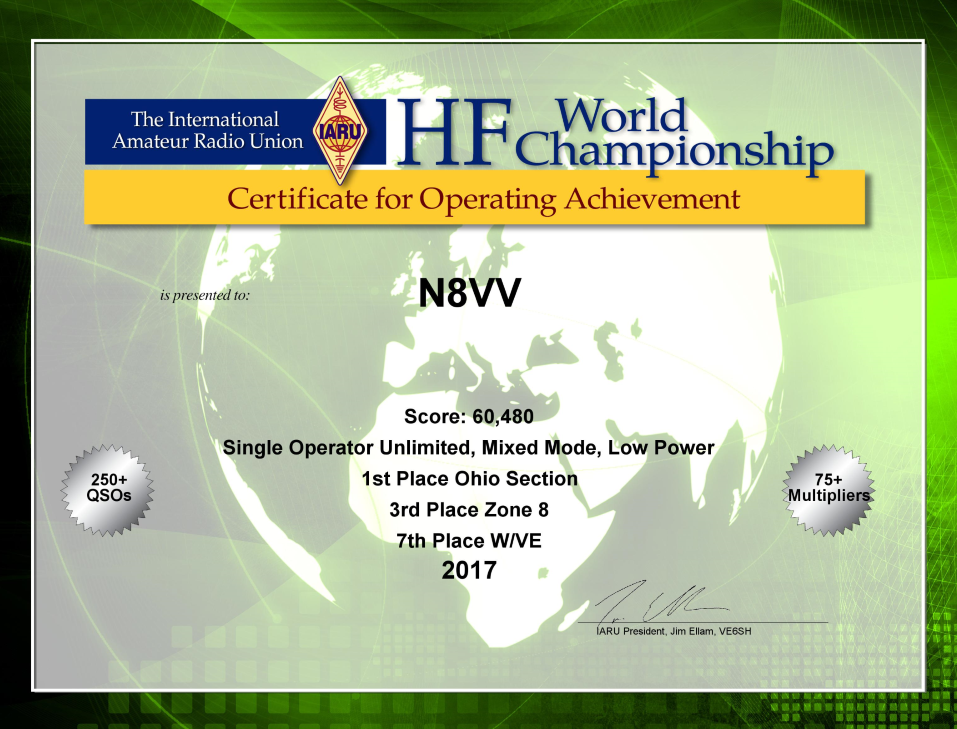 Adventure Race in Tuscarawas County
Jeff KB8PKP asked at our July meeting, if there would be any hams from our area willing to assist in an Adventure Race in Tuscarawas County. They will be needing amateurs with hand-helds to provide communications along the route. Some of the details below:
August 4 2018 Meet at dining hall at Tuscazoar between 7:30-8:00 am Race starts at 9:30 am Mike will bring a base station and antenna like last year. He will have 1 Gator for our use again. We will need people with hand helds, we will be on Simplex. There are a few road crossings you can run mobile, but not very many. The race will begin at 9:30 a.m. at the camp. Participants will run about five miles for the first leg, paddle 3.5 miles on the Tuscarawas River for the second leg, trek for one mile and will mountain bike 8.5 miles to complete race. The Orienteering leg will follow.
Contact Jeff for more information. jvoltzoilandgas@yahoo.com
Club Meeting August 7
The August CCARA club meeting will be held at the County Services Building on 7th St. at 7PM. An ARES meeting will preceed the regular meeting at 6:30PM.
QRP QRP
Also, we are planning a program on QRP operations at the August meeting. Please plan to share your experiences with QRP with the group.
New 440 Repeater in County
Here's some info on the new WX8OH UHF Repeater. The Repeater went officially On Air on 5/24/18. It's installed on my old tower and a 27 ft mast extension. The Vertical Antenna is a Hustler G6 440, 6 dB Gain. The Repeater is old EFJ commercial gear. Two radios. The Duplexer temporarily is a 6 Cavity Chinese Mobile Notch Duplexer. I have a Commercial DB Products 6 Cavity Pass/Reject Duplexer currently in Clermont Florida getting retuned. The Mobile Duplexer is breaking down under power causing Desense and blocking weak signals. Due to the Duplexer issue, I'm running only 15 Watts to the antenna at this time. We have Range tested out to 19 Air Miles, hilltopping from Millersburg to Sugarcreek. We've Tested to I-77 with a good Mobile Signal. An HT inside a vehicle in Warsaw was full Quieting. Once I get the Commercial Duplexer back I should be able to take it up to at least 50 watts. For now while in the OARC Testing Period, the Repeater is running Open, No PL. The Repeater is on a Timer, 7 AM - 11:15 PM while in the Test Period. 443.325 TX Output 448.325 RX Input Warren WX8OH wx8oh@arrl.net
Field Day and Picnic 2018
Field Day was held at the Canal Lewisville United Methodist Church's facility, the Brown Farm. We had a great time operating and the picnic was superb. Thanks again to the culinary expertise of Will, KC8PUW, who kept us well fed.
Thanks to all who came, helped set up and tear down, enjoyed the picnic, and to all the operators that make up a great field day.
Pictures provided by AA8BN and WB8VIP.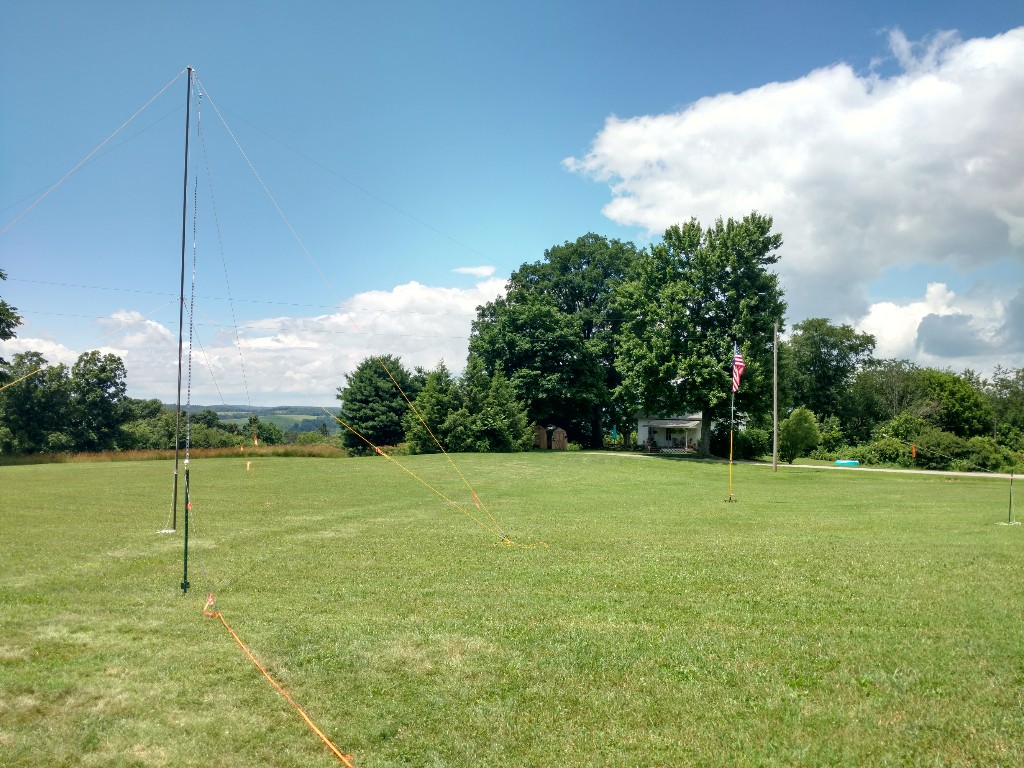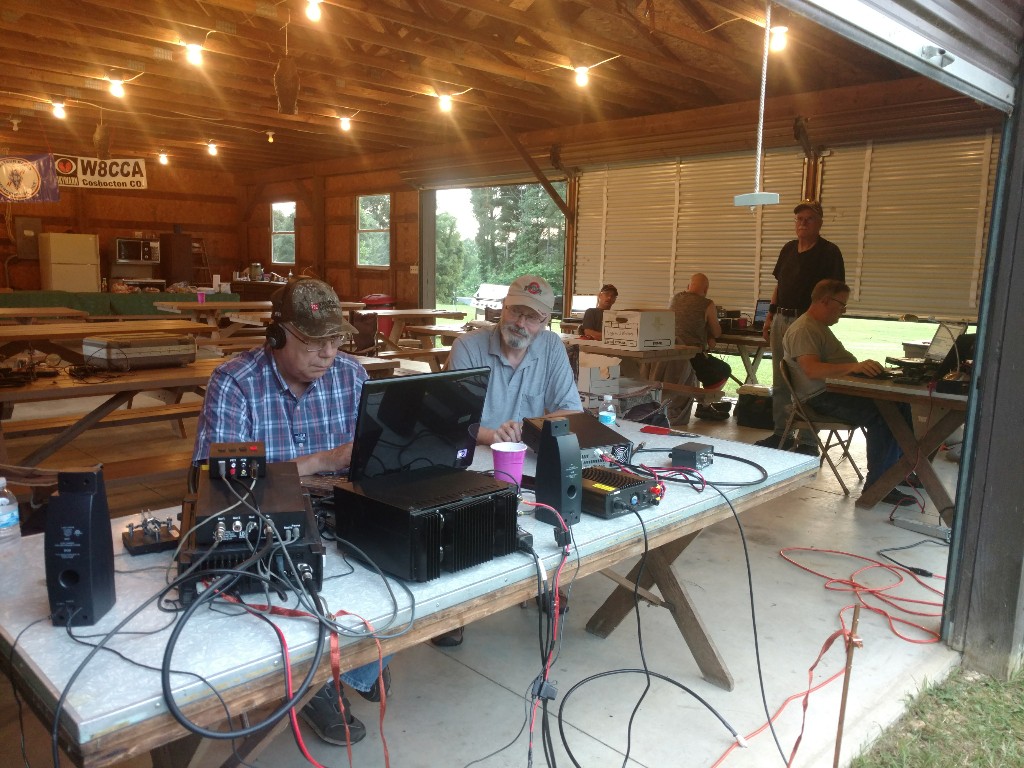 N8VV and N8MXX at the CW & 6 Meter Station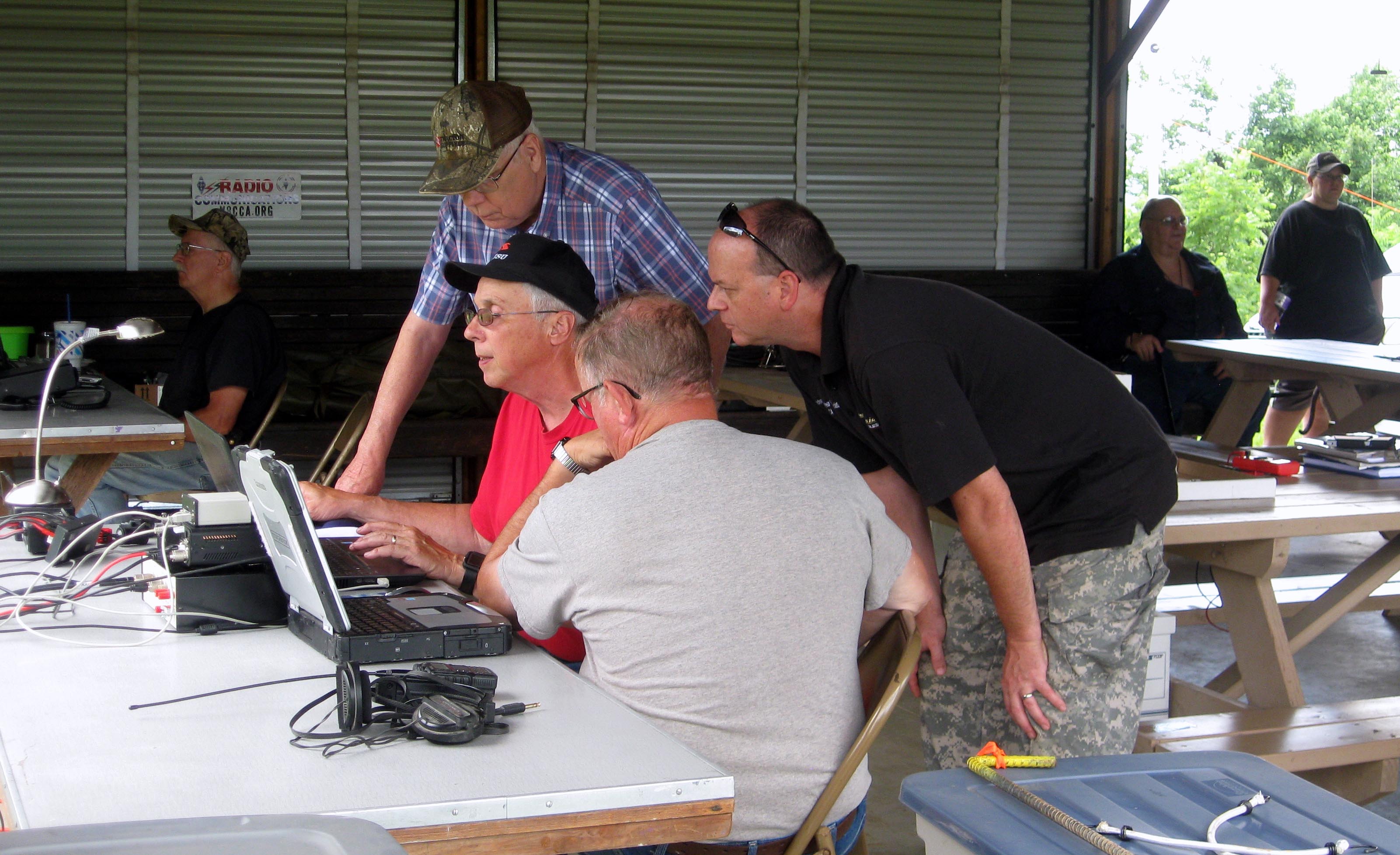 Four heads better than one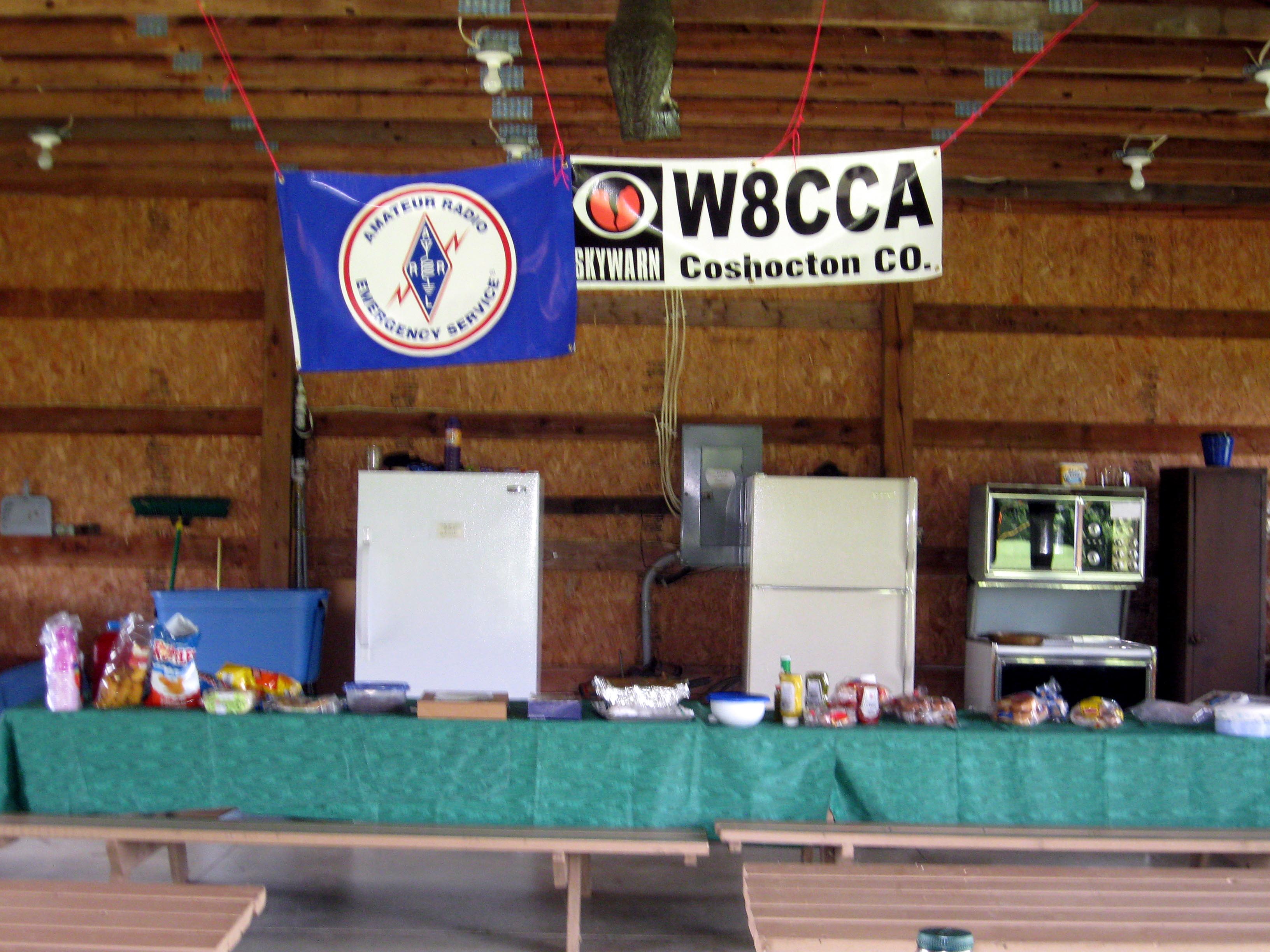 Great Food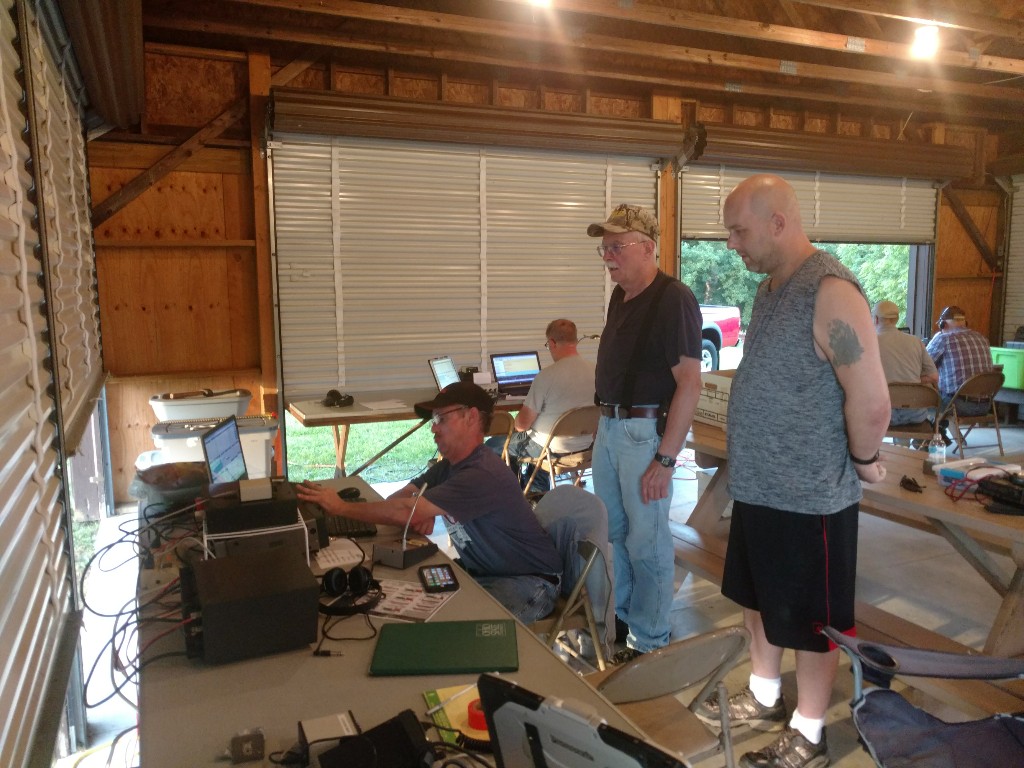 KC8YXY, NF8U, and KC8ZWR at the SSB Station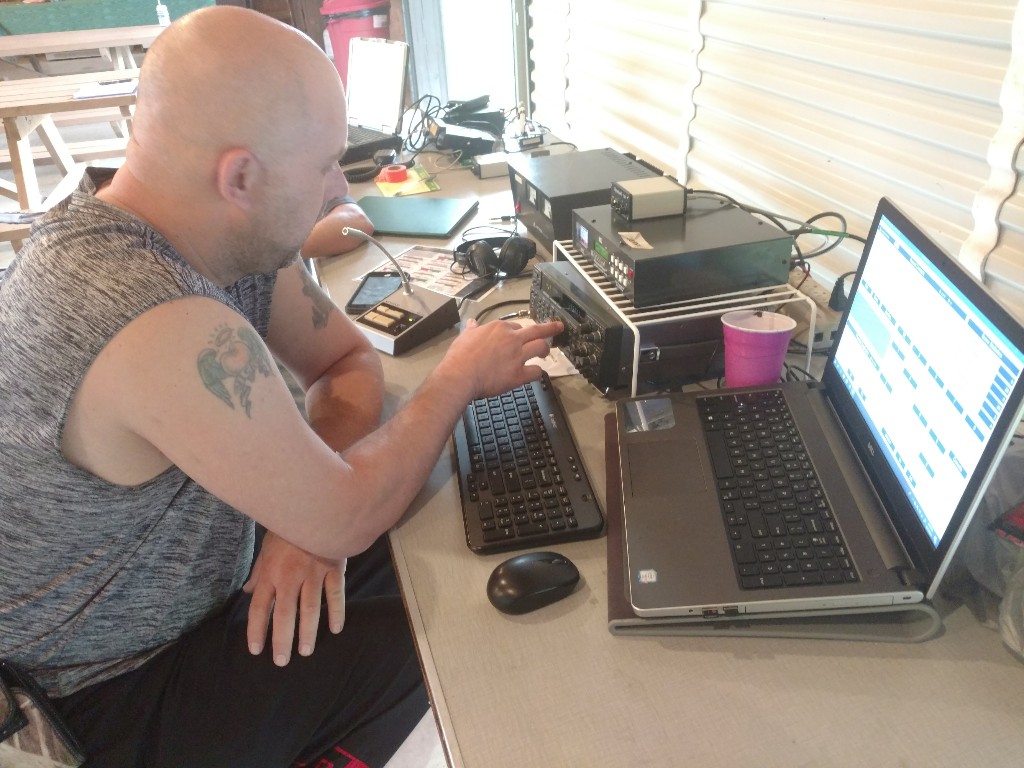 KC8ZWR at the SSB station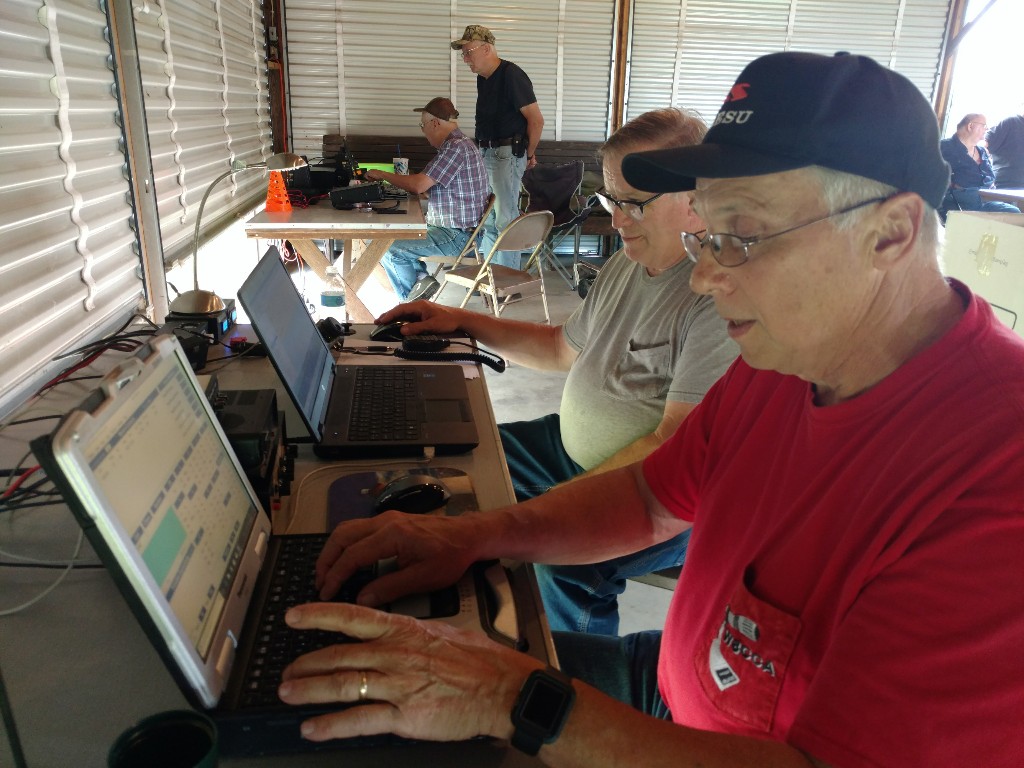 KL7RF and KE8WIP manning the Digital Station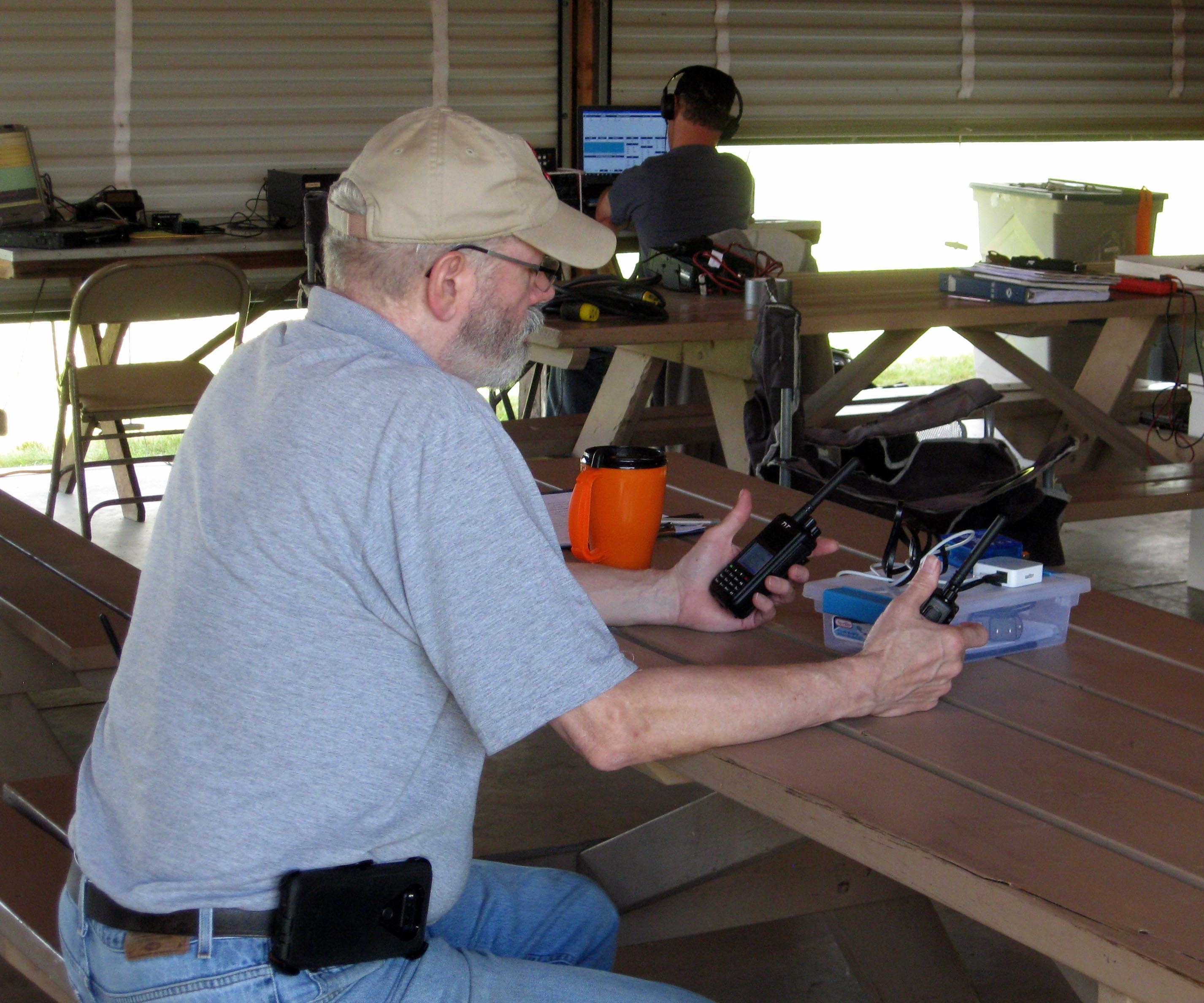 N8MXX with a DMR setup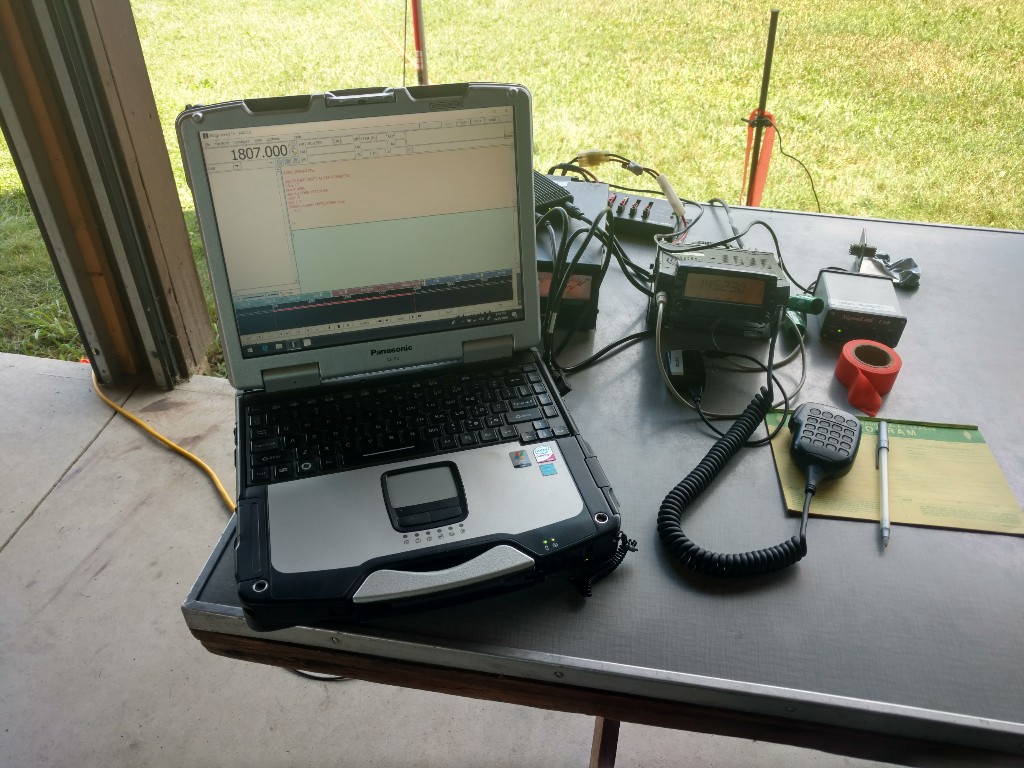 VHF & UHF & FLDIGI Station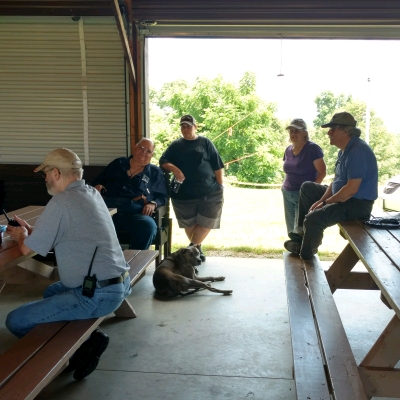 N8MXX KB8PXM KB8YUL KC8SXL KB8VIP (good fellowship)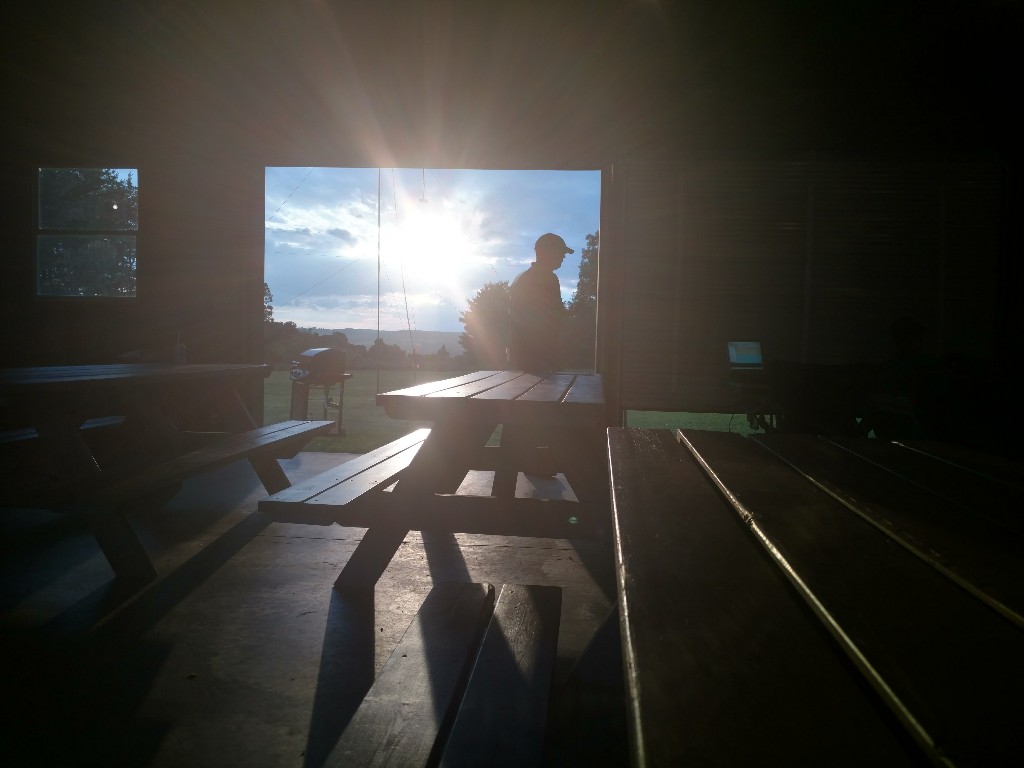 Sundown on Saturday Evening with KC8PUW by the Grill
Ham Radio Contest Calendar
The DL2NBY contest calendar has been moved to its own page. Check it out.
440 Repeater On the Air
The 440 repeater is back on the air still with some "crackling". The club is continuing the construction of Rod's new antenna for the 440. We are hoping to have it up in the air in early Spring.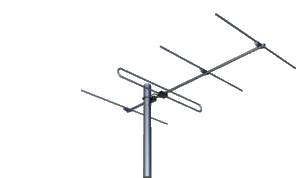 D.E.A.R.S School Club
D.E.A.R.S. stands for the Dresden Elementary Amateur Radio Sation. This is a very active school amateur radio group in our neighboring town of Dresden.
If you would like to work some of the students there, they will be active on the local two meter repeaters surrounding Dresdon every other Tuesday afternoon, with the club call of KD8NOM, starting around 2:30PM local. In the last school club roundup in February,they came in at second place in the country. In the roundup before that, the came in first place. They would love to work stations in our area.
If you would like to volunteer some time mentoring these young folks, you can contact KE8HEC, and he would be happy to get you information on how to do that. Let's all encourage these young hams in our area.
D.E.A.R.S. also has a facebook page which is:Here.
November CCARA Meeting - Special November 14th
The November CCARA and Coshocton ARES meeting was well attended as the club welcomed several guests from the ARRL-Ohio cabinet. This meeting was a joint meeting of CCARA and ARES coordinated by NF8U and AA8BN. Scott Yonally N8SY Section Manager, Stan Broadway N8BHL Section Emergency Coordinator, Lyn Alfman N8IMW Assistant Section Manager, and Sonny Alfman w8fhf District Emergency Coordinator. Refreshments were provided by AA8UA and AA8BN. Thanks to all for a great meeting.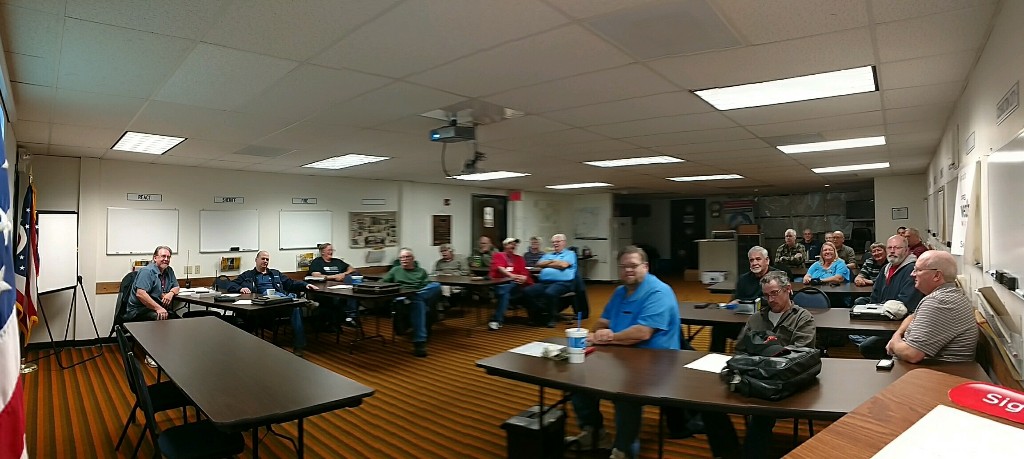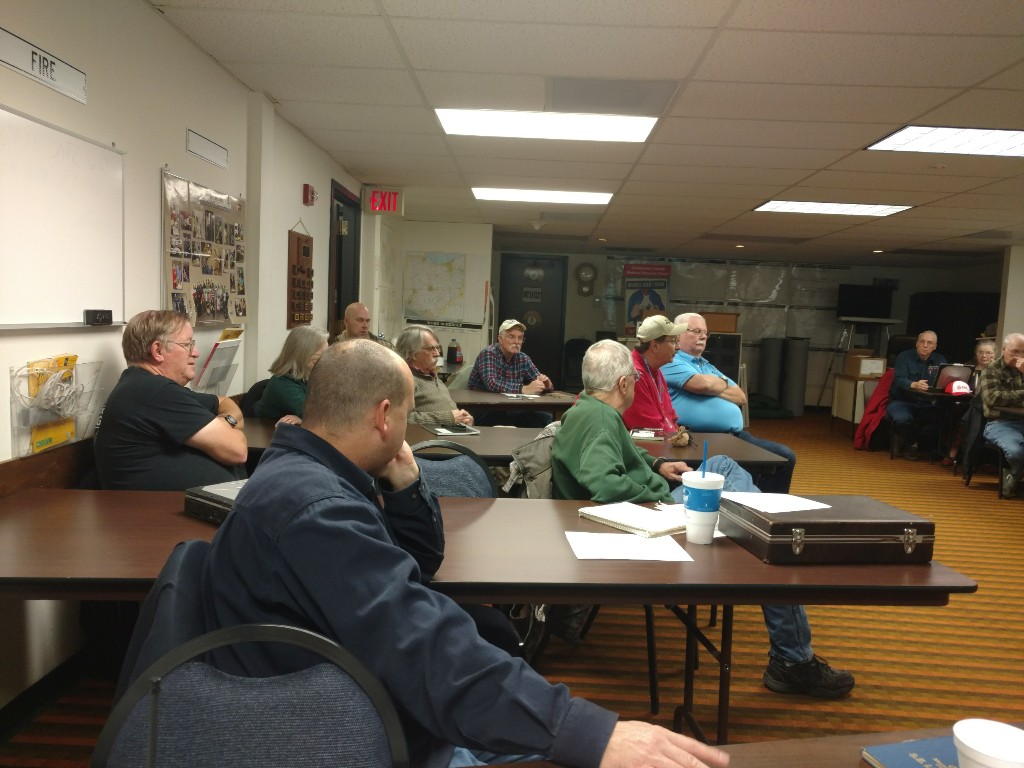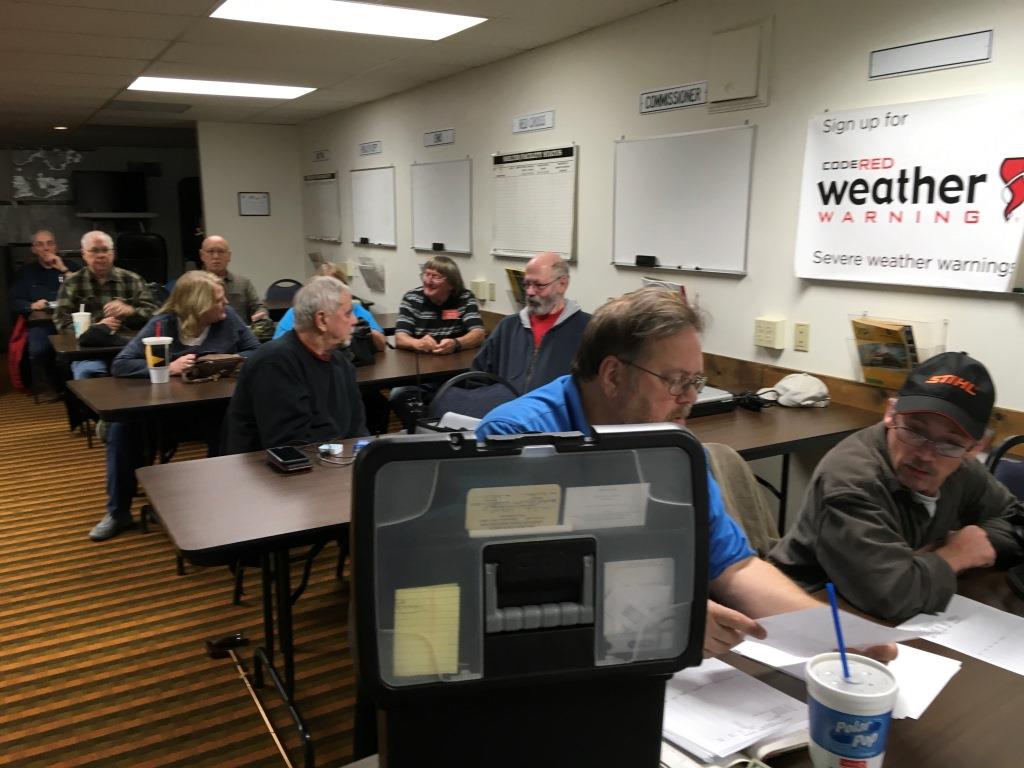 First up: Steve AA8BN reviewed our recent ARES activities with the SET, MARS Test, and local events including assisting the board of elections with communications to two outlying poling places, and a hospital table top exercise.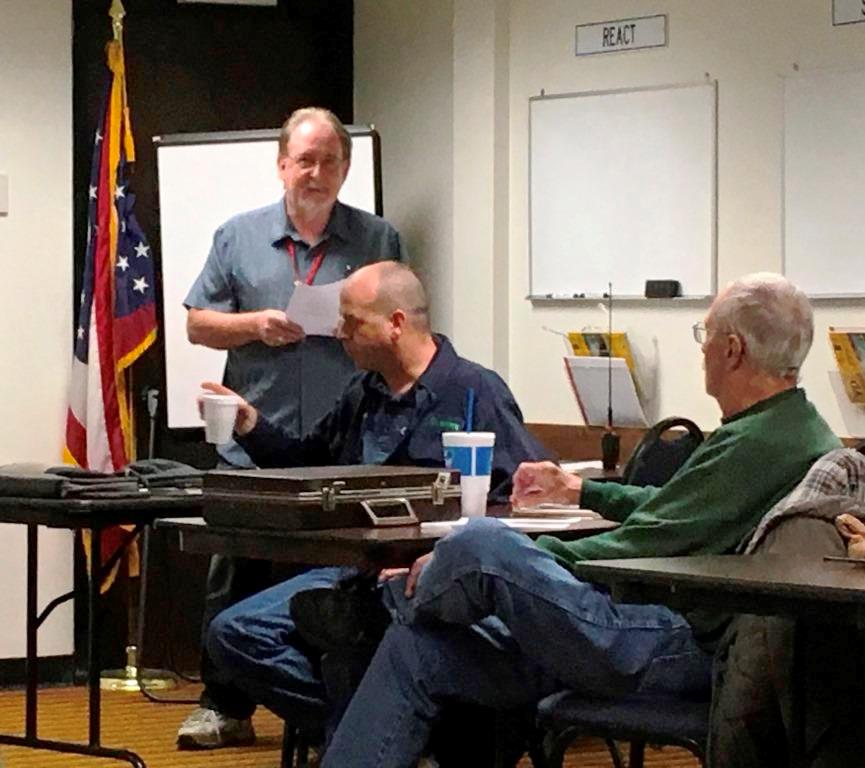 Next, Scott Yonally N8SY presented Randy Fisher KL7RF an Ohio Section Manager's "Special Recognition Award" for his work as a Coshocton County Assistant Emergency Coordinator.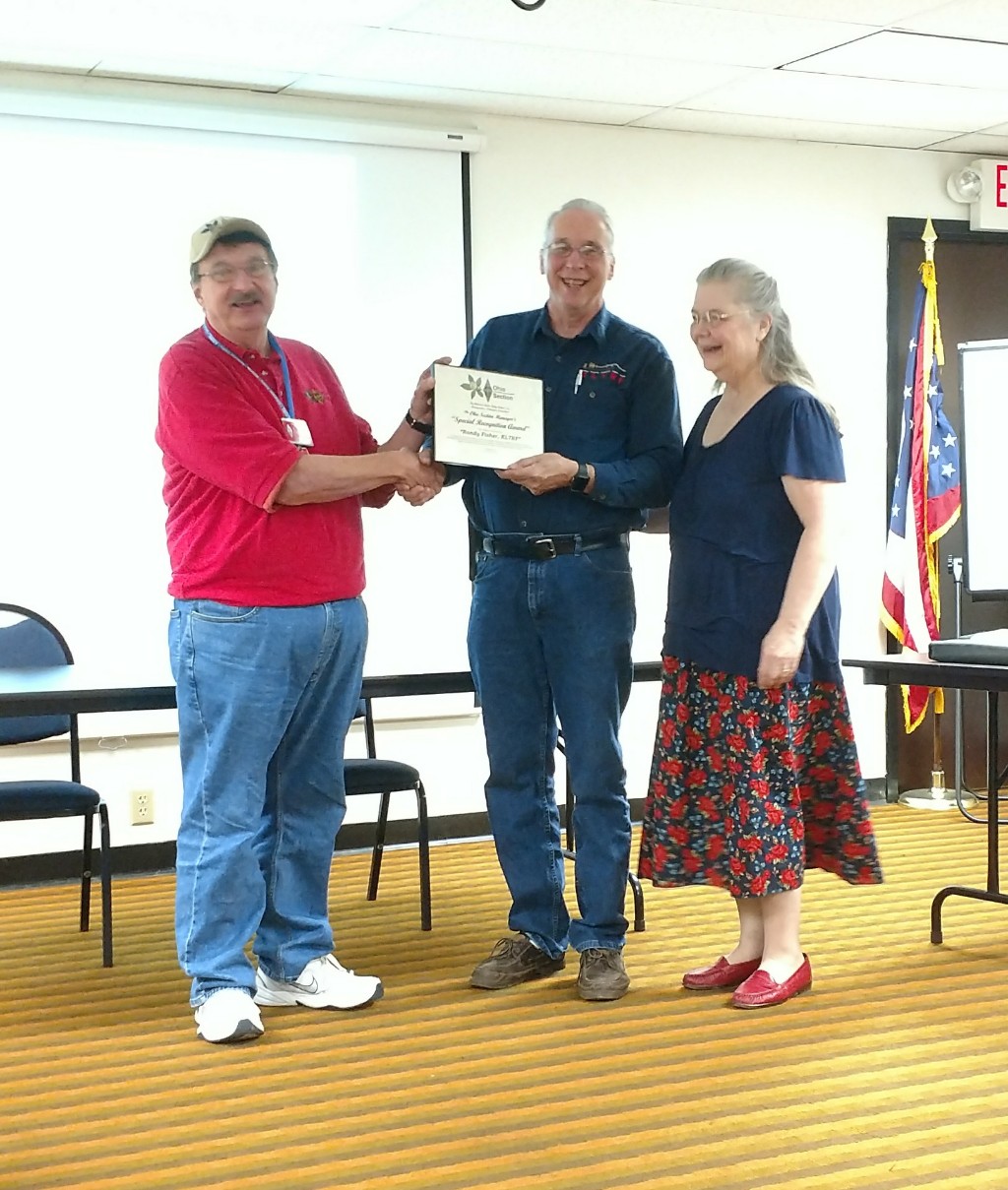 Scott then spoke on some statistics relating to radio amateurs in Ohio, including the fact that the Ohio ARRL section has the largest membership of any section in the country.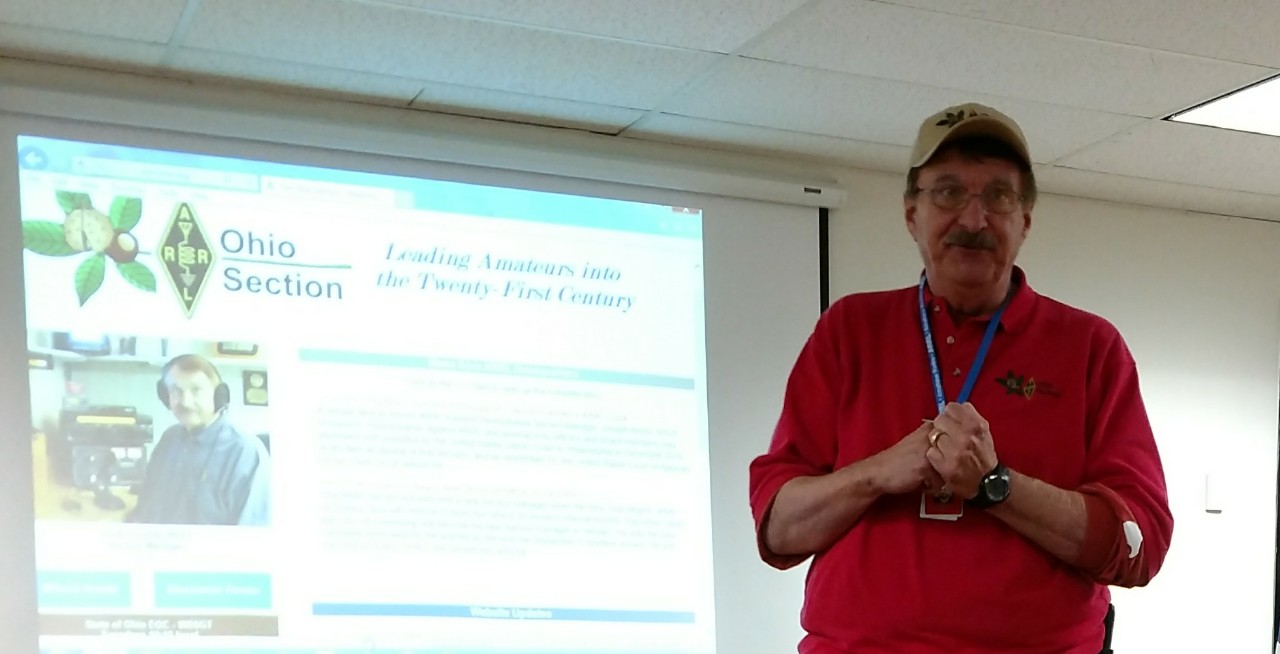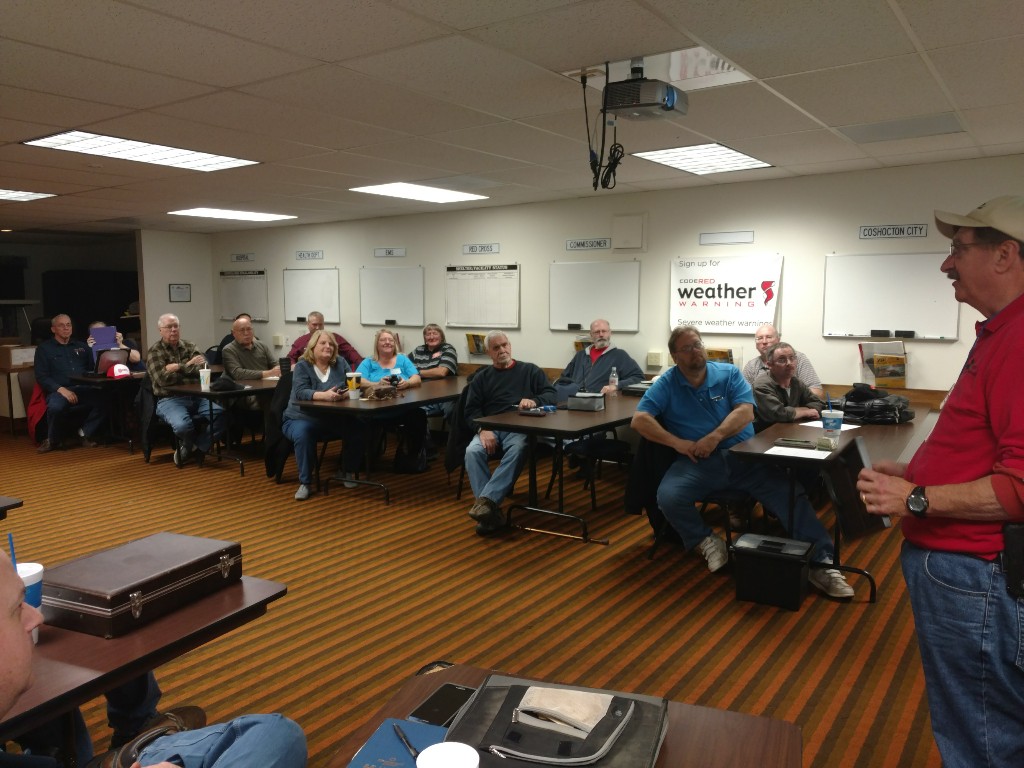 Stan Broadway N8BHL then spoke on ARES and the need for all ARES to complete the 4 FEMA courses in order to assist with real emergencies. He also spoke on the recent tornado outbreak in western Ohio.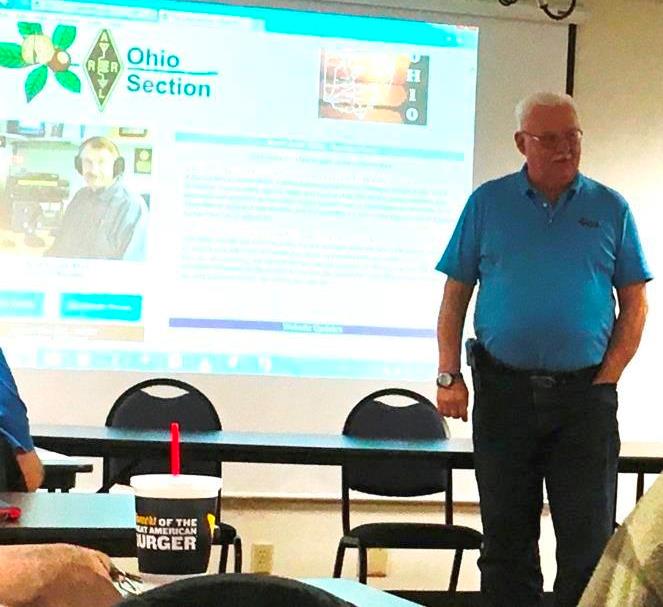 Both Stan and Scott were open to questions from the club. Mike NF8U asked our guests about the pros and cons of registering the club as a charitable orgaization for tax purposes, and for being able to receive grant money.
Refreshments were provided by AA8UA and AA8BN, and there was time for fellowship following the meeting.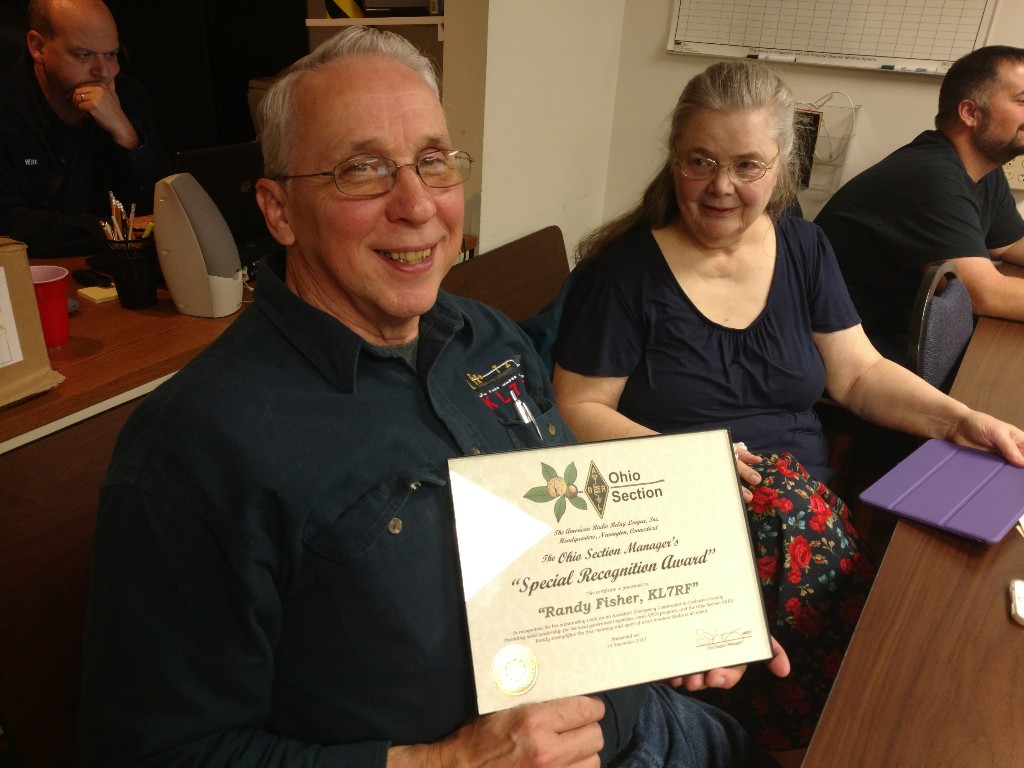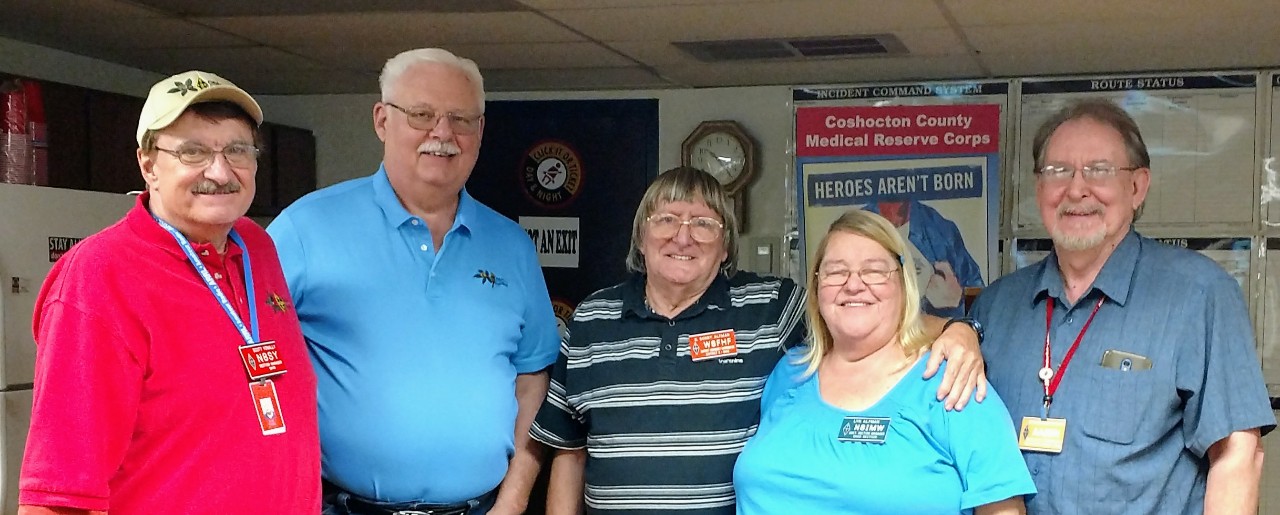 N8SY, N8BHL,W8FHF, N8IMW, and AA8BN
Pictures provided by AA8UA, AA8BN, and KL7IUC.
Solar/Terrestrial Weather and Propagation
Check out the website, Solarham.com for current propagation forcasts and solar activity as it relates to ham radio operations.
Meeting Minutes
Don't forget that the club meeting minutes are available on the Meetings page. Check them out before the next meeting to keep up with current information.
Ohio HF Net and Digital Net Information
The HF Net run by the Team W8SGT at the State of Ohio Emergency Operations Center in Columbus Ohio. A voice net is conducted every Tuesday at 7:15 pm on 75 meters (around 3.902MHz). All are welcome to check in. You do not have to be an ARES volunteer to check in. Check in often and put Coshocton Co. in their log.
The Ohio OHDEN Digital Emergency Net is held every Tuesday at 7:45 PM on 3.585MHz using Olivia 8/500. Anyone with questions or comments should send Net Manager Eldon, W5UHQ an email at: w5uhq@theohden.org
The 147.045MHz CCARA Club Repeater Antenna and Equipment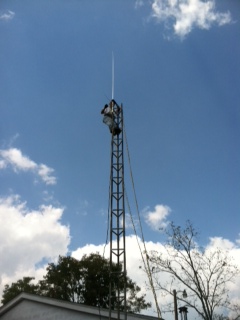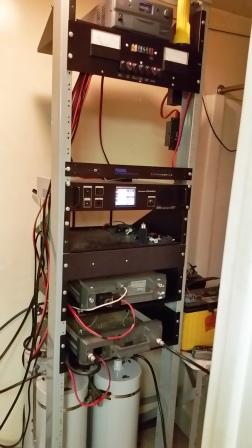 KL7RF photo KB8HEA photo
Ohio Single Sideband Net
The OSSBN is a great introduction to the ARRL's National Traffic System. It meets three times a day: 10:30AM, 4:15PM, and currently 6:00PM to handle traffic in, out, and througout the state of Ohio, and the rest of the country. Check them out, and listen in on 75 meters on 3.9725MHz. This is a very active net and represents some of the best of amateur radio operating, as well as continuing the fine tradiotion of providing emergency communications in existance since the inception of ham radio iteslf. This was the foundation of the formation of the Amateur Radio RELAY League. This is where the "Relay" came from in the name.
Check out the OSSBN website at: Ohio Single Sideband Net
Net on 440
The KB9JSC repeater will be linked to the 145.230MHz for the Monday ARES net at 9PM local, so you can check in to the net on either band. The frequency of the UHF repeater is 443.5375+MHz.
Right after the ARES net, the 440 link will be brought down, and there will be a new net run on the 440 repeater alone. The purpose of this net is for folks to set up and test their equipment on the 440 band and get used to operating there. If you have 440 capability, you are welcome to check in to the net. You don't have to be a member of any group to join in.