CCARA Club News
2023 Field Day Is Coming
This year Field Day will be held again at the Brown Farm on June 24 and 25. Our set up will be on Friday June 23 at around 10AM.
Please join us for the fun and fellowship that Field Day provides for our club, friends, and family. We will be having our club picnic dinner on Saturday around 5PM. The club will provide the meats, condiments, water, and flatware. Please bring a covered dish to share.
The field day operations will start at 1PM on Saturday and conclude around 1PM on Sunday.
Please schedule this fun event into your calendar and join in on the fun of Field Day. This is the biggest radio club event of the year. Check out the pictures below from last year's event. We will have a "talk-in" set up on the 147.045MHz repeater on Friday through Sunday for those needing directions.
New Time for Club Net
The club has decided to try out a new time slot for our Sunday evening Net on the club repeater 147.045MHz. We will have the net at 8PM instead of the 9PM slot. The digital net will follow directly after the club net on the same frequency. This is a trial to see how the club members like the earlier net time. Let us know your oppinion.
June Club Meeting
The June club meeting will be held on June 6th at the County Services Building on 7th St. at 6PM. We will be making final preparations for our Field Day activities on June 25-26th. We look forward to seeing as many members that can attend.
New Texting While Driving Law and Ham Radio Exclusion
Starting in the beginning of April there is a new law in Ohio intended to keep drivers from texting while driving. This would include all types of electronics including radios. There is an exclusion for those who have an amateur radio license. It would be a good idea to keep a copy of the new law in your car (along with your ham license). We have the following link for you to read and/or copy and print of the new law with the exclusion highlighted in yellow. Click HERE.
May CCARA Meeting
The May club meeting was held at the county services building in Coshocton on May 2nd.
We had a good turnout at the meeting. We began making preparations for the upcoming Field Day which will be on June 24 - 25. We had a presentation by KL7RF on the new digital rag chewing ap "VarAC". The door prize which was a 3ft coax patch cable was won by Will, KC8PUW.
We are changing our meeting days to the first Tuesday of the month. Please note on your calendar. We are also trying a new time slot (6PM) for starting the meeting, with the idea of getting out earlier in the evening. We meet at the County Services Building on 7th Street in Coshocton in the basement room.
We will also be having a door prize drawing for the attending members. We look forward to seeing you there.
Joining or renewing membership in the ARRL?
If you are joining or are renewing your membership in the ARRL please consider joining through our club. The club gets a small percentage of the renewal or joining fees. Please contact Wip (KE8WIP) to find out how to help yourself and the club.
Club History File Found
Recently Will KC8PUW found a digital file which includes a detailed history of the CCARA. Check it out on our History page. Thanks Will for finding this info.
FIELD DAY SUCCESS 2022
Last year the club was at the Brown Farm as our location for the field day and our annual picnic. Field Day was held on June 25th and 26th. Antenna set up was accomplished on Friday morning and on Saturday morning the radio equipment was connected and ready to operate.
We had a picnic lunch and went to the airways at 2PM. Three stations were used to accumulate points for contacts; phone, cw, and digital. N8MXX set up an additional station on HF and VHF for the relay of radiogram messages which were sent out from our members to relatives, friends, and to our section emergency coordinator.
Many contacts were made on all three modes. In addition, N8VV made contacts on CW from his home station, then donating his points for the benefit of the club.
Will and Wip showed their cooking expertise for the grilling of our picnic supper and then for breakfast. We all ate well for sure.
Below are some pix of the beautiful set up and some of the activity at this year's CCARA Field Day taken by Steve AA8BN.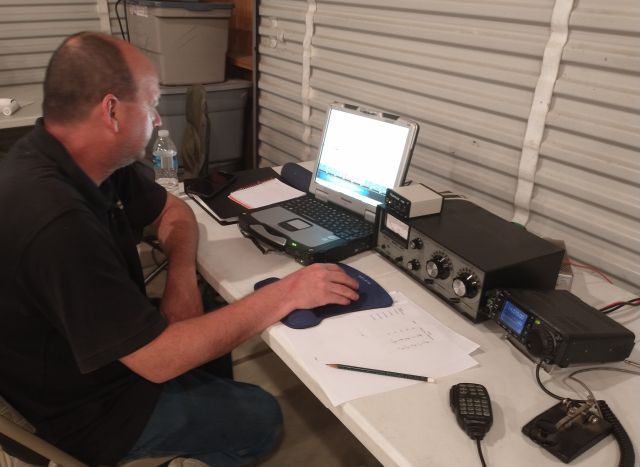 KC8PUW at the digital station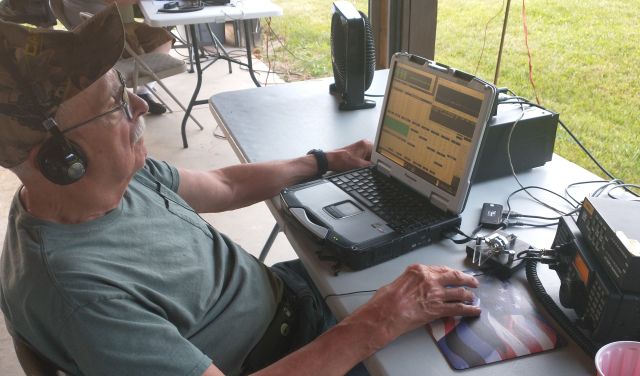 NF8U at the CW station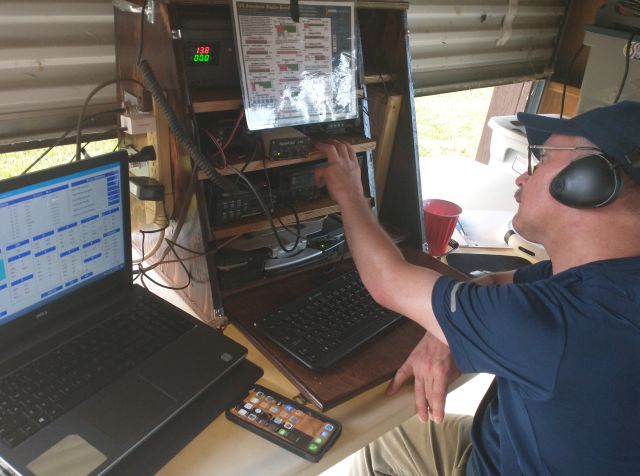 KC8YXY at the voice station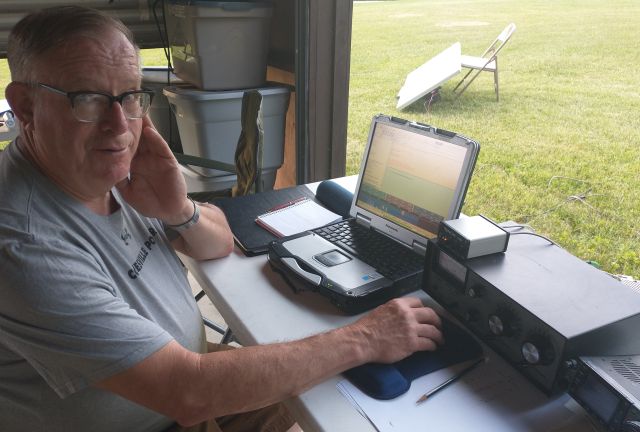 KE8WIP at the digital station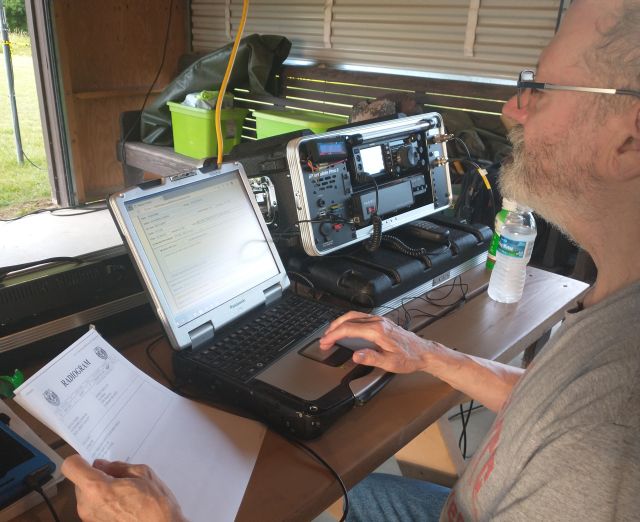 N8MXX at the radiogram station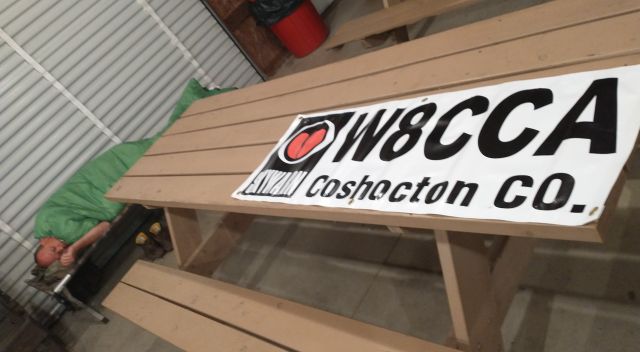 A little rest
Cyber Security
We might all want to make ourselves aware of potential disruption. During these stressing times we might want to be aware of possible problems online. The article refers to this link for information from the government's Cybersecurity and Infrastructure Security Agency. It is a good thing for hams to be aware of tech. vulnerabilities around us.
Video on the ICS-213 and Radiograms
Matt Curtin, KD8TTE, has prepared a very good youtube video on how to "encapsulate" a FEMA ICS-313 form into an NTS Radiogram form. It is a great step forward to be able to take a commonly used form for ARES served agencies and be able to send this form great distances if needed through the national traffic system in a format that is common to the NTS. Click on this link to view the presentation.
New RF Exposure Requirements
New FCC RF exposure requirements went into effect May 3, 2021. Have you performed your station evaluation?
There is a very good article in the Ohio Section Journal published on January 22. This is a new law and all amateur stations are required to perform calculations for their stations and have them available for inspection if required by the FCC.
ARES COCO Net
The Monday evening ARES net is meeting at 8PM. Please join us at 8:00PM. Thanks.
Club Repeater On Medium Power
We are operating at the 25 watt power level with no external amp connected. The results seem to be good.
Ham's Social Distancing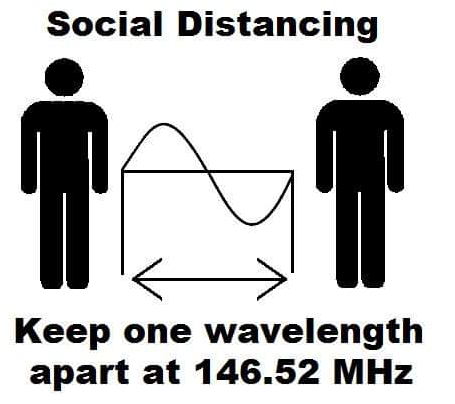 Ft8 & JS8CALL Article
Thanks to Heinz KB8VIP for writing and submitting a short article describing two neat operating modes for making use of poor propagation. You can find this article on the Digital modes page.
Icom Radio Repair
Check out the Links page if you are in need of an Icom repair. This repair facility is recommended by club member experience.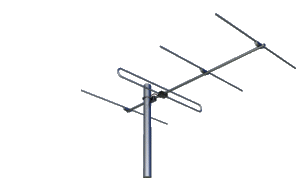 Solar/Terrestrial Weather and Propagation
Check out the website, Solarham.com for current propagation forcasts and solar activity as it relates to ham radio operations.
Meeting Minutes
Don't forget that the club meeting minutes are available on the Meetings page. Check them out before the next meeting to keep up with current information.
The 147.045MHz CCARA Club Repeater Antenna and Equipment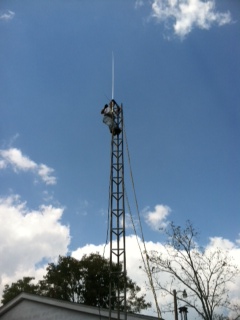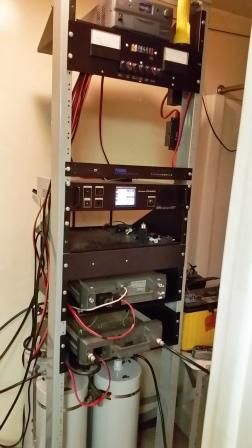 KL7RF photo KB8HEA photo
Ohio Single Sideband Net
The OSSBN is a great introduction to the ARRL's National Traffic System. It meets three times a day: 10:30AM, 4:15PM, and currently 6:00PM to handle traffic in, out, and througout the state of Ohio, and the rest of the country. Check them out, and listen in on 75 meters on 3.9725MHz. This is a very active net and represents some of the best of amateur radio operating, as well as continuing the fine tradiotion of providing emergency communications in existance since the inception of ham radio iteslf. This was the foundation of the formation of the Amateur Radio RELAY League. This is where the "Relay" came from in the name.
Check out the OSSBN website at: Ohio Single Sideband Net
Net on 440
The KB9JSC repeater will be linked to the 145.230MHz for the Monday ARES net at 9PM local, so you can check in to the net on either band. The frequency of the UHF repeater is 443.5375+MHz.
Right after the ARES net, the 440 link will be brought down, and there will be a new net run on the 440 repeater alone. The purpose of this net is for folks to set up and test their equipment on the 440 band and get used to operating there. If you have 440 capability, you are welcome to check in to the net. You don't have to be a member of any group to join in.